Mytek HiFi Manhattan II D/A preamplifier-headphone amplifier

In equipment reports, I use the phrase
forward momentum
to refer to something a little deeper and more encompassing than what's meant by that well-worn Brit-fi expression
pace, rhythm, and timing
(
PRaT
).
Pace
refers to the speed at which a piece of music is being played, and the accurate reproduction of that speed requires audio sources with good dynamic pitch stability. (Digital folk always lord it over LP clingers for digital's superior pitch stability.)
Rhythm is a sequential pattern of any kind, and pattern is the building block of musical expression. Rhythm is especially important. I define intelligence as pattern recognition; therefore, dancing, foot tapping, and head bobbing are proofs of a high musical IQ. When I know that a pattern exists, but am unable to define it, I call it a mystery. (I like this definition of intelligence: it's pancultural, and probably pangalactic.)
Pace and rhythm are notated on musical scores, but I'm less certain about what the Britfi folk mean by timing. My best guess is they mean tune or melody, and are referring to our ability grasp the design of patterns we observe.
Forward momentum is more difficult to define. I hear it as the invisible driving force behind all music making: the vector sum of pace, rhythm, and melody, a coefficient of musical invigoration. I feel it's what musicians strive for when playing.
A hi-fi system is an engine that converts electrically recorded patterns into compressions and rarefactions of air. A good measure of a hi-fi's effectiveness is the degree to which it helps the listener to recognize sequence and pattern within this field of pulsating energy. When I say that a hi-fi system delivers realistic forward momentum, I mean that the system seems to express the music's patterns with a lifelike quantity of force.
Many digital/analog converters seem to struggle with expressing force, momentum, and power. DACs that do this well are rare. Mytek's Manhattan II ($5995) is one of these.
Description
In my Follow-Up to Jim Austin's inspiring review of Mytek HiFi's Brooklyn DAC–preamplifier–headphone amplifier, I identified Mytek's owner, founder, and chief engineer, Michal Juriewicz, as a Tall Wizard, and told how he'd left Poland (where the Brooklyn and Manhattan DACs are made) for the US, where he worked his way up from recording-studio fix-it man to become a master engineer and designer of ADCs and DACs. Now he's one of the coolest dudes in Brooklyn; his wife makes fine art, and he runs Mytek from a rugged Greenpoint building that was once a church, then a lumberyard.
I first experienced the Manhattan II D/A–preamp–headphone amp in Juriewicz's basement lab and demonstration studio, where we compared MQA and non-MQA files through a pair of vintage Duntech Sovereign speakers. The Manhattan II sat on a table before me, its top off and its circuit board exposed. The room was small and well padded, but the sound was big, hyper-detailed, and powerfully presented.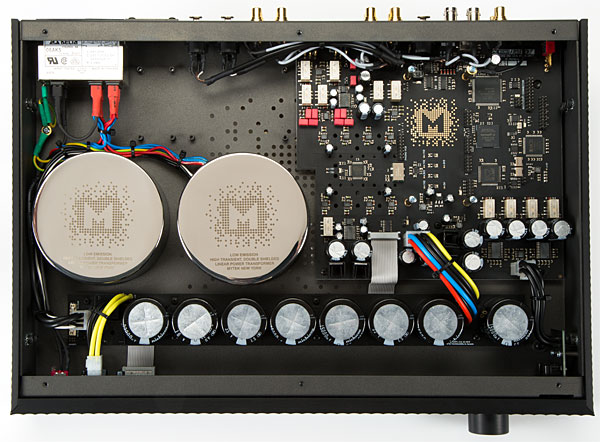 You know how I rail against high-end audio evolving into little more than green circuit boards inside over-elaborate machined cases. Well, the Manhattan II is pretty much that—except that its circuit board is thick and black, and its box is very shiny, bright, broad (17" wide by 2" high by 10.5" deep) and heavy (17.6 lbs). My review sample had the Gold Silver faceplate; Black Matte or Silver Frost Matte are also available. The Gold Silver is a little Las Vegas, but as the Manhattan II sat on my desk, hooked up to JPS Labs' Abyss AB-1266 Phi headphones, the combination looked hipster cool and outlaw-biker chic.
The Manhattan II is a complete digital and analog service provider: conversion rates up to 32-bit/384kHz, MQA, DXD, and DSD256. On the rear panel is every possible input: USB 2 Class 2, AES/EBU, TosLink/ADAT, two S/PDIF, and SDIF3. There are also two sets of unbalanced analog inputs (RCA): one converts to Phono with the optional phono card ($1495), the other accepts a line-level source. A third line-level input is balanced (XLR). There's also an optional, Roon-ready network/WiFi card ($995) that turns the Manhattan II into a network streamer with maximum throughput of 24/192 and DSD64, compatible with Apple AirPlay, DLNA/UpnP, Spotify Connect, iOS, and Android devices. The outputs comprise one pair each unbalanced (RCA) and balanced (XLR). Also on the rear panel are a three-position headphone gain switch, and two BNC sockets for wordclock input and output.
The Manhattan II's discrete, high-current headphone amp has a 0.25-ohm output impedance and two independently driven, ¼" headphone jacks on the right side of the front panel. The top jack's output is in phase, for single-ended use; the lower jack is anti-phase. Using both jacks and Mytek's optional XLR-to-dual-¼"-plug adapter ($159), balanced operation is therefore possible. Absolute signal phase is switchable on the front panel, using the menu and switches described below. Also available via the Manhattan II's menu are various user-selectable PCM and DSD filter options—none of which are available during MQA playback, which mandates a single, unique filter. The seven PCM filters are: FRMP (Fast Rolloff, Minimum Phase); SRMP (Slow Rolloff, Minimum Phase); FRLP (Fast Rolloff, Linear Phase); SRLP (Slow Rolloff, Linear Phase); APDZ (Apodizing, fast rolloff, linear phase); HBRD (Hybrid, fast rolloff, minimum phase); and BRCK (Brickwall). The user can also select one of three DSD filters—labeled Lo (47.44kHz IIR), Med (60kHz IIR), and Hi (70kHz IIR)—or an Auto mode in which the appropriate filter is automatically determined by the DSD rate: Lo for DSD64, Med for DSD128, or Hi for DSD256.
On the distinctively sculpted front panel are six controls, five of them fingertip-size and only semivisible. The one you can't miss is the rotary volume control, which is also a pushbutton for navigating and selecting from the Manhattan II's menu. Almost hidden at far left is a round On/Off button. To its right are two triangular buttons pointing in opposite directions: one for Go to Menu, the other for Move in Menu. On either side of the wide, dimmable LED display are square, user-programmable function buttons. In addition to the menu selections, the LEDs display the current sample rate and the volume level in dB. But many Manhattan II owners will never use these controls, or even turn on the display—after they've installed the Manhattan II's OSX or Windows driver, they'll download Mytek's Control Panel app and from then on select all functions from the screen of their computer.
The owner's manual, available online, is well written and illustrated—but, as with the Mytek Brooklyn, even geezers and toddlers will find the Manhattan II's controls and menu intuitively easy to learn.
The Manhattan II has three selectable line-level inputs, and offers the user a choice of digital or analog volume control. I much preferred the open naturalness of the analog control, which I used for 95% of my listening. It was of high enough quality to eliminate the need for and cost of a separate line stage in even the best systems.
Listening with headphones
The beauty of headphones is that they eliminate the dodgy issue of loudspeaker power response: The transducers' output is applied directly and almost entirely to the listener's ear canals.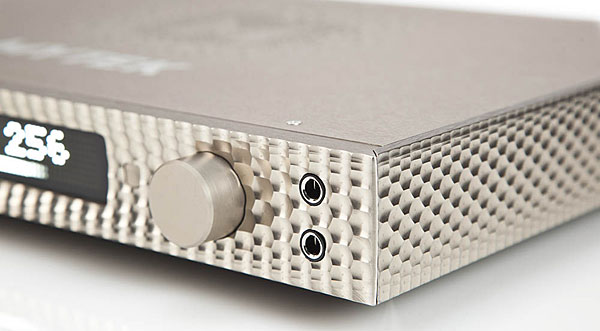 I continue to use and admire Mytek's Brooklyn DAC, but its headphone amplifier has never inspired me. With most headphones, it sounds slightly dull and emotionally shut down. That was definitely not the case across the East River. The Manhattan II's headphone amp could really dance and sing, its strong points being percussive impact, precise imaging, well-described textures, and deep transparency. I listened to the Manhattan II with a wide variety of headphone models: HiFiMan HE-1000 V2, Sony MDR-Z1R, Audeze LCD-X, and JPS Labs' new Abyss B-1266 Phi. With any of these, the sound of the Manhattan II DAC and headphone amp never failed to be fast and lucid, with a fine, natural-feeling balance of smoothness and punch. Space was always dark, hauntingly quiet, infinitely deep.
With Abyss AB-1266 Phi headphones plugged into the Manhattan II's headphone amp in balanced mode and using the MQA filter (see later), my skull and shoulders could actually feel that forward momentum I've been talking about. I was there with Mississippi Fred McDowell, from Heroes of the Blues: The Very Best of Mississippi Fred McDowell (CD, Shout! Factory DK 30256). His rhythm was hypnotic and tangibly fierce.