Music in the Round #40 Recordings In The Round
Sidebar 2: Recordings In The Round
JOHN HAMMOND: Rough & Tough
Chesky SACD346 (SACD)
John Hammond is a one-man acoustic blues show, and you might not expect that Chesky needed more than two channels to give us everything we need to hear him. Well, that ain't so. First, the ambience of St. Peter's Episcopal Church, in New York City's Chelsea, where Chesky has recorded for many years, is very friendly. Without obscuring any detail, it cradles the music in subtle reverberation so that you can savor the sounds as they fade. As would any experienced musician, Hammond seems to tune his tone and pace to constructively interact with the space. You can hear all the cues in stereo, but they lack the coherence you get from Chesky's 4.0-channel mix.
Second, Chesky's recording is made with a SoundField microphone configuration. While the recording isn't in the Ambisonic UHJ format, I was still tempted to try the Ambisonic decoder in my Meridian 861 pre-pro, now that I can feed it SACDs via HDMI. Holy cow! Instead of feeling as if I were in St. Peter's (I've attended recording sessions there), it was as if Hammond had been transmigrated into my living room, with a presence and an impact rarely accomplished in reproduction. In addition, my room now had a more spacious acoustic. I enjoyed this entire disc in several formats, and in every one, it was an intimate experience with John Hammnd.
MAHLER: Symphony 8, Adagio from Symphony 10
Laura Claycomb, Elza Van Den Heever, Erin Wall, sopranos; Katarina Karnéus,†Yvonne Naef,†mezzo-sopranos, Anthony Dean Griffey, tenor; Quinn Kelsey, baritone; James Morris, bass-baritone; San Francisco Symphony & Chorus, San Francisco Girls Chorus; Michael Tilson Thomas
SFSO 821936-0021-2 (2 SACD/CDs)
MAHLER: Symphony 8
Liudmila Dudinova, Ailish Tynan, Viktoria Yastrebova,†sopranos; Zlata Bulycheva, Lilli Paasikivi,†mezzo-sopranos; Sergey Semishkur, tenor; Alexey Markov, baritone; Evgeny Nikitin, bass; London Symphony Orchestra, Choir of Eltham College, Choral Arts Society of Washington; Valery Gergiev
LSO Live LSO0669 (2 SACD/CDs)
More Mahler—but I'm a Mahler fan, and his music is perfectly suited to high-resolution multichannel, as its dynamic and spatial demands fairly burst the limits of CD. This doesn't mean I'm going to toss my classic Mahler recordings on CD and LP, but those are now reserved for special moments when I'm in an intellectual or analytical mood. To just enjoy the music, neither format presents it as the hi-rez media do. Here are two great examples.
From the first bar of each of these recordings, I had the same reaction: This is the way it's supposed to sound. Of course, those sounds were somewhat different; the SFSO troops sounded vast in the spaciousness of Davies Hall, San Francisco, and the Londoners were powerful in the reverberant St. Paul's Cathedral, in London. Each sound suits its performance. Michael Tilson Thomas's Eighth (83:34), on two discs, is a model of clarity and insight supported by a nigh-perfect cast and presenting a nearly Apollonian Mahler. (Also included is a lovely and similarly clear-eyed performance of the Adagio of Mahler's uncompleted Symphony 10.) Gergiev's single disc (77:22) is intense and highly dramatic, and he summons sympathetic responses from his singers and players to create a huge impact.
I recommend both: Regardless of which I'm listening to, I think, Wow. I really like this one. Then I play the other one and feel the same way. I don't have to choose; if you do, sample them online and you'll quickly hear the difference. Either way, you can't miss.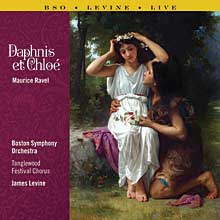 RAVEL: Daphnis et Chloé
James Levine, Tanglewood Festival Chorus, Boston Symphony Orchestra
BSO Classics 0801 (SACD/CD)
Some two years after the release of Chamber Music for Winds and Strings by Mozart (BSO Classics 0601), the Boston Symphony has come back with a whopper of a complete recording of Ravel's ballet Daphnis et Chloé. Music lovers and audiophiles don't lack for options, with the classic 1955 recording of the full score by Charles Munch and the BSO (SACD/CD, RCA Living Stereo 61388), and an atmospheric four-channel recording by Stanislaw Skrowaczewski and the Minneapolis Symphony of Suites 1 and 2 (SACD/CD, Mobile Fidelity Sound Lab UDSACD 4008). Now it gets complicated.
Though neither as overtly passionate nor as fervent as Munch, and not offering textures as diaphanous as Skrowaczewski's, James Levine seems to draw on the best of both approaches. What tips the balance, and perhaps simplifies the choice, is this recording's awesomely spacious and transparent sound. The Sound/Mirror recording team, under producer Elizabeth Ostrow, give us all the detail and depth of Boston's Symphony Hall, unstrained and unrestrained. Simply ravishing.
STRAUSS: Eine Alpensinfonie, Macbeth
Marek Janowski, Pittsburgh Symphony Orchestra
Pentatone PTC 5186 339 (SACD/CD)
Is this really Pittsburgh? I have many great-sounding PSO recordings from Capitol/EMI, Command, Telarc, and Philips that were made in the old Syria Mosque or in Heinz Hall, but I've never heard them sound like this. Pentatone's Brahms discs led by Marek Janowski gave us an inkling of a warmer, richer Middle European sound, but for me they lacked some grit and brio. However, this new Alpensinfonie shows a riper sound, with brilliant strings and brass ideally matched to Strauss's Alpine trek. Generally, one doesn't hear brass choirs with such immediacy in a space as large as Heinz Hall, but they remain in perfect and spectacular balance. Pentatone, aided by contributors from the Sound/Mirror recording team, has here displaced the classic recording by Zubin Mehta and the L.A. Philharmonic (London/Decca), and the newer one by André Previn and the Vienna Philharmonic (Telarc) as the best-sounding Alpensinfonie, and Janowski and the Pittsburghers give a performance competitive with the historic one by Rudolf Kempe and the Dresden Staatskapelle (EMI).
BRIEF LISTINGS
As the months go by, I fall further and further behind in commenting on new and noteworthy multichannel recordings. So, in an effort to catch up, here are 10 I highly recommend.
THE EBONY BAND: Music of Weill, Toch, Schulhoff
Weill: Kleine Dreigroschenmusik. Toch: Egon und Emilie. Schulhoff: H.M.S. Royal Oak
Werner Herbers, The Ebony Band, with soloists & Capella Amsterdam
Channel Classics CCS 25109 (SACD/CD)
HAYDN: Symphonies 93, 95, 96
Bruno Weil, Capella Coloniensis
Ars Production ARS 38 061 (SACD/CD plus bonus commentary CD)
MOZART: Symphonies 22–25, 27
Ad&225#;m Fischer, Danish National Orchestra
DaCapo 6.220542 (SACD/CD)
ROY ORBISON: Black & White Night
Image Entertainment ID4954OBBD (Blu-ray)
In DTS Master Audio, this is the best-sounding version yet.
SHOSTAKOVICH: Lady Macbeth of Mtsensk
Eva-Maria Westbroek, Katerina; Christopher Ventris, Sergey; Vladimir Vaneev, Ismailov; Royal Concertgebouw Orchestra, Chorus of De Nederlandse Opera; Mariss Jansons
Opus Arte OABD7031D (2 Blu-ray)
SHOSTAKOVICH: Piano Trios 1 & 2, Cello Sonata
Rachmaninov Trio Moscow: Mikhail Tsinman, violin; Natalie Savinova, cello; Viktor Yampolsky, piano
Tudor 7138 (SACD/CD)
JOHANN STRAUSS JR.: Die Fledermaus
Per Lindskog, Alfred; Lyubov Petrova, Adele; Pamela Armstrong, Rosalinde; Thomas Allen, Eisenstein; London Philharmonic Orchestra, Glyndebourne Chorus; Vladimir Jurowski
Opus Arte OABD7004D (Blu-ray)
STRAVINSKY: Apollon musagète, Pulcinella Suite
Alexander Janizek, Chamber Orchestra of Europe
Linn CKD 330 (SACD/CD)
VERDI: Requiem
Christine Brewer, soprano; Karen Cargill, mezzo-soprano; Stuart Neill, tenor; John Relyea, bass; London Symphony Orchestra & Chorus; Sir Colin Davis
LSO Live LSO0683 (2 SACD/CDs)
ZAPF: Das Goldene Kalb
Jobst Liebrecht, Ensemble Mosaik
New Classical Adventure 60197 (2 SACD/CDs). —Kalman Rubinson