Music, Live and Otherwise, at the Monkeyhaus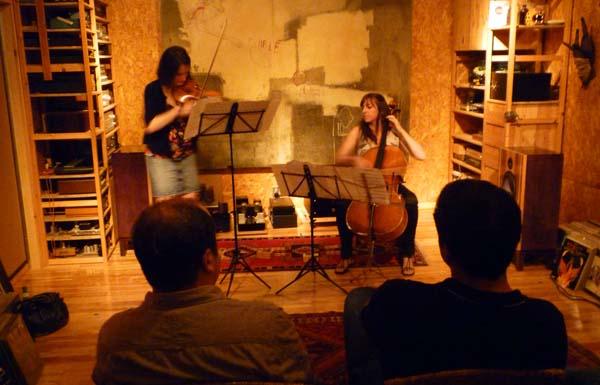 It's not unusual to enjoy great music at DeVore Fidelity's Monkeyhaus, but that music usually comes from LPs, loudspeakers, and tube amplifiers. Last night was a different story: While we did listen to music on the hi-fi, we were also treated to the special, comforting sounds of live, unamplified music. Zentripetal Duo (violinist Lynn Bechtold and cellist Jennifer DeVore) played three pieces—Gene Pritsker's C17H21NO4 (the molecular formula for a drug popular among hipsters, baby boomers, and Wall Street tycoons), Astor Piazzolla's "Violetas Populares," and Dan Cooper's Design Duo.
The first five or so minutes of the performance seemed illusory and vague, as though I couldn't completely grasp the fact that I was hearing music performed by humans rather than music produced by boxes and wires. There were differences, of course. There is a certain scale, immediacy, and ease to the sound of live music that hi-fi struggles to match. And something else (and I think this is important): It's impossible to connect and interact with hi-fi components in the same way we connect and interact with other people. Something special happens when we watch others create beauty.
Hearing live music in the Monkeyhaus confirmed two things:
1. The sound in the Monkeyhaus is exquisite. Several people, including the musicians, commented on this.
2. There is definitely a difference between live music and reproduced music. We are lucky to have both.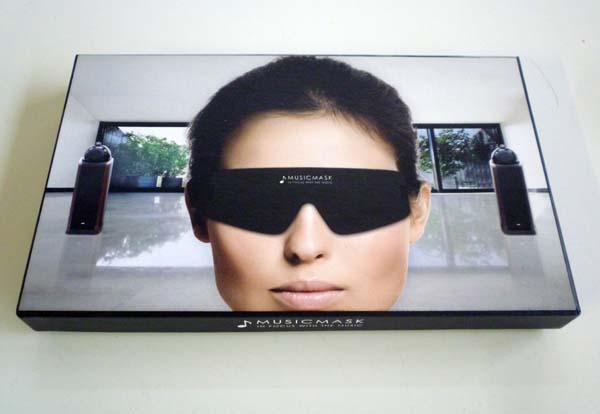 A second highlight ("highlight" is arguable) of last night's event was the Musicmask. I brought this device, hoping it would offer some laughs. It did.
From the Musicmask website:
Late in the evening when it's dark your stereo seems to sound the best. Unfortunately, those moments are rare and hard to enforce. To create the possibility of experiencing music in its full intensity at any time and place, the Musicmask has been developed. Musicmask is a mask that completely covers the eyes, but which still allows you to keep your eyes open. This is important because you're more alert when your eyes are open than when they're closed. Scientific research shows that removing visual stimuli increases the perception of music. With Musicmask, listening to music will become a magical experience.
Fortunately for me, listening to music is already a magical experience. Wearing the Musicmask was kind of nice, I admit—like a massage for my eyes—but it merely made me sleepy. I didn't notice a change in the sound of music. Others, however, noted rolled-off highs and midrange boosts.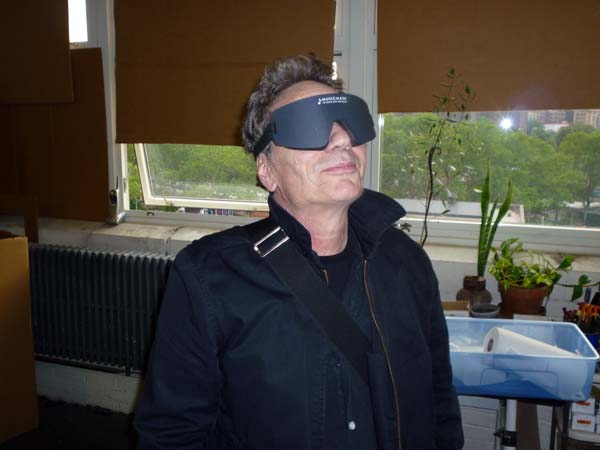 I think the Musicmask is made of plastic, foam, and Velcro. It comes with a 10-day money-back guarantee and costs $44.95.
A third treat of the night came when Tone Imports' Jonathan Halpern introduced his latest find, the beautiful Line Magnetic VV-3 preamplifier. Made in China, and seemingly made to last a lifetime, the VV-3 uses 300B, EF86, VR75, 12AT7, and GZ34 tubes in its Western Electric-influenced power supply. Four 12AU7 tubes handle the line stage.
Line Magnetic builds the handsome transformers: A large power transformer, choke, two output transformers (one per channel), and two autoformer volume controls (one per channel). Halpern explained: "Autoformer volume controls use a transformer to step the volume up or down. Each click of the volume control is literally connected to a different tap on the transformer. This is a very expensive way to design a volume control."
All wiring is point-to-point. Inside, Halpern continued, you'll find a mix of new and old: Capacitors are Mundorf, Mallory, Jensen copper foil in oil, Sprague, etc. On the outside, things are clean and sturdy: There are two pairs of RCA inputs, a pair of XLR inputs, and single pairs of RCA and XLR outs. All jacks are from Cardas.
Output impedance is specified as 600 ohms with a max output of 8V. Gain is 15.6dB; bandwidth is 10Hz–30kHz; Signal-to-noise is 90dB. The Line Magnetic VV-3 preamplifier has a retail price of $3995.
Fit and finish were outstanding, which is not a surprise: Jonathan Halpern has a great eye (and ear) for hi-fi.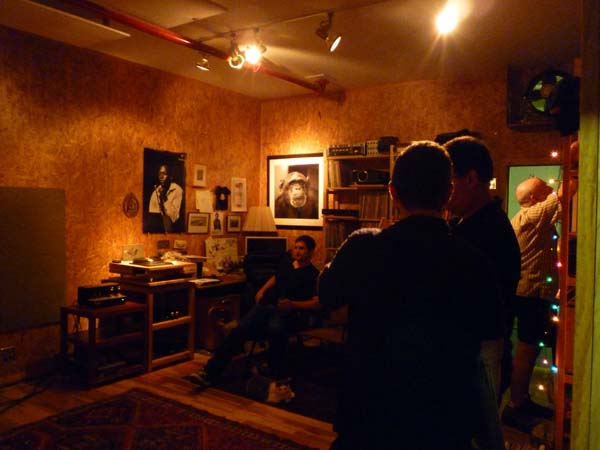 The theme of the night was "covers." From the Hauskeeper:
In these days of faux sincerity and mock reality, of phony innovation and white-washed political cover-ups, the dung-chucking enlightened ones demand relief, but relief in kind. Music shall be played in Monkeyhaus Thursday, June 16th, but it shall only be cover songs. No original songs may be played by the original artists, unless immediately preceded by a cover version of the same song by another artist. One need not follow the cover with the original, but it is an option for those with an educational bent.
Cool, right?
I played a couple of tracks from Seu Jorge and Almaz. The crowd responded appropriately to Jorge's deep, gravelly voice. I believe Jen DeVore's knees quivered. Someone else might have tossed her panties at the loudspeakers. If I hadn't been wearing the Musicmask, I'd know for sure.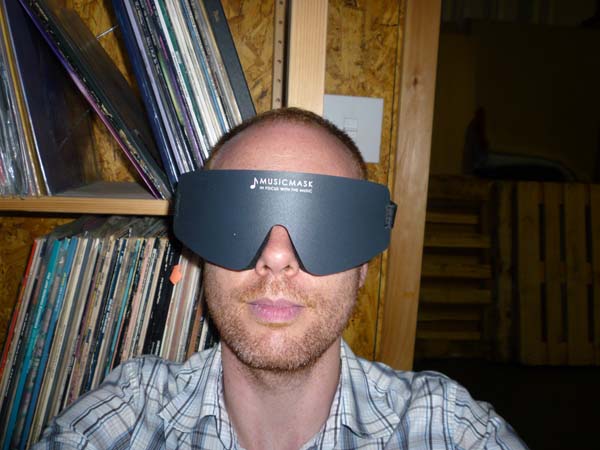 Apparently, it was another great night of music, live and otherwise, at the Monkeyhaus. For another view of the evening, visit Michael Lavorgna's Twittering Machines.