Murray Head: Nigel Lives Again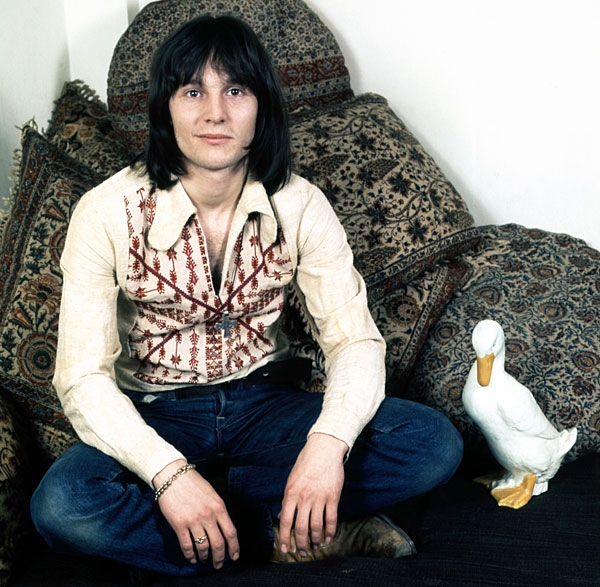 Seeing your album in a record store's cutout bin meant one thing. Despite the label execs' wide smiles, warm handshakes, and earnest promises to the contrary, once the record jacket had a hole punched in it, or its corner clipped, it meant your record label had lost faith and moved on.
Record collectors felt differently. The prices of cutouts were right—usually, from 99õ to a penny under two bucks. And cutouts were better than digging through crates because the records were still sealed . . . even if the jackets were a bit mangled. The beauty of cutouts was that they were so cheap, you could afford to be lavish, and go home with anything that caught your fancy.
It was in a cutout bin—in a Pittsburgh National Record Mart, I believe—that I first came upon Nigel Lived, an oddity with an antique phrenological chart on the cover, by an artist—Murray Head—whose last name seemed to fit. After one listen to the track "Junk"—a mashup of musical theater, screamed vocals, oinking pigs, folky acoustic guitars, unhinged fiddles, and funky bits—I was convinced that Murray Head's debut solo album was something special.
Forty-four years after its release, Nigel has been reissued in a high-quality, beautiful-sounding, 45rpm LP reissue from Intervention Records. The story of Nigel Lived, a record musically years ahead of its time, is fascinating.
Although in 1971 he'd starred in John Schlesinger's film Sunday Bloody Sunday, singer and actor Murray Head is probably best known for playing Judas Iscariot in the original UK stage production of Jesus Christ Superstar, and singing the role in the multi-million-selling original cast album. Thinking he had leverage with Decca Records, who'd released that smash recording in the UK and the US, Head visited the label's New York offices, looking for a solo deal.
"When I turned up in New York, there was a strange kind of reticence," Head told me over the phone recently from the South of France, "as if Decca was more or less embarrassed by my arrival. I should have taken the hint there and then that something was amiss."
Thanks to the William Morris Agency, where he was then a client, Head was steered into a meeting with CBS Records. "Those were the days when Clive Davis was in charge. In each office, there was statuary, a desk, and hardly anything else. Then I was taken to John Hammond's office, where there were tapes falling off shelves left, right, and center. It was absolutely jam-packed, and I thought, 'This is my kind of man.' We talked and talked, and he was as great as everybody has ever made out. Years later, he said that when he had his heart attack on the streets of New York, he went down singing one of my songs, 'Ruthie,' which is kind of an inverted compliment.
"I played him a tape of other people's stuff, and he warmed extraordinarily to a couple of tracks. One was 'Cocaine Blues,' the Reverend Gary Davis tune. And 'You've Been a Good Old Wagon,' which Hammond recorded with Bessie Smith pre-War."
Signed by Hammond to CBS, Head returned to London and Olympic Studios, where, in the summer of 1972, he got to work on Nigel Lived. CBS staff producer Joe Wissert, an American who'd worked with Earth, Wind & Fire, Boz Scaggs, and the J. Geils Band, among others, was assigned to the project. In a happy stroke of luck, the engineer on the sessions was Phill Brown, who'd already worked with the Rolling Stones, Jeff Beck, and Harry Nilsson, and immediately after Nigel Lived went on to engineer Bob Marley's breakthrough album, Live. In his wonderful project-by-project autobiography, Are We Still Rolling?, Brown said of Head's experimental project, "it was the first time an album I had worked on changed my attitude toward life."
"When Joe [Wissert] came over, he had ideas on what he thought Murray should do," Brown told me in a recent conversation. "As usual, Murray kinda went, 'Oh, that's great, check this out,' and he played him all his demos. He had, like, a whole spreadsheet, visual guides, everything mapped out—the story of the album."
The story of this project—an early "concept album"—revolves around Nigel, a boy from the provinces who comes to London to seek fortune and perhaps fame. He throws himself into the swinging London scene of the late '60s, along the way acquiring a girlfriend, sampling marijuana, and landing a job in a clothing store on King's Road. Soon, however, decline sets in, and apartment, job, and girlfriend all slip away. By the end he's broke and on the street, fighting a heroin habit.
Head readily admits that the album is "60% autobiographical, a lot of it happened to me. There was a woman named the Road Queen. She was sort of emulating the Kerouac urge and what Dylan talked about in The Freewheelin' Bob Dylan. She had a 'palace,' by which she meant she had access to a derelict house where she would hold court. I was her minstrel.
"It felt wonderful and innocent when I first went, and we sat 'round fires and played songs, that sort of thing. But over a year and a half it became quite sinister, with a fair amount of junkies a-hanging around. Eventually I went back, and all that was left was the façade. I imagined somebody who had been staying there, the place was gone and their identity had gone with it."
With this as background, Head, says Nigel reflects and refracts what was happening in English society in the mid-1960s. "My generation in England were put in single-sex schools. The whole thing that happened in the '60s, courtesy of the influence of the Stones and the Beatles, was in fact a rapprochement between girls and boys, a switching of identities which started probably, like, '63, '64. Girls started having very short haircuts, looking like Mary Quant, who had a range of clothes and a range of cosmetics and was sort of the girl of the age. [Girls] were wearing trousers for the first time in England. And boys were wearing lace neckpieces, growing their hair really long, wearing three-quarter-length coats. We were looking more feminine and the girls were looking more masculine. And somewhere all this met, and was loosely identified by various hairdressers as unisex. But what was happening was, we were finding each other.
"At the same time, the old guard had been exposed, with their ghastly frolicking with prostitutes, and they brought down the government because the Secretary of War had been involved and there were Russians in it. It was quite a big scandal, the Christine Keeler-Profumo scandal. At the same time—if you have to use a term—the lower class was smartening themselves up through the mods movement, and the traditionalist rockers were emulating the sort of biking fraternity of America. All this was going on, and kids got lost.
"And there was a large gap between the north of England and London. There were people coming down from the north, and finding it quite it easy to get jobs, but not having that cultural edge that you have in a big city like London. So I decided that what better use of the A and B side of a record than to have the A side as the success story and the B side as the near failure. We leave it hanging. You don't know what happens."