More from JA's First Day in Montreal
This one's for Herb Reichert: the booth outside the huge room where Solen Electronique was demming what they described as "The Ultimate Experience" system (CDN$115,435) featured parts and components from Solen and The Parts Connection/Dayton Audio. This box of NOS tubes would have had Herb drooling!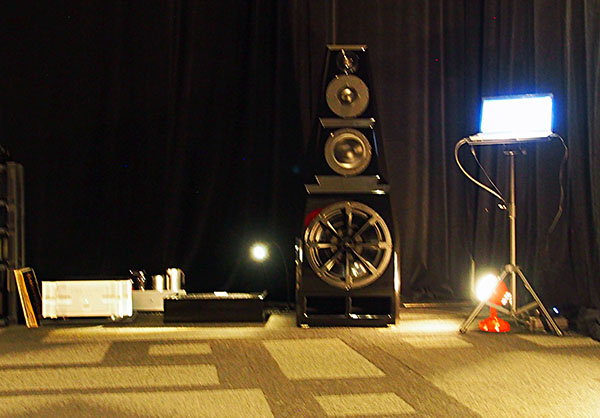 Inside the room, the 4-way, 97dB-sensitive Ultimate Experience IV v4 loudspeakers (CDN$9995/pair) were being driven all-Bryston electronics—BDP-3 server BDA-3 DAC, BP173 preamp, pairs of 28B and 7B3 monoblocks—all hooked up with Solen cables. A track by bassist Marcus Miller filled this large room with sound, with excellent low-frequency control and weight but when the guy at the controls turned up the volume to show how loud the system would play, I offered my thanks and, fearing for my hearing, fled the room.
Totem's main man Vince Bruzzese was showing off the Montreal company's Metal V2 floorstanding speakers (around $17,000/pair US price) with all-VTL amplification, powered from a Torus isolation transformer. Part of Totem's Element series, the new speaker features all-new drive-units, with the woofers having triple-laminate copper shields on the pole-pieces to reduce distortion.
Next door was a relatively affordable system based on Totem's Forest Signature floorstander (CDN$6800/pair) driven by a Quad Arteria Solus tubed preamp and Quad Arteria Stereo solid-state power amplifier. Source was files streamed to a Quad DAC. The sound was promising but I can't really say more as some visitors were having an intense conversation while I was listening—always a problem at shows.
The same thing happened in the next room I visited, which featured two IAG brands that have been absent for a while in the US: Mission (speakers) and Audiolab (electronics). Featured were the Mission ZX3 towers driven by Audiolab monoblocks and/or 8300 preamp/power amp/integrated amp with source a Stanton LP player. As best as I could tell, a good-sounding system.
"To deliver its full power, Classé Audio chose DR Acoustics" proclaimed the poster in the DR Acoustics room and when I later spoke with Classé's Dave Nauber, he confirmed that they were bundling reasonably affordable but good-performing power cords from DR with their amplifiers. The system in the DR room was based on a Classé Delta Pre D/A preamplifier and Delta Mono monoblocks driving KEF R11 speakers. Most intriguing in this system was DR's Antigone 2.0 AC line filter (CDN$6995) which was advertised as "No Capacitor • No Inductor • No Resistor," instead using an "advance electromagnetic Quartz Crystal Filter" to "drastically reduce the noise floor without any dynamic lost." My eyebrows were raised, but when the presenter first let us hear the noise riding on top of the 60Hz supply on the hotel's AC wall supply, then repeated the test on the output of the Antigone, the filter seemed to be doing what was claimed.
The last room I visited on my first day at the Montreal Audio Fest was that featuring products from Gershman Acoustics, Krell, VPI, and Nordost. I wanted to listen to Gershman's POSH speakers ($129,000/pair), which made their debut at the 2018 Rocky Mountain Audio Fest. I asked Ofra Gershman if the name derived from the old luxury ocean liner acronym "Port Out Starboard Home" and if so why. She confirmed that it was and it was chosen because by she and her speaker designer husband Eli are avid sailors and wanted to echo the luxury that the liners used to offer.
The POSH has two discrete enclosures, each standing separately on carpet-piercing spikes. The lower, sealed cabinet carries two 8" aluminum-alloy-cone, double-magnet woofers and is flanked by the supports for the upper enclosure, which marries a 1" Morel soft-dome tweeter to a 5.25" Accuton ceramic-diaphragm midrange driver. The crossover uses Mundorf capacitors and the speaker is wired throughout with Nordost cable. With the POSHes driven by a Krell Illusion II preamplifier ($7700) and a pair of Duo 175XD power amplifiers ($8250), I started listening to a Super Tramp LP but then all went quiet. Apparently a static discharge from the hotel's newly installed carpet had taken out the VPI Voyager phono preamp!
We shifted our seats by 90° and listened instead to Gershman's second system, which featured their Grand Avantgarde speakers ($13,000/pair) driven by Krell's new K300i integrated amplifier ($7000 with analog inputs, $8000 with analog and digital inputs) with source a VPI Player ($1500) fitted with a $50 Audio-Technica cartridge. Ofra put on an LP from Nat King Cole—a personal fave—and I ended my first day transfixed by "September Song." Despite the relatively modest source components, there was something very right with this system.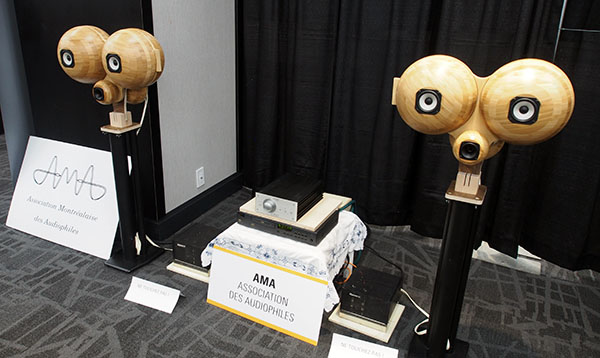 To spread the word about good sound beyond the audiophile community, Gershman is opening a soundroom in downtown Toronto. But audio societies also do excellent work at creating a sense of community and at the Audio Fest, the Association Montréalaise des audiophiles had a stand that was crowded every time I went past it, and not just because they had these weird-looking speakers standing guard. According to show organizer Michel Plante, the preregistration statistics indicated that 50% of the people at the show were first-time attendees—I'd like to think the AMA signed many of these up!