Moon by Simaudio Evolution 780D D/A processor Measurements
Sidebar 3: Measurements
I measured the Simaudio Moon Evolution 780D with my Audio Precision SYS2722 system (see the January 2008 "As We See It"). Source materials were WAV and AIFF test-tone files, played with Pure Music 3.0 on my MacBook Pro running on battery power. Apple's USB Prober utility identified the processor as the "MOON USB DSD HD AUDIO" from "SIMAUDIO LTD," and confirmed that the 780D's USB input operated in the optimal isochronous asynchronous mode. The AudioMIDI app indicated that the Simaudio DAC operated at all PCM sample rates from 32 to 384kHz, with a bit depth of up to 32 integer. The 780D operated successfully with both DSD64 and DSD128 data fed it via USB.
The maximum level from both the balanced and unbalanced outputs was 2.07V, with correct absolute polarity. Though a little higher than the specified 100 ohms, the output impedance at all audio frequencies was still low, at 246 ohms balanced and 149 ohms unbalanced. The impulse response with data sampled at 44.1kHz (fig.1) was typical of a finite impulse-response (FIR) reconstruction filter, with the symmetrical ringing to the sides of the single sample at 0dBFS mapping the filter's coefficients. This filter gives a very fast rolloff with 44.1kHz data (fig.2, red and magenta traces), with complete suppression of the aliased image at 25kHz of a full-scale tone at 19.1kHz (cyan, blue traces, footnote 1). Also evident in this graph is that the 780D's harmonic distortion is very low, with the second harmonic lying at –100dB (0.001%).
Fig.3 is a more conventional way of showing frequency response, plotted with data sampled at 44.1, 96, 192, and 384kHz. The ultrasonic rolloff follows the same shape, but with a sharp cutoff just before half the sampling frequency with the three lower rates. Note also the superb channel matching in this graph: the left and right traces precisely overlay each other. Channel separation was also superb, at >120dB in both directions below 3kHz, and the Moon Evolution's noise floor was both very low in level and free from any power supply-related spuriae (fig.4).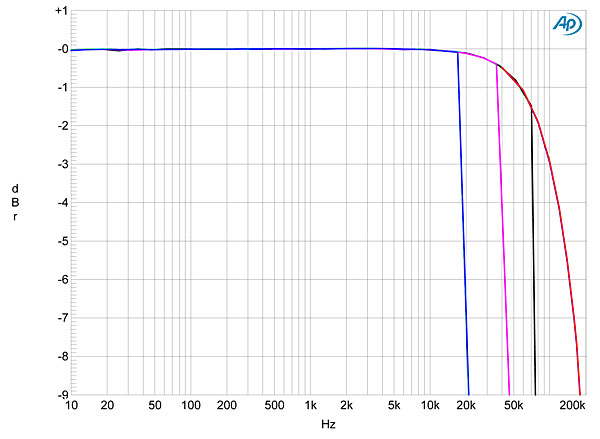 When I fed the 780D dithered AES/EBU data representing a 1kHz tone at –90dBFS with first 16-bit data (fig.5, cyan and magenta traces) and then 24-bit data (blue, red), the increase in bit depth dropped its noise floor by almost 24dB, suggesting resolution of close to 20 bits. This is state-of-the-art DAC performance. No harmonic-distortion components can be seen, but the 24-bit data unmask what appears to be a spurious tone at close to 5.1kHz. However, this is very low in level. With its high resolution and overall low level of noise, the Moon 780D's reproduction of undithered 16-bit data describing a sinewave at precisely –90.31dBFS was exemplary (fig.6), with zero DC offset in the left channel (blue), and just 25µV positive offset in the right (red). The three DC voltage levels described by the data are well differentiated. With undithered 24-bit data, the Moon output a well-formed sinewave despite the very low signal level (fig.7).
Fig.8 confirms the very low level of harmonic distortion, even into the demanding load of 600 ohms. With a full-scale tone, the second harmonic lies at –106dB (0.0005%), the third at –110dB (0.0003%), and no supply-related spuriae are evident. Intermodulation distortion is also extremely low, though the spurious tone at 5.1kHz again can be seen, along with another at 10.2kHz (fig.9).
Tested for its rejection of word-clock jitter—S/PDIF data fed via 15' of generic TosLink cable—the Simaudio 780D performed superbly well with 16-bit J-Test data (fig.10), with no sidebands visible, and with the odd-order harmonics of the low-frequency, LSB-level squarewave extremely close to the correct levels (green line). With 24-bit J-Test data, whether via TosLink, USB, or AES/EBU (fig.11), the noise floor was very clean, though the low-level tone at 10.2kHz was still present.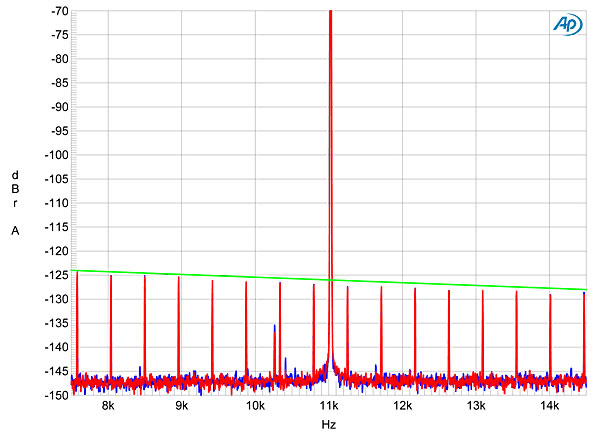 I can't quibble: Simaudio's Moon Evolution 780D offers superb measured performance.— John Atkinson
---
Footnote 1: My thanks to Jürgen Reis, of MBL, for suggesting this test to me.