Monster Cable Beats by Dr. Dre studio headphones Page 2
Everything is designed to be pleasing to the touch. Even the case's zipper handle is smooth and soft. To the left of the headphones, a second compartment contains the quick-start guide, warranty, and an effective antimicrobial cleaning cloth. The Beats' high-gloss finish smudges easily—you
will
get fingerprints on these headphones. However, the new, hot-looking white version may be less prone to smudging. Also included is a 1/8"-to-1/4" adapter and Monster iSoniTalk cable, compatible with iPhones, Blackberries, and other music-enabled cell phones. I didn't use the iSoniTalk, but I can see how it would be handy. The retail price for the Beats by Dr. Dre Studio headphones is $349.95, but you can probably find them for a lot less online.
Listening
All of the listening I did on vacation in Puerto Rico was extremely casual. I listened while lying in bed, while lying on a hammock, while sitting by the pool drinking Medalla and rum. The Beats were portable, comfortable, and fairly musical, with a robust bottom end and impressive imaging.
A few weeks later, back in the States, I took the Beats with me on a New Jersey Transit train, headed for my mom's house. Again, the Beats' noise canceling worked fine. Train sounds were barely audible. Listening at moderate levels, I could only just discern the sound of the conductor's voice through the train's noisy PA system. Instead, my music became a soundtrack for what I could see through the train's dirty windows.
All listening was done using my 8GB iPod Nano; I began with a 320kbps MP3 of Pens' "Freddie." (I know: No matter the bit rate, low-quality MP3s sacrifice music for convenience, thus unambiguously contradicting the Stereophile ethos. But I wanted to try a range of material of varying quality, because that's what most users will probably do. Even John Atkinson admits that 320kbps is good enough—or sneaky enough—to fool some of the listeners some of the time.) "Freddie" sounded as it should: relentlessly driving and menacing, with an enormous amount of raw, head-banging, fist-pumping energy. An all-girl British trio of overdriven guitar, cheap synth, and broken drum kit, Pens creates a sort of punk rock that is at once ferocious and adorable—sort of like a puppy pit bull who obviously just wants to play, but scares the shit out of you as you make your way down a dark, winding road to the beach. Or something. For most of the song's 125 seconds, all I could do was stare out the window, the sun in my face, watching as the suburbs blurred by. Things were going well.
Next I turned to Valet's "Rainbow," from last year's intoxicating False Face Society (192kbps MP3; LP, Mexican Summer MEX011). This track includes whispered voices, electronic washes, wah guitar, bongos, percussive rolls and trills, the sound of skin against skin. Here, the Beats' overripe bass and thrilling imaging worked to heighten the song's intensity and allure. Honey Owens has always been seductive and mysterious, but never quite like this—not even when I listen through my hi-fi. The Beats' slightly slow, softened transients worked to tame the overcompressed electric guitar, while imparting to the bongos a wet, feline quality that I found captivating. Through the Beats, Honey Owens is everywhere. I like it when Honey Owens is everywhere.
Valet led me to the Psychic Ills' "I Take You As My Wife Again," from the New York City band's early 2009 release, Mirror Eye (320kbps MP3; LP, The Social Registry TSR066). The Psychic Ills try to hypnotize you, to transport you; this song does it with warbling electronics and percussive elements that sizzle and sway across the soundstage, from left to right and back again. Heard through the Beats, these effects were startling and tangible. I could feel the sounds sweep across the stage with a physicality that was almost unnerving, as if someone were blowing into my ears as the music played. Soundstage depth was also conveyed with a strange sort of hyperrealism: Sounds seemed to emerge from outside of my head; tinkling noises emerged from the distance with compelling detail. Midway through this 10-minute journey, the song transitions from a series of ambient gulps to a trancelike rhythm with Balinese-sounding strings. The Beats portrayed this tonal and thematic shift with a good sense of momentum and fine musicality, allowing the melody to emerge nicely while preserving the song's rhythmic thrust.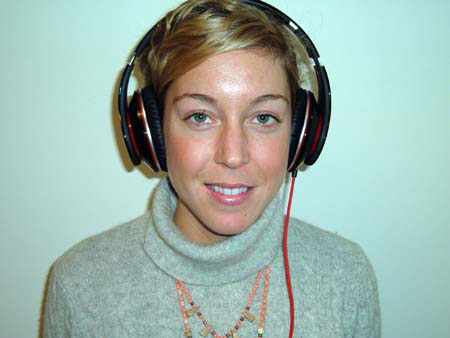 Now thoroughly hypnotized, I found myself turning, almost involuntarily, to I.U.D.'s "Glow Balls," from their penetrating (ha) 2009 release, The Proper Sex (192kbps MP3; LP, The Social Registry TSR069). At times frightening and at times absurd, I.U.D. finds Lizzi Bougatsos (Gang Gang Dance) teaming with Sadie Laska (Growing, Extreme Violence) for a heavy, dubbed-out, playful concoction of industrial sound and sexual energy. With maniacal screams, a military beat, the sounds of scraping metal, and relentless electronic clamor, "Glow Balls" could easily serve as the soundtrack to a slasher flick. And while the Beats' knack for imaging again proved useful, their hefty bass made this track sound too slow. My feeling is that the Beats were struggling to sort through the ragged textures of this densely layered track, with voices, especially, lacking their usual ferocity.