MoFi's Much-Discussed System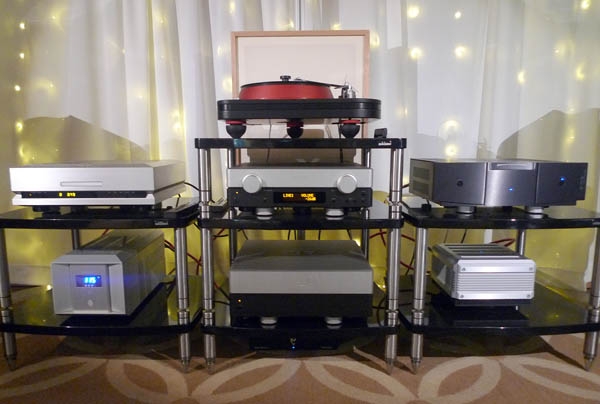 Up and down the CES hallways, in line for coffee, and at every dinner, people kept asking, "Did you go to the MoFi room? Did you hear the new TAD Micro Evolution One loudspeaker?" At one dinner, I was sitting with John Atkinson, Tom Norton, and Robert Deutsch, and we all asked, simultaneously, "Did you hear the new TAD Loudspeaker?" I listened several times to that MoFi system (source and amplification components pictured above), and each time I was more impressed.
TAD's new $12,495 stand-mounted speaker
is arguably one of the most
articulate
loudspeakers I can remember hearing. But I don't think this luxuriant articulation is just the speaker—I could feel the quality of TAD's M2500 power amplifier ($24,000) driving it. And then of course there was that drop-dead-gorgeous, make-you-cry-in-public Prince recording that was only released to Prince Record Club members. It was
so
not a hi-fi demonstration record: It was shy and tender and earnestly expressed—and completely unforgettable.
MoFi Distribution also demonstrated a second system, featuring Wharfedale's Diamond 225 loudspeakers ($449/pair—my review will appear in the March Stereophile) being driven by the Quad Artera Stereo power amp ($2299) and Quad "Artera Play" preamp/DAC/CD player ($2199), which was stimulated by the MoFi UltraPhono phono stage ($499) connected to MoFi's new UltraDeck record player with UltraTracker MM cartridge ($1999 complete).