The Meze 99 Classics, Very Fun, Very Tasty
This story originally appeared at InnerFidelity.com
Meze 99 Classics ($309)
This...is an awesome all-around headphone.
I've met the predecessor 88 Classics, which I found profoundly meh. But this new Meze 99 Classic is a whole 'nother story all together. This is a great headphone.
Build Quality and Styling
In headphones there's usually a clashing compromise between form and function somewhere along the line—design desires and costs mitigated by engineering feasibility and performance requirements always seem to deliver a sense of compromise. Few companies manage this balance; Sennheiser and V-MODA come to mind as companies that toe this line well.
The problem with strong design is that it's also divisive. I love the look of the HD 800, but many think it's too weird in an alien way. I don't particularly like the look of V-MODA headphones, but I do see how beautifully well designed they are and how well form is integrated with function. Just not my taste. The 99 Classic also has strongly characteristic design, tasting of luxury and jewels. This is also not to my taste, but the 99 Classics is obviously tasteful. This is a sweet looking headphone.
More importantly, in all the headphones mentioned above, the design sensibilities are strongly integrated with the headphone's structural and acoustic performance. The 99 Classic is not only terrific looking, it's well built to deliver the goods for a long time.
Wood and metal parts figure prominently in the design. Ear pads are poly-urethane synthetic leather and, sure, it would be nice if they were real leather, but you'd pay for it in the end, and good synthetic leather these days has most of the desirable qualities of real leather...at a much lower cost. Though the cost would have been slightly higher, protein leather might have been a better choice for its breathability. None the less, the material seems quite good quality; doesn't feel "plasticy".
Also prominent, but not necessarily obvious at first glance, it the fact that these cans are primarily screwed together and can be completely disassembled. Should anything ever go wrong with your Meze 99 Classics they can be repaired. Despite claims of the cans not using adhesives in construction, I do have to say that the driver assembly itself does use adhesives and can't be disassembled. But that's a bit that needs glue in assembly, and certainly can be replaced as a unit. So I have no problems with statements like this from their website:
Besides the usual warranty everybody is offering, we guarantee that the 99's are endlessly serviceable if any parts would ever need to be replaced, because we did not build these headphones to break after just 2 years so you can go buy new ones. No glue, just nuts and bolts.
Maybe the most surprising thing to me is that Antonio Meze (pronounced "meh-zeh"), who founded the company is also the cheif designer of the 99 Classics. I'm going to have to make a point of meeting him next CES and spending a bit of time chatting about headphone design and where he learned the craft. There aren't many headphone designers out there, and the result of his work speaks volumes about either his previous experience as a headphone designer, or his extraordinary talent as a designer and engineer. In either case, this is an in-house designe and it's terrific. Rather than spending 10,000 words describing the innards of the headphones, I'll offer up this very cool video narrated by Antonio, which describes quite a bit of his thought process and build philosophy as he gives us a tour of the headphones within the 3D CAD program (Solidworks) he used.
An A+ from me on design and build quality.
Comfort
This one's a little tricky. Usually, about half way through a review, after I've got a solid first take, I read any threads in headphone enthusiast forums about a headphone. I find that I usually learn something interesting things that I might not have stumbled on myself but worthy of reporting. I found numerous comments that the 99 Classics were a bit small and uncomfortable around the ears. I'm not sure I entirely agree.
Circumaural headphones, it seems to me, come in two flavors: Some are built with very generous cup size and are very comfortable for use at home, but they end up being somewhat bulky and not useful for portable applications. Others seem to be built with a focus for being as small as possible for traveling convenience, but large enough to still warrant the "around-the-ear" classification. Most sealed circumaural cans seem to fit in this category. A legitimate choice it seems to me.
I measured a bunch of headphones of this type (sealed, around-the-ear cans that can be used portably), here's the numbers (width X height): Meze 99 Classic, 45mm x 55mm; Oppo PM3, 35mm x 60mm; NAD VISO HP50, 35mm x 65mm; Focal Spirit Professional, 37mm x 50mm; Master & Dynamic MH40, 35mm x 60mm; Bowers & Wilkins P7, 35mm x 60mm; Sennheiser Momentum, 30mm x 55mm. My point here is that the 99 Classics are actually more generous front to back than the others, and a little under average top to bottom. Depth is hard to measure, but it did seem the 99 Classics were on the shallow side in the group. So, yes, I find them cozy around the ear, but not cramped relative to others in the category. I had no comfort problems in long term listening other than them getting a bit warm after a while. But just a bit.
More concerning to me was the elastic headband and how it, in combination with the caliper pressure from the headband arch, cause the ear capsules to be pulled upward at the outer attachment point and putting more pressure at the top of my ears than at the bottom of my ears. The similarly shaped Sennheiser Momentum has a similar feel to me. Generally speaking, I don't like elastic suspension headbands as the proper tension is critical and will change depending on head size. I think the 99 Classics that I have is close to the right tension, but slightly too tight. (I do have a somewhat larger than average head size. Head circumference 23 3/8", hat size 7 1/2.)
However! I did find that after wearing them a bit and fidgeting with the fit some, they would settle in to the shape of my head better and the difference in pressure from top to bottom would become minimal, though the pressure of the headband at the top on my head remain a bit too tight.
Another related concern is the memory foam ear pads. I did remove one of the pads and disassembled it for a close look at the foam. (This can be done without any destructive disassembly—again echoing the repairability of these cans.) The foam is light blue in color and looked like memory foam, but it seemed to rebound much more quickly than, for example, the Sennheiser Momentum Wireless earpad—which seems almost gooey in comparison. I have seen Chinese manufacturers pull a switcheroo on pad material before, and it wouldn't surprise me if that might be the case here. Or, maybe it is a grade of memory foam that has a faster rebound characteristic than I'm accustom to...don't know. I do think the earpads would benefit from further focus by Meze.
At 260 grams, the 99 Classics are a fairly light weight headphone. Isolation from outside noise is about average for a headphone of this type.
Accessorization
The 99 Classics do not have any folding features to make them more compact for travel and transport, but they do come with a hard side, clamshell carry case with zipper closure. Inside the case is a smaller zip closure pouch to store cables and adapters; both 3.5mm to 1/4" and dual 3.5mm airplane adapters are included. Like the headphone, the travel case is a very handsome and useful item.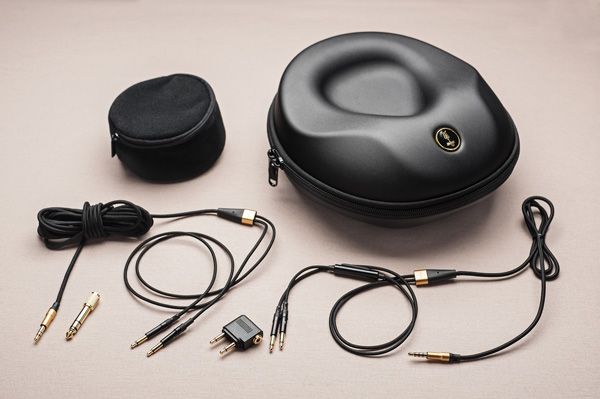 Two cables are included with the 99 Classics: a four foot long cable with one-botton remote for portable use; and a ten foot long plain cable for use at home. Meze website says cables are Kevlar reinforced with OFC conductors. Cable-born noise from scraping your finger nail on the woven cable cover can be quite loud if you keep tension on the cable to the headphones, but I did not find this was actually find cable microphonics (technically not the correct term but everyone uses it) a problem at all in normal use. Compared to other headphones I used in this evaluation, cable-born noise on the 99 Classics was only slightly above average.
Cables are "Y" type with 3.5mm mono plugs at the headphone end and a straight 3.5mm plug at the amp end. Though I would have preferred an angled plug at the amp end, I find the cable build very esthetically pleasing; the shape and gold accents of the plug and "Y" junction are very tasteful.
DIYers take note: the 3.5mm mono plugs that go into the ear pieces are slender and have deep insertion. Aftermarket connectors to fit these jacks will be hard to come by if you're looking to recable these cans. Plug housing diameter is 5mm; and needs to insert about 13mm into the hole.
Bottom line: This is a very fine offering from Meze. Build quality is stellar; the look is fabulous; accessorization is exemplary; and while comfort isn't quite up to the level of it's other characteristics, I'd say it's better than average in this category—many circumaural, sealed, mobile friendly headphones do have earcups that are far too small.
Now for the really good part, sound quality. On to the next page.