Mark Levinson No.536 monoblock power amplifier Page 2
The amplifier has three operating states: Off, via the rear-panel power switch; On, by pressing the front-panel button, which turns on all audio circuits and activates all outputs; and Standby, an energy-saving mode. Within Standby are three more options, selectable via the amplifier's internal webpage or RS-232 connector: Green, the factory default, is the lowest-power standby mode; it disables the Ethernet and RS-232 inputs, but permits wake-up via the trigger inputs. Power Save, a moderate energy-saving standby mode, permits wake-up via RS-232 or Ethernet. Normal mutes all outputs, but keeps the audio and control circuits powered. Except when the amplifier is set in Normal mode, the No.536 automatically goes into standby when it hasn't sensed an audio signal for 20 minutes. This is a requirement for all products shipping into Europe, and it is enabled in the factory default settings.
Setup
Todd Eichenbaum drove down from ECOE to help me schlep the two 114-lb shipping cartons containing the No.536es up the short flight of stairs into my listening room. We then donned white knit Mark Levinson gloves, complete with special gripping surfaces for lifting amplifiers. (Two pairs of these gloves are included with each mono amp.) We each grabbed one end of a heavy vinyl strap that ran under the No.536 and up through its heatsinks, to form loops at the amp's front and back. This allowed the two of us to easily lift the amplifiers out of their cartons and place them behind my Revel Ultima Salon2 speakers. Eichenbaum ran through each No.536's simple setup routine: rear-panel Power switch on; rear-panel input toggle set for balanced connection to my Bryston BP-26 or Mark Levinson No.526 preamplifiers; Green standby mode and front-panel Standby button pressed.
For most of the listening period, the No.536es were plugged into my Torus Power RM20 power conditioner. I also briefly plugged them directly into the wall outlets, and then into a voltage-regulated Torus Power AVR TOT, but could hear no differences.
After playing the No.536es at top volume for 15 minutes, I checked their output-stage temperatures via their internal webpages. To do that, I connected each amp to my network router using an Ethernet CAT5 cable, and to my laptop with a micro-USB link. The router assigned the amplifier an ISP address, and my laptop's browser displayed the internal webpage. The No.536's webpage showed the temperatures of the output stages and main circuit board, and confirmed that the standby mode was "2": Green, the factory default.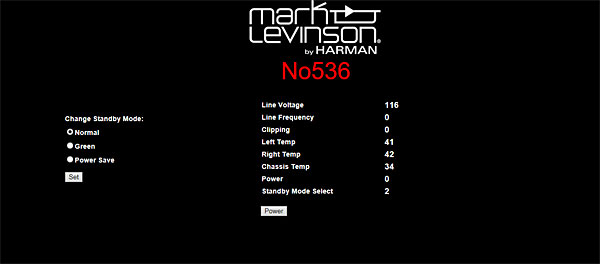 Listening
The No.536es' sound quality was immediately evident. They woke up my Revel Ultima Salon2 speakers, delivering an aural palette startling in its transparency and clarity, with an expanded ability to reproduce dynamic contrasts, compared with Mark Levinson's ML-2, No.27, and No.334 amplifiers. My first listening session produced the same epiphany I experienced on first hearing Theta Digital's Prometheus class-D monoblocks: Both sounded open, slightly bright, and whole from top to bottom. Needless to say, both pairs of amplifiers brought out the best from my Revels, which sounded incredibly dynamic and pleasingly fast, with greater punch and precision in their deep-bass response than I'd heard before.
First impressions count. I soon adopted the No.536es as my go-to amplifiers for the next nine months' worth of reviewing. During the listening for my review of the Torus Power AVR TOT power conditioner, the Mark Levinsons played with surprising fullness and unexpectedly wide dynamic range, limited only by the Torus's 10-amp slow-blow fuse, which died when the No.536es drew a steady 16 amps. Driven by the No.536es, both my Quad ESL-63 and ESL-989 electrostatic speakers sounded more open and more dynamic, and developed unusually well-defined upper bass and sweeter, more open highs. The No.536es remained unperturbed when the Quads' protection circuits kicked in and short-circuited the terminals, producing none of the scratchy, staticky sounds or overheating warnings I've experienced with other amplifiers. When the Quads' protection circuits relaxed, the amps immediately turned back on.
The No.536 exerted a superior grip on the Salon2s' woofers, creating a powerfully deep, yet well-controlled and well-damped deep bass response. In the Toccata of Widor's Organ Symphony 5, as performed by Jonas Nordwall and recorded by John Atkinson (24-bit/88.2kHz AIFF file), deep pedal notes were reproduced with unflinching control and solidity, and pressurized my room. Similarly, the pedal note that ends James Busby's performance of Herbert Howells's Master Tallis's Testament, from Pipes Rhode Island (CD, Riago 101), was muscular and throbbing yet well controlled. The conga drum that opens "Hotel California," from the Eagles' Hell Freezes Over (CD, Geffen GEFD-24725), had a leaden, rock-like solidity, with no sustain. The No.536es were able to define and contain the massive bass chord that cuts in just after the beginning of "Deeper Well," from Emmylou Harris's Spyboy (CD, Eminent EM-25001-2), allowing her voice and the drums to be heard farther back on the soundstage.
One of the most striking things about the No.536 was its huge dynamic range and bass impact, as demonstrated by: the kickdrum that catapults the sleepy opening of David Bowie's "Putting Out Fire," from the Cat People soundtrack, into a driving rock anthem (CD, MCA MCAD-1498); the dense, solid bass-drum notes that erupt from silence in Eiji Oue and the Minnesota Orchestra's recording of Stravinsky's The Rite of Spring (24/176.4k PCM file, Reference RR-70); and the struck chimes and thunderous bass drum that tighten the suspense in "Assault on Ryan's House," from James Horner's score for Patriot Games (CD, RCA 66051-2).
The midrange response blossomed when my speakers were driven by the No.536es. Whether the volume was low or high, it was easy to hear differences in tone and timbre in male voices, piano, and percussion. The No.536 made the timbres and harmonics of different solo male voices easy to distinguish, without added midbass emphasis. José Carreras's effortless, lyrical tenor floated before the arc of choristers in the Kyrie of Ariel Ramirez's Misa Criolla, in the recording conducted by José Luis Ocejo (CD, Philips 420 955-2). Large choral works benefited greatly from the No.536es' clarity, illumination and power. John Rutter's Lord, Make Me an Instrument of Thy Peace and the Piè Jesu from his Requiem, both with Timothy Seelig conducting the Turtle Creek Chorale (CD, Reference RR-57CD), revealed subtle tonal differences among the members of this male chorus, distinctions made possible by the No.536's precision. A Gaelic Blessing, on the same disc, revealed superb pitch definition of the pipe organ's pedal notes.
The No.536's midrange performance was highlighted by its ability to throw a wide, deep soundstage. "Breathe (in the Air)," from Pink Floyd's Dark Side of the Moon (SACD/CD, EMI 82136-2), engulfed me in sounds of throbbing helicopter rotors, jackhammers, footsteps, dive bombers, and PA announcements spread across a wide stage. In Rutter's Piè Jesu, the soprano, chorus, harp, and organ were each separate and precisely positioned, and the No.536es' excellent pitch definition allowed each descending pedal note to be heard.
The No.536es' reproduction of cymbals was exemplary. One of my favorite recordings of softly played cymbals is "Nardis," from Patricia Barber's Café Blue (SACD/CD, Premonition/Blue Note/Mobile Fidelity Sound Lab UDSACD 2002). In drummer Mark Walker's solo, as he played cymbals, drum heads and rims, and even different areas of a single cymbal, each was clearly depicted by the No.536.
Comparisons
My ca-1977 Mark Levinson ML-2 monoblocks (50W class-A into 4 ohms) conveyed the same smooth resonances of orchestral violins and violas, as well as the richness of woodwind timbres—but at significantly lower volumes than were possible with the No.536es. The ML-2s were leaner in the midrange and upper bass, but had unusually good pitch definition for deep bass, making it easy for me to follow Brady Blade's bass line in "The Maker," from Emmylou Harris's Spyboy. The Mark Levinson No.334, ca 1999, played with a warmer midrange, less percussive impact, darker overall tone, and narrower dynamic range. As I mentioned in my review of the No.526 preamp in May, the No.334 seemed compressed when compared to the No.536, which was faster, more transparent, more open, more emotionally involving.
Conclusions
At $30,000/pair, the Mark Levinson No.536 is expensive. Only seven of the 25 top-rated solid-state power amplifiers listed in the April 2017 edition of Stereophile's "Recommended Components" cost more, and a similar number (not the same amps) can output more power into 8 ohms. But don't despair—Mark Levinson has just released a less expensive version of the No.536: the dual-mono, 250Wpc No.534 stereo amp ($20,000).
Does the No.536 have any drawbacks? Ruggedness, high output, and class-AB operation mean that an amp must be big and heavy, and require two people for unpacking. It could benefit from better instructions for accessing its internal webpage, and inclusion of a USB-micro cable. But, as those at Mark Levinson might say, these are easily recoverable faults.
Dinesh Paliwal has succeeded in revitalizing the Mark Levinson line, building a cutting-edge engineering team, and releasing a slew of high-end products. Among them is this super-rugged, expensive amplifier, which has exceptional sound quality. Nine months after I began listening to it, its soundstaging, imaging, speed, and wide-ranging dynamic contrasts remain spellbinding, equaled by only one or two other amplifiers in memory. The No.536 is definitely worth my strong recommendation that it be included in Class A of Stereophile's "Recommended Components."