Major Debuts at Definitive's Music Matters 11
Product debuts galore were only one of the reasons that March 3's Music Matters 11, the latest installment of Definitive Audio Seattle's annual four-hour evening marathon, was a model event of its kind. Another, articulated by Definitive's president Craig Abplanalp to exhibitors less than an hour before the doors opened at 5pm, was that, at this Definitive Audio 40th Anniversary celebration, music rather than long-winded product spiels was the focus of each 20-minute listening session.
Certainly audiophiles heard the call. Music Matters 11 drew over 500 people. This means that, in the equivalent of a half-day, MM11 exposed a proportionally greater number of people to the high-end than does many an audio show. Even if the product range was inevitably limited by how much a single store can sensibly carry, the breadth of musical imagination and genres was most certainly not.
It is to the credit of Definitive's Abplanalp (above), CEO Mark Ormiston, Audio/Video Buyer Michelle Troupe, the combined Seattle and Bellevue showroom staff, and the small army of seasoned audio professionals who created the exhibits that the event went off without a hitch (at least from my perspective). In front of six fully enclosed showrooms, which were positioned around a central lobby filled with tables, food, and drink—catered, mind you—eager audiophiles lined up for the chance to hear some of the best sound the high-end has to offer.
Sessions were staggered, with three beginning at 5pm and the other three at 5:15pm, continuing in half-hour intervals until the 9 pm cut-off. However, there was so much interested in the system that mated the world premiering Wilson Audio Alexx loudspeakers, designed by Daryl Wilson ($109,000/pair), and world premiering Dan D'Agostino Master Systems Progression monoblock amplifiers ($39,000/pair) that listening sessions continued until 9:30pm in order to accommodate everyone.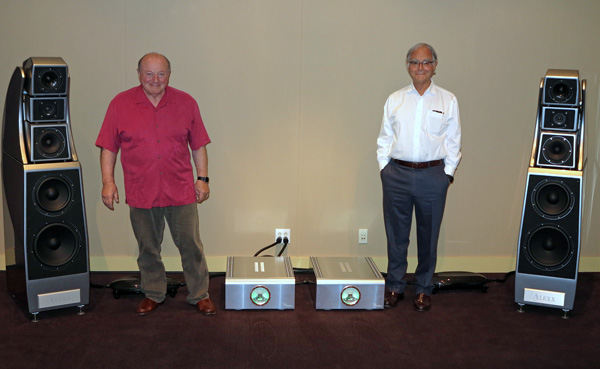 Although the D'Agostino Progression monoblocks were fully broken-in by the time they arrived in Seattle, the very first pair of Wilson Alexx loudspeakers ever completed had only about 24 hours on them. (Alexx starts shipping on Tax Day or thereabouts.) Perhaps the fact that store manager Hans Brackmann subsequently pounded the shit out of them overnight—he reports that you could hear them down the block of the thankfully commercial district—produced the stupendous, seamless sound I heard the next day. Nonetheless, when questioned about the state of break-in, Wilson's Peter McGrath (right in the photo, next to Dan D'Agostino, left) characterized Alexx as a rapidly maturing pre-adolescent who was mostly cooperative, but occasionally refused to do what he was told.
Growth factor aside, the sound was tremendous. Right off the bat, on McGrath's 24/88.2 recording of the live performance of the Kalichstein-Laredo-Robinson Trio's Beethoven's "Archduke" Trio that I had attended in Miami the week before, I heard sound as smooth and colorful as can be. The complex grain and texture of Sharon Robinson's cello, equally complex sound of Jaime Laredo's violin, and lovely, realistic ring on Joseph Kalichstein's piano came through with a clarity I had only previously experienced when auditioning MQA-encoded tracks. It was so fulfilling to revisit this performance, and to re-experience the trio's totally delightful, magical tiptoeing pizzicati on strings above Kalichstein's deliciously light and caring touch.
Equal credit is due the D'Agostino Momentum preamp ($35,000) and new Momentum Phono preamp ($28,000), which began shipping in early 2016; Merging Technologies NADAC (Network Attached Digital to Analogue Converter—$10,500 for the stereo version, $11,500 for the 8-channel version); Audio Research CD6 used as a transport ($9000); AMG Viella turntable with 12" arm ($18,000 total) plus Clearaudio Goldfinger Statement cartridge ($15,000); Transparent Opus cabling, including the premiere of the Opus power cable, and Power Isolator Reference; and HRS MXR rack w/R, S and M series platforms.
D'Agostino revealed that the powerful Progression class-A/B monoblock, which in some ways hark back to his days at Krell, outputs 800W into 8 ohms, and doubles all the way down to a stupendous 1 ohm. That means it can handle everything thrown at it (other than a huge bucket of ice water). The Progression weighs 170 lbs, and include a 4kVA power supply and the 80 output devices are powered from 400,000µF of capacitance.
The Progression's circuitry is derived from the more costly and perhaps slightly more reserved 400W Momentum monoblock ($65,000/pair), but is fully balanced. `"The Momentum is a little more laid back, while the Progression's extra power gives it a more commanding presence," D'Agostino told me after the listening session. "If I was going to choose between them, my decision would have to do with the size of my room and efficiency of my speakers.
"The Momentum also has a smaller footprint. It's a statement of what I did when I started this company, and a measure of my love of music. When I'm designing, these days, I close the door and put on Bill Evans for days on end. He brings me back to my youth, when I spent so much time in the Village [Greenwich] listening in clubs."
The Momentum Phono memorizes your last setting so you can switch between up to four tonearms. It also sports a mono switch. "I just did this phono stage, and I've been born again with vinyl," D'Agostino said.
In my second listen to this system, it drew greater and more illumined gradations of color from Järvi's performance of Stravinsky's L'Histoire du Soldat than did the considerably less expensive Focal/McIntosh/Transparent room I'll discuss later on. We could hear the huge stops on Mathias Eisenberg's organ, and sense the realistic weight of the organ's sounds. But lest you infer that power was all this system had to offer, Christy Moore's cover of Pink Floyd's "Shine On You Crazy Diamond" conveyed an intimacy that other rooms could not produce.
I wish I could describe the sound of the debut Audeze LCD-4 reference open-back headphones ($3995) mated with the Ayre Codex ($1795). But as much as Definitive Audio customer Rhonda Wright seemed to be enjoying it (below), I couldn't begin to assess what came through the surrounding din. The Codex can be used as a headphone amp/DAC, digital preamp, digital preamp, or standalone DAC in a speaker-based system.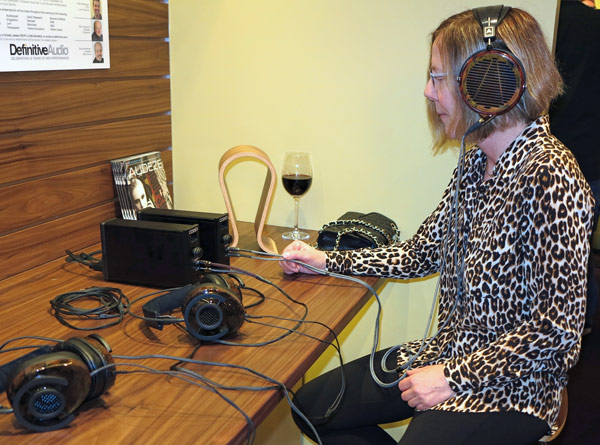 Audeze National Sales Manager, Tony Hamilton, who is shown in the heading photo listening to the debut Audeze The King class-A hybrid tube/MOSFET headphone amplifier ($3995), reports that the new reference LCD-4s have thinner nano-grade Uniforce diaphragms than their predecessors, and double that model's magnetic structure. This extends bass and yields significantly higher sound resolution and transient response. The King's circuitry is by Bascom King, who also designed PS Audio's reference amplifiers, and is specially calibrated for the high impedance LCD-4 headphones.
Forty years ago, when Definitive Audio was founded, Magnepan loudspeakers and Audio Research electronics were displayed prominently in the store. AR currently voices its components with Magnepans—MG20.7s to be precise—as well as Wilson and other brands.
On display at Music Matters were Magnepan MG20.7 loudspeakers ($13,850/pair), which are claimed to extend down to 25Hz and up to 50kHz in ideal situations. These were paired with Audio Research's new Ref 6 linestage preamplifier and Ref Phono3 ($14,000 each). The former uses six 6H30 tubes instead of the last model's four, as well as a larger power supply, new transformers, new parts, and machined side panels to make the chassis more rigid. The Ref 3 sports similar upgrades, as well as the new AR aesthetic. Also in the chain were AR's Ref 250SE amplifiers ($34,000/0air) and CD9 CD player/DAC, Transparent Audio's Ref XL Gen 5 cabling and P18 line conditioner, an AMG Giro turntable with 9" 9J2 tonearm ($10,000) and AMG Teatro moving-coil cartridge, and an HRS RXR rack with R series platforms.
This is the first time I recall hearing a Magnepan/Audio Research pairing. It's a shame I didn't discover until my final listening session that, in this particular room, you had to sit three rows back in order to hear the panel speaker's vaunted transparency. But even closer, violins on Saint-Saëns' Danse Macabre sounded quite realistic, and AR's vaunted midrange came through loud and clear. Violin and guitar sounded exceptionally lovely on Gil Shaham's Schubert for Two, electric guitar and bass shone, and cymbals clattered convincingly. Nils Lofgren sounded superb on vinyl.
Linn CTO Keith Robertson stated that the Scottish company's original goal, which has guided it since 1973, is "trying to get more information out of the groove." Lately that has also applied to digital bits.
The Linn Series 5 System, shown above, was designed with the size and volume "appropriate to the home." (Downton Abbey owners will find it perfect for the servants' quarters.) Paired with a Linn Akurate DSM streamer/preamp network player ($9200 total) was the software upgradeable Series 530 loudspeaker ($19,200/pair), which can be clothed in a huge number of different fabrics to match décor.
Via the Linn Majik LP12 turntable ($4320), we listened to the vinyl version of Daft Punk's "Get Lucky," digitized by the DSM and corrected for the room using a Linn Exakt. (I hope I've got that right.) The Exakt eliminates phono distortion, models and optimizes the room, and even corrects for speaker fabric choice. Next, on Lake Street Dive's "I Want You Back," speakers were moved around to show how the system's space optimization software eliminates masking distortion in the room and corrects for sub-optimal speaker placement. "We guarantee linear phase response at your ear," said Robertson.
This demo, far more sonically convincing than Linn effort last year, was impressive. Especially rewarding was a 24/192 file of "Son of a Preacher Man." Although the sound was less illumined and color-saturated than in some other rooms, it was consistently musical.
The system assembled by (left to right, above) Dave Baker of Bowers & Wilkins, Dave Nauber of Classé, and Garth Powell of AudioQuest posed the biggest sonic challenge to the Wilson/D'Agostino/Merging/AMG/Audio Research/AMG system. This, in no small part, was due to the AudioQuest Niagara 7000 line conditioner ($7995), which transmitted the considerable detail that Garth Powell claims can be obscured by noise on the power line. Powell's comparison of the sound of the Classé CAM300 amplifiers ($5500 each) plugged directly into the wall vs plugged into the Niagara impressed not only for the latter's tighter and more impactful bass, but also for its far greater and richer color saturation. Lower-priced Niagara units using the exact same technology are either already available or expected by year's end.
The public debut of Bowers & Wilkins' 800 D3 prototype loudspeakers ($30,000/pair) was a major success. Baker characterized what we heard as 97% of what the speaker's final version will produce when it becomes available, perhaps in June. Save for the same diamond diaphragm, binding posts, and Mundorf capacitor as in the previous model, the speaker boasts 868 new design elements.
In a room that presented significant bass challenges, the use of a bit of DSP and bass management via the Classé DP800 preamp ($6000) left tracks by Lasciade Selle and Beyoncé sounding anything but bass shy. But power and control in the bass region were but one of many impressive features of the system's satisfying presentation. On other selections, a Mozart Piano Sonata sounded just lovely if a bit less liquid than ideal. Other tracks revealed a helluva lot of bass slam and lots of impressive color. Also in the system: Rotel RCD 1570 CD player ($999), AudioQuest Wild cabling, a prototype AQ power cord for the Niagara, and Finite Elemente rack.
Bowers & Wilkins uses Classé electronics when voicing their loudspeakers, and Classé seems so impressed with the 800 D3 that they're building a new sound room to accommodate them. "We're happy that we finally have speakers with such low distortion that you can really hear what the Classé electronics can do," Nauber told the full house.
Making its mark as the most compact, lowest priced system on display, an all-Rega lineup drew lovely, warm timbres from Pat Metheny's guitar. I also enjoyed the lovely tonal balance on a track by UK pop artist Ed Shearin. A track by Rochelle Ferrell and, on vinyl, a funeral march by Edvard Grieg were equally rewarding. I was also impressed by the liquidity on a track by Blood, Sweat & Tears. I wouldn't claim either this or Linn's set-up could match the transparency of the other systems on display, but the enjoyment factor was extremely high. Kudos to David Carr of The Sound Organization for his ability to fit so much wide-ranging music into a compact presentation.
Doing the honors were Rega's newest loudspeaker, the RX5 ($2995/pair), whose side-firing woofer and front-firing bass port allow for maximum placement flexibility. Joining it were Rega's anything but illicit Elicit-R integrated amp ($2995), Apollo-R CD player ($1095), and RP6 turntable ($1495). AudioQuest's Niagara1000 line conditioner ($995) and cabling and a Quadraspire SVT2 rack completed the chain. Note that 99% of Rega's products are manufactured in the UK rather than China.
Toward evening's end, I ventured into Definitive Audio's home theater room for a listen to Focal's Sopra No.2 loudspeakers ($13,999/pair). Introduced last May in Munich, the speakers, with their pure-beryllium, inverted-dome tweeter, inverted-cone technology, and other innovations were driven by all McIntosh electronics. The McIntosh gear, save for the C1100 two-piece tube preamp ($6500)—Andrew of McIntosh claims it's the "cleanest tube preamplifier ever made"—was all solid-state, and consisted of the D150 DAC ($3000), MCT450 transport ($4000), and new "small form factor" MC301 amplifiers ($5000 each).
Together with Transparent's Ultra cabling and PI8 line conditioner and a Quadraspire SVT2 stand, this system produced, on a track by John Campbell, copious amounts of bass, a very warm and lovely midrange, and no shortage of information on top. The system did not deliver the degree of bass definition, detail, and control I've heard in other rooms from the under-$20,000/pair Wilson Audio Sabrina, but the sound was lovely. Vocals on one track may have sounded surprisingly sibilant, but I have no way of knowing if the problem was due to the recording or the reproduction.
Josh Clark, Product Designer and Operations Manager for Transparent, emphasized that excellent cables are essential to conveying full dynamic range. His point was well taken, given that the system's stellar dynamic range. Clark also pointed out that the boxes on all of Transparent's analog cables serve as filters that reject RFI and help damp vibrations.
The session ended with a track by Arturo O'Farrill, and a bit of the same recording of Stravinsky's L'Histoire du Soldat that Peter McGrath played in the Wilson Alexx/D'Agostino/Merging/Transparent etc. room. This system's notable beauty of timbre demonstrated why Focal, McIntosh, and Transparent are so valued by audiophiles. It was a fitting end to a wonderful evening in which music mattered most.