Mcintosh MB100 Media Bridge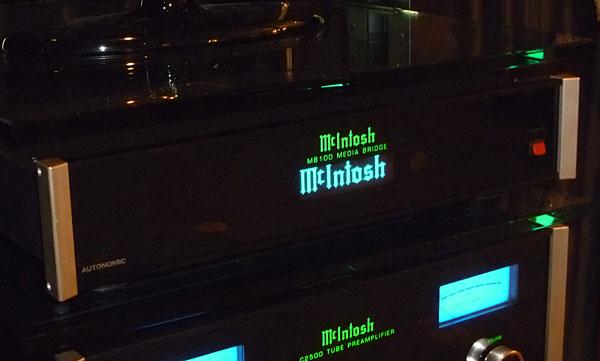 The company logo reminds me of a sixties horror movie and the glass front panel evokes memories of lying on the floor in a pal's living room in 1972 listening to his Dad's Stack O' Mac, but something about that bioluminescent glow gets me every time. All the more weird since this is such a contemporary product.
The MB100 lets you stream from the internal 1TB drive, wirelessly from your personal device, or hook up USB, eSata or NAS drives. You can also stream from Pandora, Spotify, etc. All is controlled via an iOS or Android custom app, web browser or TV user interface and output to either digital or analog ports on the back.
Available in April or May this year for around $6,500 retail. Go with the glow.
PS: Some of you must have similar memories of listening to music as a kid while the Mac's green and blue lights cast an eerie hue on the ceiling?