The Lyric Show 2013
The Lyric Show 2013 was held at Lyric Hi-Fi & Video (1221 Lexington Avenue) in Manhattan, on Friday and Saturday, April 12 and 13. An informal VIP presentation, held on Thursday, April 11, was open to members of the press. Last year, Ariel Bitran and I covered the event; this year, I was on my own.
This year's event, much like the last, was well-attended. Most guests made their ways casually from one demonstration to the next. Some lingered in between rooms, chatting and enjoying glasses of red or white wine while picking happily at small plates of fine food. Others seemed glued to comfortable seats in one of the several listening rooms. Manufacturer representatives, many of whom were also enjoying refreshments, held tight to iPads and kept close to gorgeous turntables, ready to take music requests. The entire place buzzed with energy and enthusiasm.
Lyric's Ruth Bellezza greeted me warmly, ushered me into the vibrant atmosphere, and introduced me to several people. "Have you seen Lenny yet?" she asked, her manner not unlike that of an affectionate aunt. She was referring to her husband, Lyric's co-owner, Lenny Bellezza. "Where's Lenny? Oh, he must be entertaining somewhere. Here, have you met Dan?" Dan Mondoro, Lyric's co-owner, offered a firm handshake and generous smile, before greeting several other happy guests.
Inside the largest demonstration room, two striking pairs of loudspeakers—Nola Concert Grand References and Focal Stella Utopia Ems—were positioned at opposite ends. Several neat rows of chairs were placed facing one pair of loudspeakers. After one demo, a manufacturer rep turned the chairs around and conducted a second demo utilizing the other pair of loudspeakers.
The speakers shared source components (an impressive dCS Vivaldi stack) and cables (Nordost's pricey and highly regarded Valhalla), but were driven by different amplifiers—Audio Research Reference Series tube amps for the Nolas, solid-state Simaudio Moon 880M monoblocks [review to come in June] and 850P line preamp [review to come later this year] for the Focals. This made sense: The Nolas seemed to favor speed and high-frequency clarity over midrange warmth and bottom-end impact, while the Focals provided a smoother, more full-bodied overall sound, perhaps a bit buttoned-down by comparison, but without sacrificing detail or clarity.
Owners of synonymous surnames, Tempo High Fidelity's John Quick and Audio Plus Services' Todd Hurry posed handsomely for a snapshot beside the dCS Vivaldi stack. "Quick, hurry," my mind raced as the former, dCS's US distributor, was photobombed by the latter, sales and product manager for Focal. Both gentlemen shared time as DJ with Nola's Carl Marchisotto, who played a DSD rip of Peter Gabriel's "Mercy Street" and quickly reminded us all of the magic of high fidelity. The sound was uncommonly smooth, the music spread across an impressively wide and stable soundstage.
In a much smaller demo room, Simaudio's Costa Koulisakis showed me his company's 180 MiND music streamer, compatible with both PCs and Macs and capable of 24-bit/192kHz resolution. It took a few tries for the streamer to connect to the host network, but once it did, the accompanying iPad app proved fun and intuitive, with file types, resolutions, and other pertinent metadata all easily searchable through a few simple taps. Music was clean, clear, and involving through a Magnepan 2.1 loudspeaker system.
With Pink Floyd's "Marooned" as soundtrack, Koulisakis discussed the high-end's need to educate both its dealers and customers about the viability of networked audio, and hinted that several new Simaudio products will work toward that goal. Meanwhile, scattered throughout Lyric's showroom, guests enjoyed demonstrations of the latest computer- and personal-audio gear from McIntosh, B&W, Focal, Grado, Sennheiser, and Sonos.
As I thanked Koulisakis for the Simaudio demonstration, I walked through a crowd that had formed around a table of chocolate desserts. Over the chatter and hum, I could hear "Mercy Street" coming from Lyric's main demo room. It sounded like the Focals were playing.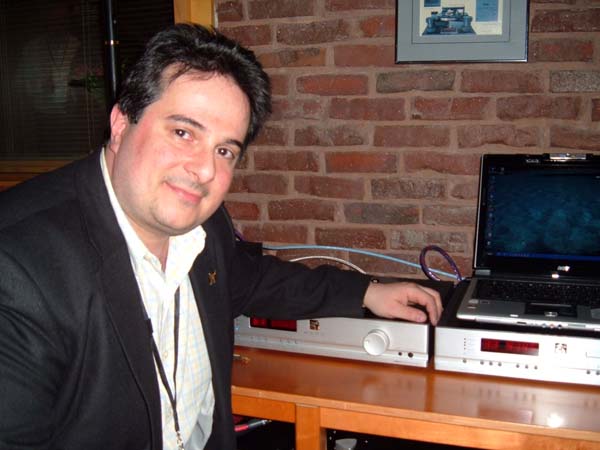 I was only able to sample a few of the demos that were held at the Lyric Show. Other featured brands included Autonomic, Datasat, Kaleidescape, Classé, ADAM, and VPI. Even while the New York Audio Show buzzed and shook the Palace Hotel, the Show at Lyric was a fine success—fun, informative, and well-attended.