Loudon Wainwright III: a Biography in Song
Even when Loudon Wainwright III (left in photo with Ramblin' Jack Elliot) was a young man he was writing autobiographical songs, and his old themes of family, sex, and death resonate more deeply on his new record, Older Than My Old Man Now. He usually performs solo, armed with just an acoustic guitar or a banjo, but most of his recordings present more heavily produced versions of LWIII's music. When I chatted with LWIII in late April I wanted to explore that dichotomy and how those transformations take place.
Steve Guttenberg: The on-stage Loudon is a very different Loudon than the one I hear on records.
Loudon Wainwright III: It's two different things. In clubs people are drinking and you're there to entertain them, but if they're in their car or sitting in front of their speakers that's a completely different trip. Performing on stage feels very different than a recording studio.
Guttenberg: Your records sound very different from one to the next, I'm curious about the role your producers play in determining how a record comes together.
Wainwright: I can't blame my bad records on my producers, but lately I've been working with some good people, like my friend Dick Connette, and Joe Henry, he's a wonderful producer. I produced my first album, it was just a voice and guitar record, but it took seven months to make, which just goes to show what an exacting producer I was. The third album had a hit single "Dead Skunk," and that one had a big band and that producer, the late Tommy Kaye, did a great job. Then I met Bob Johnston and went down to Nashville and did a record with him. When I was dropped by my third major label, Arista, I had to start over from scratch.
Guttenberg: With Richard Thompson producing, you two were great together.
Wainwright: Richard said "Let's just make the production serve the songs, that's the only criteria."
Guttenberg: Really, that wasn't true with the other producers?
Wainwright: It was, but I was also worried about getting a record on the radio, when you're a young artist that's what you do. Getting signed by a label, getting a lot of money, getting dropped by a label, then trying to get another record deal. After getting banged around a bit with the labels those two records I did with Richard were helpful because they took the emphasis off production, and put it back on the songs.
Guttenberg: Your music is in the producer's hands.
Wainwright: You have to trust them, because a recording studio is a place where you can really, excuse the expression, crawl up your own ass. Everything sounds great, you're sitting in plush chairs, you feel like you're really doing something, and it's costing a lot of money! You can lose your objectivity, so it's important to have a producer who isn't losing his or her objectivity and getting carried away with the drum sounds and the technology. It all depends on the kind of record you're making, because if you're making a record you want to get played on the radio you have to care about things like the drum sound. I don't want to make those kinds of records anymore.
Guttenberg: Radio, I don't know if radio "sells" records these days. For most of your live shows it's just you, your records are more populated...
Wainwright: You're right, but when I write songs I'm not thinking about what they're going to sound like in the studio, the songs first need to work in front of a live audience with just me and my guitar. When it's time to take them into the studio there are other choices to be made. Like on the new record, it starts with "The Here & The Now," where we have drums and bass and John Scofield on electric guitar, and it has kind of a funky feel. I could have done it solo, but we took a chance and had some fun with it. The production lifts the song.
Guttenberg: How do you feel about using Auto Tune to fix out-of-tune vocals?
Wainwright: I know what that is, but I'm happy to say I don't think I ever used it. There are a few wavering notes on this record.
Guttenberg: The new record is mostly about family, death, and sex.
Wainwright: The big stuff, it's just the way I do it. I just keep tapping the same kegs or veins: the family, marriages, the kids, the parents, and even the grandparents. It's all about me, but with the knowledge that what's happening to me is happening to you. I personalize it.
Guttenberg: Your fans feel like they know you through your songs, because you name names we know the intimate details of your life. Bob Dylan or Joni Mitchell are, for instance, pretty vague about those sorts of things.
Wainwright: My father was a very clear, concise writer [Loudon Wainwright, Jr. was a columnist and editor for Life magazine], and I like to think I got some of that stuff from him.
Guttenberg: Are you working on the next record?
Wainwright: I try to work on stuff every day, even if it's just walking around and thinking about it. I'm writing the next songs, and when I play them for an audience that's the litmus test, and you can tell when it works for them.
Guttenberg: But it sometimes takes years before you record a song.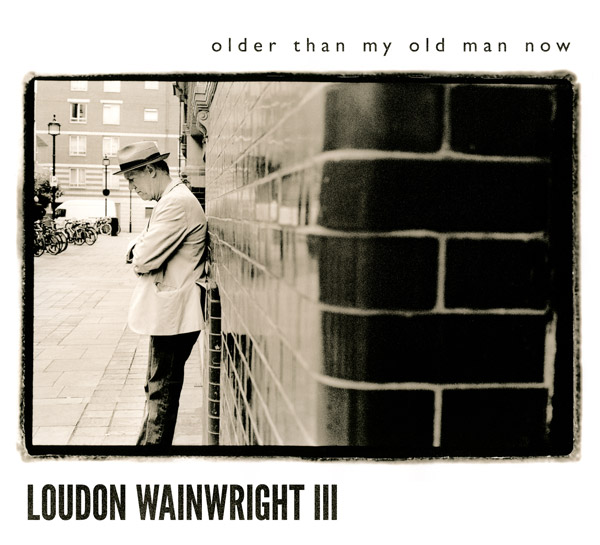 Wainwright: There are a couple of songs on the new record, like "Over the Hill," that was written in 1975 [with his first wife, Kate McGarrigle]. "I Remember Sex" was written 20 years ago, but I finally figured out how to perform it, and then I got Barry Humphries to do it with me, and that made it even better.
Guttenberg: That one really sounds like an off-the cuff studio thing.
Wainwright: Sorry to disappoint you, but we did that tune in two different locations. Barry has a place in London, and we did our bit in New York. I was in the room with Ramblin' Jack Elliot, and that was quite an afternoon when we recorded "Double Lifetime."
Guttenberg: I always assumed you sang vocals "live" with the band in the studio.
Wainwright: That depends, sometimes I cut tracks with just my voice and guitar, and the other instruments are added later.
Guttenberg: That's an unusual approach, most singers do the opposite and overdub vocals after the music tracks are recorded.
Wainwright: For me singing and playing guitar are always connected, my singing comes off my guitar playing. I have my own sense of time, literally, I sing out of time, but I catch up with myself. In the past when I made records I'd go into a booth and sing, let's say to a drummer and bass player, I'd feel like I had to follow them. But I don't play with bands usually, and I don't sing that way, I tend to meander a bit rhythmically. So some producers like Stewart Lerman and Jeffery Lesser realized this and said 'We're going to start with just you and the guitar, and we're going to add the others later and get them to follow you.' Joe Henry has a group of ridiculously talented musicians—Greg Leise, David Piltch, Jay Bellerose, and Patrick Warren—and with them it's live in the studio. They can follow me, so I don't feel like my time is constrained or regimented. On the new record it's a little of both—with just me and the guitar and other instruments added later—and some of it's live in the studio with a band.
Guttenberg: For the shows coming up in NYC in May, will it be just you, with your guitar?
Wainwright: No, I'll have the whole mishpacha—Rufus, Martha [the first born Wainwright kids], my sister Sloan, Suzzy Roche, Lucy Wainwright Roche, and many more. Some of it will be just me solo, and my guests will step out and do a song of their own. This year with the new record I'll probably do 75 shows, which is plenty for a guy my age schleping around a guitar. I'm running out of time here, I have to get my licks in.