Looking Forward: Kieran Hebden, Steve Reid, and Mats Gustaffson's Live at the South Bank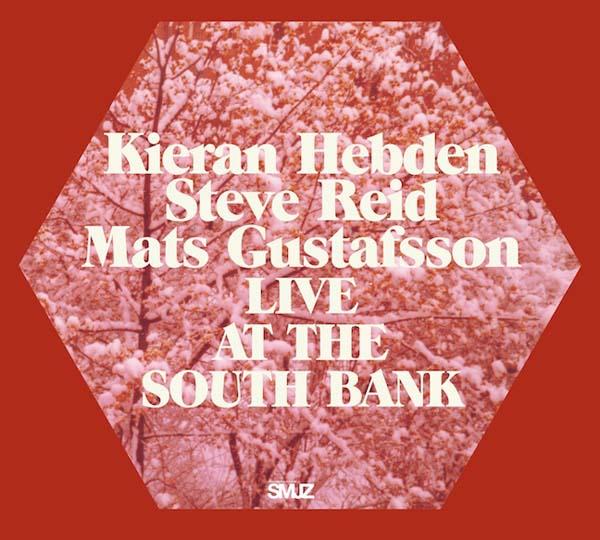 I've been playing games with myself, attempting to set limits and impose rules around my furious, nearly uncontrollable, record-buying spree. I told myself that for every dollar I spent on a record I would deposit a dollar into my savings account. (I tried it for a few days, but became bored. Saving is not nearly as much fun as record-shopping.) Then, a few weeks ago, after dropping a few hundred dollars during binges at Other Music and the Princeton Record Exchange, I told myself that I would impose a strict moratorium: No more records for me until after the New Year. With few exceptions, I had already purchased just about every new record I wanted, or so I tried to convince myself. But then the new Thundercat album hit stores and I had to have it. And then it was the new Girls record. How could I live without that?
Here's another:
Kieran Hebden, Steve Reid, and Mats Gustaffson's Live at the South Bank will be released by the Norwegian label, Smalltown Superjazz, on November 15. Somewhat sadly, this record stands as the fifth and final installment of Hebden and Reid's special relationship. The two began working together in 2005 with two improvised concerts in Paris and London. Over time, their bond grew. They spoke highly of one another, their relationship seeming to blossom from a musical collaboration into something deeper even than family. The last of four Domino releases came in 2008 with the excellent NYC, a vibrant, groovy love poem to the city, recorded at the famous Avatar Studios. And I swear you can hear Kieran Hebden's great admiration for his friend in Four Tet's brilliant 2010 release, There Is Love in You, one of my favorite records. Steve Reid died of throat cancer on April 13, 2010.
Live at the South Bank is a double CD documenting a performance held on June 20th, 2009, in the foyer of Queen Elizabeth Hall at London's Southbank Centre, part of the Meltdown Festival curated by Ornette Coleman. Kieren Hebden on laptops and electronics; Steve Reid on drums and percussion; Mats Gustaffson on saxophone.
I'll have to have this record, too. Sorry, moratorium. Why should I deny myself such beautiful pleasures?