LKV Veros PWR+ power amplifier Measurements
Sidebar 3: Measurements
A much-touted benefit of an amplifier with a class-D output stage is that it can be smaller and much lighter than a conventional amplifier for a given power. I was surprised, therefore, when I unpacked LKV's Veros PWR+ to find that it was both large and heavy. This is because the amplifier uses a linear power supply with three hefty transformers rather than a switch-mode supply (footnote 1).
I measured the Veros PWR+ using my Audio Precision SYS2722 system (see the January 2008 "As We See It"). As the LKV has a class-D output stage, it wasn't necessary to precondition the amplifier by using it to drive a 1kHz tone at one-third power into 8 ohms. Nevertheless, before doing any testing I ran it for an hour at a moderate power level, following which the top panel was warm, at 93.9°F/34.4°C. Because class-D amplifiers emit relatively high levels of ultrasonic noise that would drive my analyzer's input into slew-rate limiting, all measurements were taken with an Audio Precision auxiliary AUX-0025 passive low-pass filter, which eliminates noise above 200kHz. Without the filter, 218mV of ultrasonic noise was present at the loudspeaker terminals.
The voltage gain at 1kHz into 8 ohms was 27dB from both the balanced and single-ended inputs, and the amplifier preserved absolute polarity (ie, was noninverting) with both inputs. The single-ended input impedance was a commendably high 165k ohms at low and middle frequencies, dropping to a still-high 84k ohms at the top of the audioband. The balanced input impedance was more than twice these values, at 358k ohms at 20Hz, 334k ohms at 1kHz, and 268k ohms at 20kHz.
The LKV's output impedance, including the series impedance of 6' of loudspeaker cable, was a very low 0.07 ohm at 20Hz and 1kHz. It increased very slightly to 0.09 ohm at 20kHz. The modulation of the amplifier's frequency response due to the Ohm's law interaction between this source impedance and the impedance of our standard simulated loudspeaker was therefore negligible at less than ±0.1dB (fig.1, gray trace). The response into resistive loads was flat to 20kHz into 8 ohms but rolled off rapidly above the audioband, reaching –3dB at 60kHz (fig.1, blue and red traces). These responses were taken with the balanced inputs; the unbalanced inputs behaved identically. The restricted ultrasonic response is responsible for slightly lengthened risetimes with the amplifier's reproduction of a 10kHz squarewave (fig.2). There is also a small amount of overshoot with the squarewave reproduction, with one critically damped cycle of ringing. Presumably, this is mainly due to the class-D output stage's integral low-pass filter.
Channel separation was excellent in the L–R direction, at >90dB below 3kHz, but was up to 20dB worse in the R–L direction. Measured with the Audio Precision ultrasonic filter and the unbalanced inputs shorted to ground, the wideband, unweighted signal/noise ratio (ref. 2.83V into 8 ohms) measured an excellent 80.6dB in the left channel and 79.9dB in the right. Restricting the measurement bandwidth to 22kHz increased the ratios to 91.6dB, left, and 86.3dB, right, and an A-weighting filter increased them further, to 94.8dB, left, and 91.5dB, right. Spectral analysis of the LKV amplifier's low-frequency noise floor (fig.3) revealed that spuriae related to the AC power-line frequency were very low in level but were a little higher in the right channel (red trace) than the left (blue).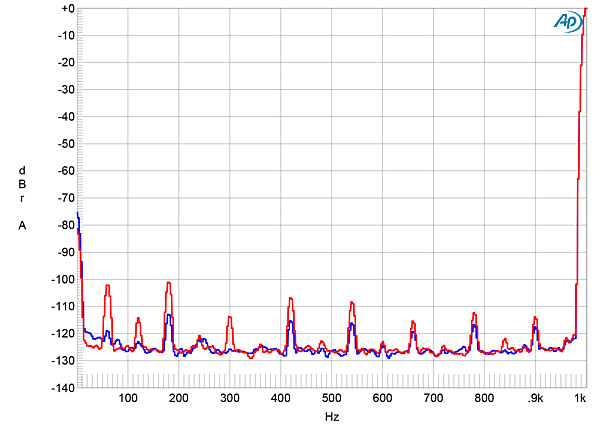 The Veros PWR+ is specified as delivering 200Wpc into 8 ohms and 400Wpc into 4 ohms, both equivalent to 23dBW. At our usual definition of clipping, which is when the THD+noise reaches 1%, the LKV amplifier with both channels driven exceeded its specified power into 8 ohms, clipping at 221Wpc (fig.4, 23.3dBW). It clipped at 400Wpc into 4 ohms (fig.5, 23dBW), and with one channel driven, I measured a clipping power of 505W into 2 ohms (fig.6, 21dBW). This contrasts with the specified maximum 2 ohm power of 220W into 2 ohms (17.4dBW) (footnote 2).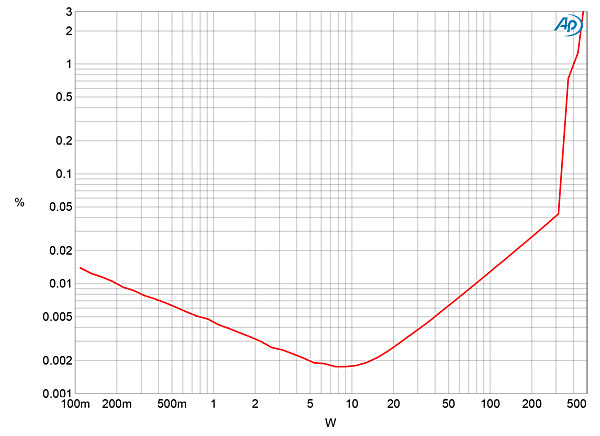 Distortion levels were very low (fig.7), but less so in the right channel (red and magenta traces) than the left channel (blue, cyan, and gray traces) even into 2 ohms (gray trace). However, the level of the THD declined above 10kHz, perhaps due to the output stage's low-pass filter. The shape of the THD+N spuriae waveform at a moderate power into 8 ohms (fig.8, bottom trace) suggests that the distortion signature is predominantly third-harmonic in nature. This was confirmed by spectral analysis (fig.9), though at a moderate power into 4 ohms, the third harmonic was higher in the right channel (fig.10, red trace) than it was in the left (blue trace). Intermodulation distortion with an equal mix of 19kHz and 20kHz tones was also very low in level (fig.11).
The LKV Veros PWR+ turned in excellent measured performance.—John Atkinson
---
Footnote 1: See, for example, Tom Gibbs's review of the Bel Canto e1X amplifier in
June 2020
.
Footnote 2: In an email, Bill Hutchins wrote "John noted that the max output power into 2 ohms (505W with one channel driven) contrasts with our spec of 220W into 2 ohms (both channels driven). Because the amp's maximum power output is current-limited into 2 ohms, John's 505W measurement converts to about 250W if both channels are driven with the same sinewave signal. Thus, his measurement and our spec are in rough agreement."