Listening #198: IsoAcoustics & Audio-Creative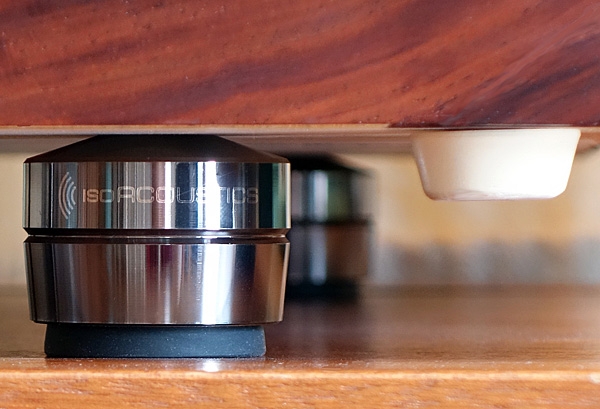 It's a toss-up: The house where my family and I lived for 15 years was bigger than the one we have now, and had a much nicer view. On the other hand, we now live in a less economically depressed region, as suggested by the relative scarcity of inflatable lawn decorations. During the last year I saw in my neighborhood far fewer leprechauns, reindeer, Easter Bunnies, purple-and-green Draculas, and turkeys wearing pilgrim hats (which makes about as much sense as Russian soldiers wearing lederhosen). I find those things unspeakably sad, because they're horrible, cheap, gaudy wastes of money.
I'm beyond saddened by waste—a more apt descriptive is overcome by a paralyzing depression. (If ever I fail to answer your phone call or reply to your e-mail, it's likely I've just come in from seeing an especially tatty Santa Claus dressed in camo.)
That's one reason I have little enthusiasm for audio accessories of the tweaky sort: I can usually tell by looking which accessories will travel the shortest, fastest route to the landfill. (Hint: They're usually the ones with the most expensive packaging.) I mean, really: When was the last time you put that special mat under a CD—or that weight on your amp, or those wiggle-blocks under your preamp, or that jacket on your cables, or that wrap around your tonearm, or any number of other doodads once hailed as essential? I'm not saying those things don't produce audible effects: Maybe they do, maybe they don't. But if you're like me, around the third or fourth time you've had to remove those accessories in order to dust your components and their surroundings, they don't get reinstalled. In my house, they go first to my Basket of Deplorable Accessories, then to the closet in the TV room, and then to the landfill.
Thus I've surprised myself with my love for IsoAcoustics' Gaia III isolation feet, which are now literally integral to my primary record player.
Support group
I'm new to the idea of putting aftermarket isolation devices under my Garrard 301 turntable and the stacked-plywood plinth I made for it in 2011—new to using them, but not to wanting them. The stiff rubber feet I screwed to the underside of that plinth eight years ago were ones I found in my parts drawer, presumably cannibalized from some long-dead appliance. Those feet were a stop-gap measure, installed just to get the thing up and running, thinking I'd later replace them with something better. Unfortunately, something better was a long time in coming. Throughout those years, the only alternative that impressed me was an isolation foot used under the turntable plinths and other products manufactured by the German company LignoLab, which specializes in audio furniture made of wood, not metal—a company after my own heart. Unfortunately, I never succeeded in borrowing a set of those laudably compliant feet, whose isolation properties appear to extend to the lowest of low frequencies.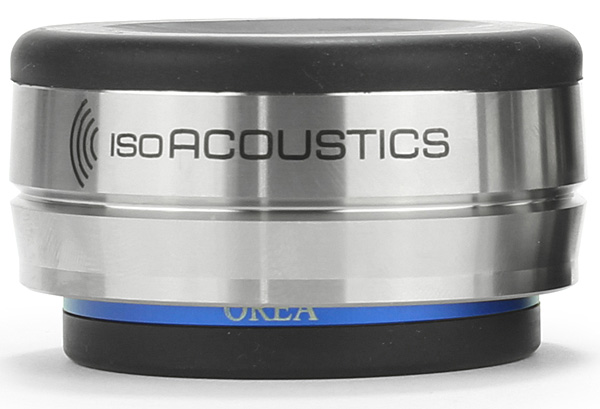 I remained on the lookout for promising isolation products, but none caught my eye—until Robert Deutsch's review of IsoAcoustics' Gaia series of loudspeaker isolation feet crossed my desk. As Bob described it, and as I remembered from an IsoAcoustics demonstration at the 2017 Montreal Audio Fest, the Gaias offer a degree of compliance calculated to suit the weight of the product being supported. They're supplied in sets of four—one set per speaker—and are available in three different sizes/versions: Gaia I, the largest, a set of which can accommodate speakers weighing up to 220 lb; Gaia II, for speakers up to 120 lb; and Gaia III, for speakers up to 70 lb.
Broadly speaking, each Gaia has two components: a cylindrical housing machined from stainless steel and, protruding from its bottom, a round footer of somewhat smaller diameter, covered with a rubber-like substance. The latter part yields, slightly and more or less pistonically, to moderate pressure. The top surface of the cylinder is flat, with a threaded hole into which a supplied mounting bolt can be screwed. Also supplied are adapters that allow those bolts to be fastened, in turn, to the threaded openings found on the bottoms of many loudspeakers and/or their stands. Three common hole sizes can be accommodated by a set of Gaias as supplied; IsoAcoustics says they can provide other sizes as needed.
Dave Morrison, founder of IsoAcoustics, told me that the composition of the Gaia's rubber-like material, from which the footer's inner structure is also made, is proprietary. But he assured me that it isn't Sorbothane, and that it's formulated to remain stable, not hardening or otherwise changing over time.
For applications in which threaded-bolt mounting isn't practical, IsoAcoustics offers an isolation foot called the Orea, which performs similarly but whose upper contact surface is rubbery and concave, the latter quality imparting a suction-cup effect when placed in contact with a very smooth surface. Also like the Gaia, the Orea is available in three versions: a single Orea Bordeaux, the largest, can support up to 32 lb; each Indigo can support up to 16 lb; and the littlest Orea, the Bronze, is for loads of up to 8 lb. (Because a good many audio components can be used with just three Oreas, their weight limits are expressed singly rather than for sets of three or four.)
In 2018, in response to my request for review loaners, IsoAcoustics sent me two four-piece sets of Orea Bordeaux isolators ($79.99 per isolator), presumably presuming I wished to use them under loudspeakers. But my reference DeVore Fidelity Orangutan O/93 floorstanding speakers are supported by 0.75"-square plywood pegs built into the bottoms of their enclosures, and my Altec Flamenco horn loudspeakers are simply too heavy, and too dependent on the spindly stands I've made for them: Neither speaker is a promising candidate for aftermarket footers. I elected to try the IsoAcoustics devices under my Garrard 301 and its plinth, and followed up by requesting review samples of two other IsoAcoustics models that seemed right for that 40-lb combination: quartets of Orea Indigos ($59.99 each) and Gaia IIIs ($199.99/four). Installation was simple: lift up the back end of the plinth and slide two Oreas into the rear corners, then repeat the process for the front end. (The supporting structure was my Box Furniture D3S rack.)
Best footer forward
I imagined I might hear a bit of a difference between my plinth's original feet and the IsoAcoustics pucks. But the difference I heard was beyond my expectations. My colleague Brian Damkroger said it best in his review, last month, of Wilson Audio's Yvette loudspeaker: Holy shit!
I started with one of my favorite bluegrass albums, the eponymous solo debut by mandolinist Frank Wakefield (LP, Rounder 0007), and the song "Sleepy Eyed John." With the plinth perching on its original feet, the music sounded good enough (obviously—I've been enjoying this setup for nearly a decade): The solo mandolin was revealed as having been mixed front and center and was engagingly present, if not overwhelmingly substantive. The twin banjos also had good presence, despite being comparatively recessed in the mix, and sounded not inappropriately clattery. The double bass was weak but audible.