Listening #198: IsoAcoustics & Audio-Creative Page 2
But when I slid into place the four Orea Bordeaux feet—indeed, after two rounds of back-and-forth comparisons—I realized that the mandolin's tone was comparatively pinched with the original feet in place. With the IsoAcoustics Oreas, the mandolin seemed notably louder—especially in the opening measures, where it's the only instrument being played—and had more body and an altogether richer timbral character. Those banjos, played by Tony Trischka and Pete Wernick, still sounded of the barnyard, but were now more distinct from one another and from the sound of Wakefield's mandolin—the latter a neat trick, inasmuch as they're steel-string instruments of similar ranges. The bass, never generous on this otherwise superb recording—typical of early Rounder releases, it was made at a time when people didn't know enough to fuck things up—was now more satisfying in its weight, and utterly superb in its clarity of pitch.
Later, I went back and replaced the Orea Bordeaux with the Orea Indigos and heard an additional improvement: Wakefield's mandolin was louder still—a slight difference, but every bit as audible as that between the original feet and the Orea Bordeaux—and the bass was heftier still. And Kenny Kosek and his fiddle actually took a step back in space—I had the sense I was hearing more clearly a distinction that had been there all along and not just a fiddle sound that was quieter and/or duller. And here, especially in the dual-banjo solo, it seemed to me there was less noise mixed in with the fundamentals and overtones: notes were clearer, instrumental sounds closer to the way they sound in real life. (As someone who has happily returned to playing with other musicians at least once a week, those are sounds I know very well.)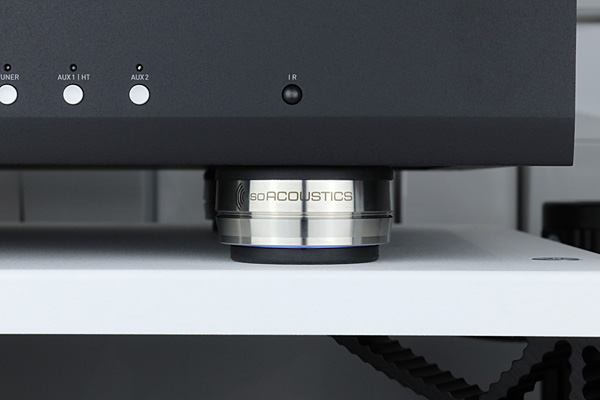 And then, when I replaced the Orea Indigos with the Gaia IIIs, the sound made two leaps—one definitely forward, one sideways. The forward leap—the unambiguous improvement—was an even greater increase in definition and clarity: I could now tell that, for one full measure in that double banjo solo, one banjo drops out (no telling whose, but from what I know of their styles, I'd say it's Wernick's), and the bass runs played by the enduringly great flatpicking guitarist Russ Barenberg were far more prominent. All other gains remained the same—bass was still great, soundstage depth still fine—but now the sound was very slightly brighter overall: not the sort of brightness you hear when turning up the treble knob, but the kind that results from adding a supertweeter to extend the treble range. There was no diminution of tonal body and richness, just more high-frequency information: things just got clearer, not screechy.
As I listened to Satie's six Gnossiennes by the composer's master interpreter, Reinbert de Leeuw (LP, Telefunken 6.42198 AW), the music sounded appropriately moodier, de Leeuw's playing more deliberate and, for want of a better term, Romantic. Listening in the daytime, I jotted in my notes, "with the Gaias, this music feels more like I'm listening in the dark, and more like there's a bottle of absinthe open somewhere."
I repeated the tests with other records, and the Gaia IIIs always came out on top. On the recording by Leopold Stokowski and the London Symphony Orchestra of Charles Ives's Orchestral Set No.2 (LP, London Phase 4 SPC 21060), the Gaia-enhanced player allowed clarity and resonance to orchestral bells, and greater clarity to the recording as a whole. The music remained a glowering shambles—I go back to Ives every couple of years, just to retest my tentative conclusion that his music is mostly junk—but now it was a more listenable glowering shambles. Luckily, the same strengths carried over to another large-scale recording, of excerpts from the famous recording of Wagner's Götterdämmerung by Georg Solti and the Vienna Philharmonic, et al (LP, Decca SXLK 6220). Here, smaller orchestral bells were similarly clarified and fortified, cow horns sounded more terrifying (and their apparent locations betraying greater soundstage depth), and the climax at the end of Hagen's "Ihr Gibichsmannen . . ." was stronger and more poised than when the plinth sat on its crappy plastic feet.
With the Gaia IIIs still in place I turned to the 2018 remix and remastering of The Beatles, from The Beatles and Esher Demos (4 LPs, Apple 0602567572015), a pleasant enough and at times revelatory romp whose primary raisons d'être are apparently to boost Paul McCartney's electric-bass parts and to inform the listener of what people were playing and singing during the end-of-song fadeouts—and that's okay with me. In "Sexy Sadie," John Lennon's kiss-off to the Maharishi Mahesh Yogi, the recording sounded more impressive with the Gaia IIIs in place, with more wallop than expected from Ringo's drum kit, good definition of all the backing vocals, and enjoyably prominent electric-guitar lines from George Harrison. After playing that number, I stopped the Garrard, removed the Gaias—this time I didn't bother going through all the variations and returned straight to the original feet—and was once again mildly surprised at the difference. In much the same way that switching to any of the IsoAcoustics feet made voices and instruments sound slightly louder, without them those elements sounded slightly quieter—and thinner, and lacking in body. The Hendrix-y ascending triplets Harrison plays behind the middle-eight were less audible, and John Lennon's vocal sibilants were no longer so easy to take.
And then: In setting out to review Exposure's new XM5 integrated amplifier, I began a listening session of comparing that and my usual electronics by putting on soloist Clifford Curzon, with Hans Knappertsbusch and the Vienna Phil, doing Beethoven's Piano Concerto 5 (LP, Decca/Speakers Corner SXL 2002). At the start, my Garrard 301 and its plinth were back on its original feet, with nary an IsoAcoustics device in sight. I listened for about 30 seconds, said Hold on—then stopped the record and reinstalled the Gaia IIIs. The sound was clearer and smoother and altogether more like music than hi-fi. I have not looked back since. I have it in mind to send the IsoAcoustics distributor a check before the week is out.
A postscript for those considering IsoAcoustics products for use under their speakers: Dave Morrison told me that, in designing the Gaias, he wanted his product to "resist lateral deflection, front to rear, to prevent motive forces" in reaction to speaker-cone travel, which can diminish or blur the speaker's output. To ensure this, the compliant inserts of the Gaias are "biased": A label on each footer indicates the path of least compliance, and should point either to the front or the rear when used with speakers.
Peer mediation
As I write this, Daylight Savings Time begins in 10 hours. Today, the temperature in upstate New York hit 40°F, and the snow has begun to recede from my lawn. No better time to try out a new moving-coil step-up transformer—something that can be likened to crocuses, bluebirds, and juvenile rabbits for all the happiness they bring.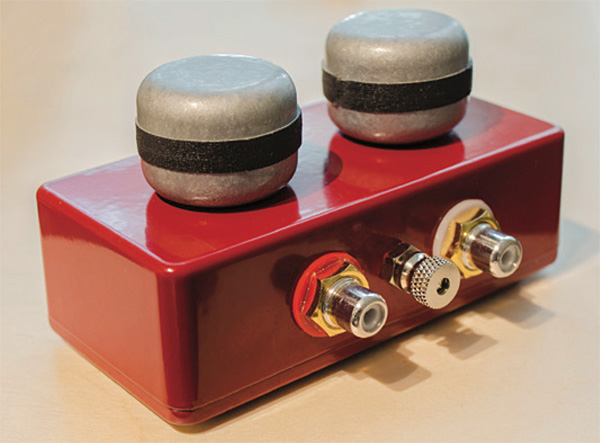 The Mediator 40 phono transformer, from Audio-Creative—the Netherlands-based manufacturer of the GrooveMaster II tonearm, which I wrote about in this column in February 2018—arrived three days ago, and has already brought even more happiness than most such things. It's built around a stereo pair of transformers manufactured by the German firm Haufe, each of which has a single primary coil and single secondary coil, wound with a 1:40 turns ratio.
That transformer, a stock item called the Haufe T-210, is available online for prices ranging from €301.65 to €365. The Audio-Creative Mediator 40 combines the two T-210s with gold-plated Cardas input and output jacks (RCA), a ground lug, and a ground-lift toggle switch, all in or on a tidy aluminum enclosure—it looks identical to the ones used for the same purpose by other suppliers of phono transformers—and retails for €367.77.
Right out of the gate, and compared to the many commercial products out there that similarly repackage OEM transformers yet come with four-figure prices, the Mediator 40 would seem to offer considerably higher-than-average value.
Of course, none of that would mean a thing if the Mediator were mediocre, but this is one of the best, most engaging-sounding step-up devices I've ever heard at any price.
Unsurprisingly, in light of the price difference between the Mediator 40 and my reference phono transformer, the Auditorium 23 Hommage ($4995), there were audible differences between the two. (A23 doesn't publish specifications, but the Mediator 40 and Hommage T1 provided me with similar if not identical amounts of gain.) The Mediator 40 was a bit lighter in overall timbral balance, and with good orchestral recordings, such as the above-mentioned Curzon-Knappertsbusch Beethoven, with the Audio-Creative transformer replacing the Hommage, my attention was drawn more to the sheen of the strings' overtones than to the meat of their fundamentals—a very slight difference. Shockingly, however, the Mediator shared the Hommage's exceptional sense of scale: It was huge on this and similar records. And the Mediator 40 did not in the least compress the wide dynamic swings of Curzon's playing—it was monstrously loud, forceful, and altogether powerful when called for.
In the vaguely Motown-inspired "Nothing But the Truth," from Procol Harum's Exotic Birds and Fruit (LP, Chrysalis CHR 1058), the Mediator 40 again matched the Hommage's force, but didn't quite match its ability to pull solo voices out of the mix and allow them to sound eerily present. The Dutch trannie also sounded very slightly grainier than my reference—but, that said, as I write this the Mediator 40 has been in use for only a few days; experience tells me that artificial texture in a transformer is often dispelled after a healthy run-in period (at least a month).
The Mediator 40 also sounded fine with more delicate music. Fauré's autumnal Piano Trio in d, in a rough-at-the-start performance by members of the Pro Arte Piano Quartet (LP, L'Oiseau-Lyre SOL 289), sounded vibrantly colorful—I guess I could have just said vivid and been done with it, but we get paid by the word around here—and, as with the Beethoven piano concerto, both the soundstage and the images thereon were of generous but not ridiculous size. The piano, in particular, was reproduced with an abundantly realistic sense of touch, and musical momentum and flow were first-class throughout.
Joan Baez's eponymous 1960 debut album (LP, Vanguard VSD 2077), another LP made in the time before engineers found the courage to make recordings sound unrealistic, was also lovely through the Mediator 40. In "Wildwood Flower," a Carter Family tune whose popularity at bluegrass jam sessions is greater than that of beer itself, Baez's voice was its pristine self, even during her occasional fortissimos—which, it must be said, she applied artlessly—and the sounds of her ably played six-string acoustic guitar and Fred Hellerman's 12-string were crisp and resonant and altogether convincing. Ditto the acoustic guitar, violin, and cello in the instrumental "Green Leaf Fancy," from Norman Blake's The Fields of November (LP, Flying Fish 004).
Two final (for now) notes: Like Ardath Bey in The Mummy (1932), the Mediator disliked being touched: to do so was to produce mild hum. That said, running a wire between its ground lug and the base of my tonearm eliminated this touch sensitivity. (Incidentally, in my system, having that ground lift switched off produced mild hum, so I left it on all the time.) Note also that I tried the Mediator 40 with the Shindo SPU—a somewhat heretical move, inasmuch as that's the cartridge for which the Hommage T1 was designed. Sure enough, although the pairing still worked well, with this cartridge the difference between the two transformers was more pronounced, the Mediator 40 sounding notably less meaty and more trebly with the Shindo-rebuilt Ortofon. So it goes.
I hope to hold on to the Audio-Creative Mediator 40 for a while longer so I can report on its sound after it can be presumed broken in. But for now, I'm thoroughly impressed: The Mediator 40 is a top-shelf trannie at a crazy-low price.