Listening #189: Luxman MQ-88uSE Measurements
Sidebar: Measurements (from November 2018)
When Art Dudley wrote about Luxman's MQ-88uSE power amplifier in his September 2018 "Listening" column, he was impressed by what he heard from this classic, well-made tube design driving DeVore Fidelity Orangutan O/93 loudspeakers. He concluded his review by saying, "As for the brilliantly musical and unmistakably high-value Luxman MQ-88uSE, you might want to grab one while you can" (footnote 1). While visiting Art's place in upstate New York last June to pick up the Kalista CD player featured on the September issue's cover, I picked up the Luxman amplifier and took it back to my place, to perform on it a full set of measurements.
I measured the Luxman MQ-88uSE using my Audio Precision SYS2722 system (see the January 2008 "As We See It"). I mostly used the Direct inputs, but repeated some tests via the Variable inputs, whose circuits include the front-panel volume control. The Luxman amplifier has a single set of output transformer taps, which the manual states are optimized for 6 ohm loads. The voltage gain into 8 ohms was close to the specification but a little on the low side, at 24dB. Both sets of inputs preserved absolute polarity (ie, were non-inverting); for the Direct inputs, the input impedance, specified as 100k ohms, was 54k ohms at 20Hz and 1kHz, dropping slightly to 42k ohms at 20kHz; and, for the Variable inputs, 34k ohms at 20Hz and 1kHz, dropping to 28k ohms at 20kHz.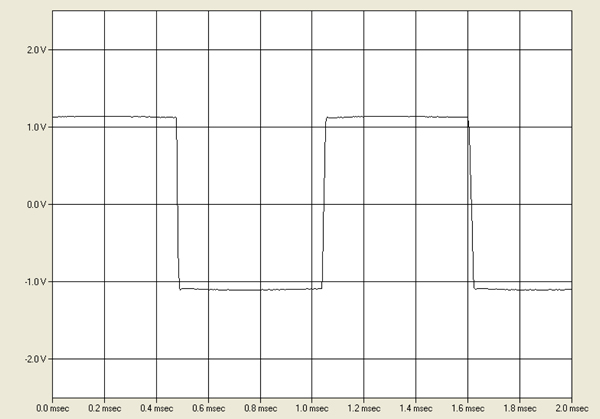 The output impedance, including a 6', spaced-pair speaker cable, was relatively low for a design using a single pair of KT88 tubes—props to Luxman for including a schematic in the manual!—at 0.6 ohm at 20Hz and 1kHz, rising to 0.75 ohm at 20kHz. As a result, the modulation of the Luxman's frequency response with our standard simulated loudspeaker was ±0.4dB (fig.1, gray trace). The response into 8 ohms was flat to 20kHz (blue and red traces), and only slightly less extended into lower impedances (cyan, magenta, green). The MQ-88uSE's reproduction of a small-signal 1kHz squarewave into 8 ohms was excellent (fig.2), the flat tops confirming the extended low frequencies seen in fig.1. A 10kHz squarewave (fig.3) featured short risetimes, with no overshoot or ringing evident. The Luxman's squarewave performance is a tribute to the high quality of its output transformers.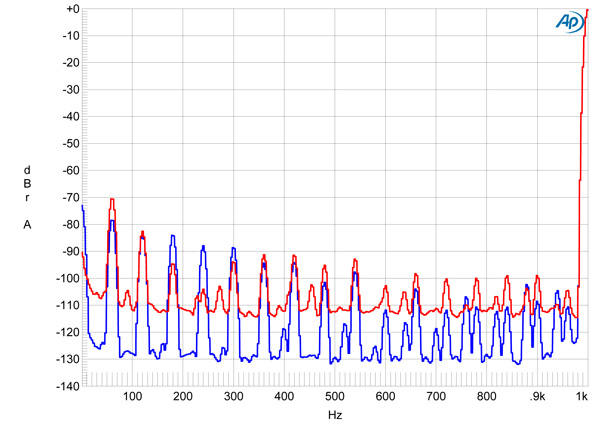 Channel separation was asymmetric, measuring >80dB below 1kHz, R–L, but 62dB, L–R. Though the levels of power-supply–related spuriae were the same in both channels (fig.4), the right channel also had a higher level of random noise than the left. The unweighted, wideband signal/noise ratio, taken with the inputs shorted to ground, was 79.1dB for the left channel but 74.8dB for the right, both ratios ref. 1W into 8 ohms. The S/N ratio improved to a very good 87.6dB with an A-weighting filter in circuit.
Luxman specifies the MQ-88uSE as offering 25Wpc into 6 ohms (12.2dBW), and 20Wpc into 8 ohms (13dBW) and 4 ohms (10dBW). Defining clipping as when the proportion of THD+noise in the output reaches 1%, I measured clipping powers of 30W into 8 ohms (14.8dBW, fig.5) and 28Wpc into 4 ohms (11.5dBW, fig.6), both with both channels driven. Figs. 5 and 6 indicate that the Luxman amplifier has low distortion at powers below 1W.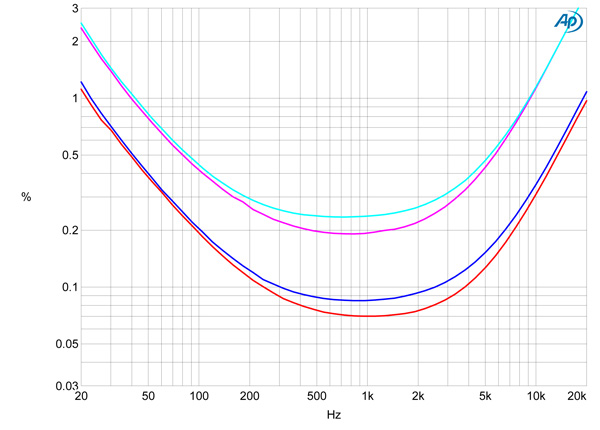 I examined how the MQ-88uSE's percentage of THD+N varied with frequency at 6.35V (equivalent to 5W into 8 ohms and 10W into 4 ohms). The THD+N was relatively low in the midrange into 8 ohms (fig.7, blue and red traces), but rose both into 4 ohms (cyan, magenta) and at the frequency extremes.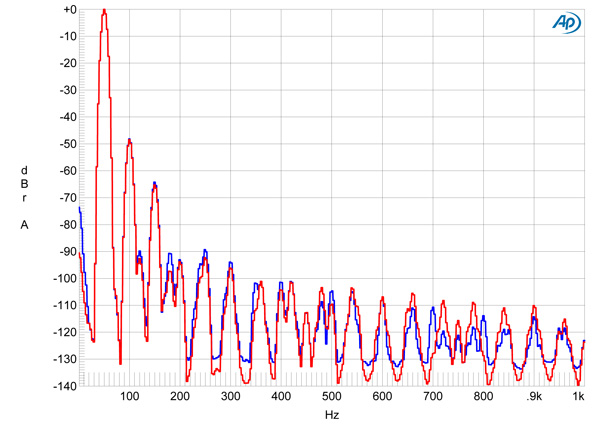 The THD+N waveform at 10Wpc into 8 ohms (fig.8) indicates that the distortion signature is primarily second harmonic in nature. Spectral analysis of the amplifier's output while it drove 50Hz at 5Wpc into 8 ohms (fig.9) shows that the third harmonic is also present at a lower level than the second, and that higher-order harmonics are also present, though these lie at or below –90dB (0.003%). Tested with an equal mix of 19 and 20kHz tones with the signal peaking at 5Wpc into 8 ohms, the Luxman produced relatively low levels of high-order intermodulation distortion, though the difference product at 1kHz was fairly high in level, at –52dB (0.25%, fig.10).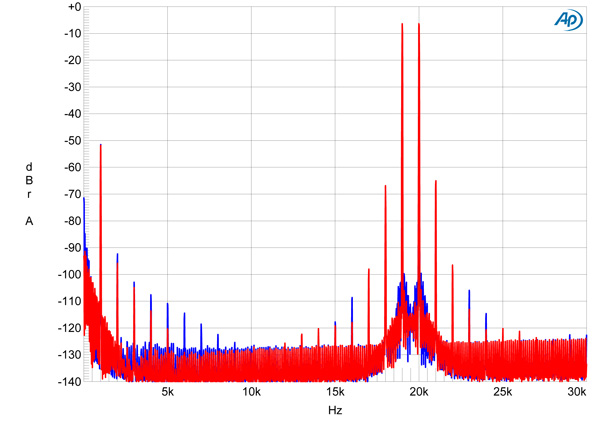 When measuring tube amplifiers, I'm leery—too often, there are idiosyncrasies that demand further, time-consuming investigation. But all went well with Luxman's MQ-88uSE. It is an excellent example of a classic push-pull tubed design.—John Atkinson
---
Footnote 1: The
SE
in the model designation stands for
Special Edition
; when all units of the MQ-88uSE are sold, it will be replaced in the line by a similar amplifier, the MQ-88uC.