Listening #152 Page 2
Lower still is the cost of maintaining Ledermann's top cartridge model, the Soundsmith Strain Gauge ($8600, including the most basic version of its requisite preamp, footnote 3): Replacement styli can be swapped out in the field, and range in price from only $350 to $950.
User-replaceable styli with three-figure price tags are made possible because the transduction principle for which the cartridge is named—at least two other strain-gauge pickups have appeared on the market in years past—is so different from that of most other phono cartridges. MI, MC, and MM cartridges all respond to the bumps in the groove of a moving record by generating their own electrical signal. (As pointed out in the June 2014 "Listening," those products are unique among all source components in that regard.) But a strain-gauge cartridge responds to those bumps by modulating a current supplied by its partnering preamp, which it does by means of a tiny silicon element that varies resistance in response to physical stylus deflection. Thus the Soundsmith Strain Gauge can claim even lower moving mass than an MI cartridge—and, as a bonus, its modulated signal requires only minor amplitude-response correction, and not the full-blown RIAA equalization required by most phono pickups.
Ledermann would also have you know that, because of its incomparably low moving mass and its freedom from the mechanical compression that bedevils electromagnetic cartridges, the Soundsmith Strain Gauge cartridge is an incomparably good tracker. Indeed, he says, the Strain Gauge is kinder than most cartridges to one's records, a claim he illustrated by playing for me a record that not only had lots of bass, treble, and sheer juice, but that exhibited not a single tick or pop. Except it wasn't a record—it was a half-speed–mastered lacquer. While a typical lacquer can't be played more than a few times before audible groove damage sets in, Ledermann said that this lacquer had been played approximately 150 times—but only with a Soundsmith Strain Gauge.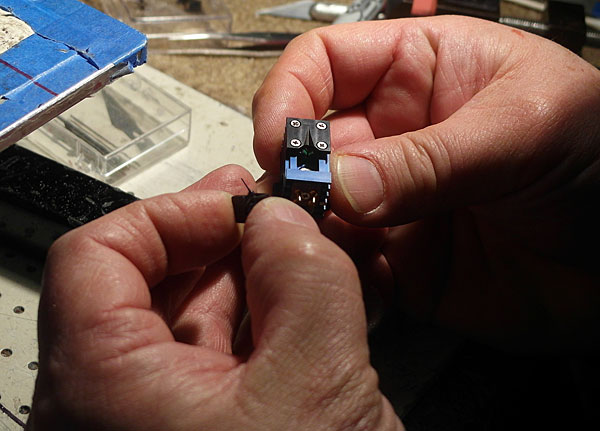 The rest of that playback system seemed similarly impressive—and, with the exception of the VPI turntable and Schroeder tonearm, all components were designed and made by Ledermann. The cartridge was the Soundsmith Strain Gauge Signature Series SG-810 ($33,900), the partnering preamp for which also includes line inputs, manual and remote controls, a tape loop, and automatic cue-up muting. Power amplifiers were a bridged pair of Soundsmith HE-150 zero-feedback, 200Wpc MOSFET monoblocks ($43,000 each), and loudspeakers were the compact (14" tall), two-way Soundsmith Monarchs ($4000/pair), mounted on Soundsmith Versa-Stands ($900/pair). The sound lacked the casual, natural forcefulness I hear through my Altec horns, and when I played an LP I'd brought with me—Country Cooking's 14 Bluegrass Instrumentals (Rounder 006)—I was surprised to hear a less dry, more echoey sound than I hear at home. But color, detail, scale, and width of frequency range were all very impressive. I may or may not have been correct in attributing to the Strain Gauge cartridge the system's abundance of sonic detail, but there was no doubting the little Monarch speaker's ability to sound surprisingly huge, and to play low-frequency tones I would have thought beyond its reach.
Grace notes
After a bit more listening, Ledermann and I retreated to a local restaurant for some lunch and a more relaxed, far-ranging conversation. We hit upon all manner of hi-fi and music topics, during which I became acquainted with some of Ledermann's likes and dislikes regarding analog playback in general. For the sake of both sound and cartridge longevity, he is an ardent believer in keeping records clean, and prefers radial-slot, vacuum-dry cleaning machines such as those from VPI and Hannl, the latter of which Soundsmith offers for sale. (Earlier in the day, when we were about to play that Country Cooking LP, Ledermann asked if I'd let him wash the record beforehand; having recently cleaned it on the Audiodesksysteme Gläss Vinyl Cleaner, which I prefer, I declined with thanks.) As for stylus cleaning, Ledermann recommends lowering the tip into a gummy, sticky, putty-like substance, which is presumed to retain any and all contaminants, and which can be reused multiple times. (Although Ledermann doesn't specifically endorse it, the Onzow Zerodust cleaner works in that manner.)
Perhaps unsurprisingly, Ledermann also has much to say about cartridge alignment—but is refraining from making detailed comments on the topic until such time as he can deliver one of his next commercial products, the Soundsmith Cartright. This bundle of hardware and software, reportedly in the works for some time, is expected to carry a price in the high three figures. For now, suffice it to say that Ledermann's geometry of choice is Baerwald—and take to heart his observation that "azimuth is a supercritical alignment, but there is a difference between generator alignment and stylus alignment." That's not as enigmatic as it sounds.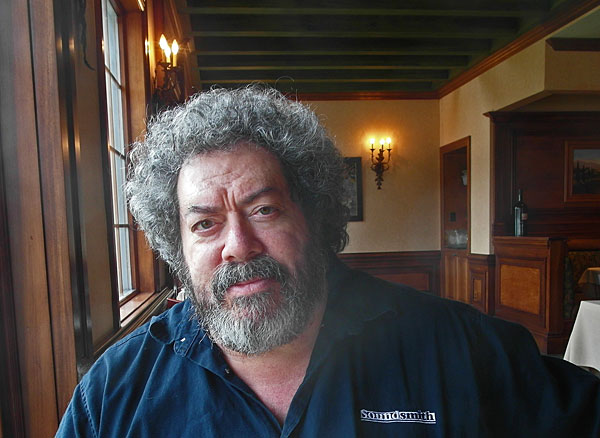 But of all the topics that inspire Ledermann's passion and industry, none seems as near to his heart as his favorite charitable enterprise: the worldwide abolition of childhood slavery. To that end, he has created his own record company, DirectGrace Records. The label specializes in direct-to-disc recordings of acoustic music, recorded and mastered by Ledermann on a Neumann VMS70 lathe at the Soundsmith offices; all proceeds go to support such nonprofit organizations as the African Network for the Prevention and Protection Against Child Abuse and Neglect (www.anppcan.org). Among the titles presently available are Flower by the Dry River, by jazz pianist Elio Villafranca and his ensemble (LP, DG 00106 S), and the eponymous debut album by singer-songwriter Samuel Searle Morris (LP, DG 00103 S). You can buy one or both of them right now and do something nice for the world and your ears.
After lunch, we returned to Soundsmith for a little more listening, and to drop in to see their cartridge-repair department—a visit I'd looked forward to all day. Among some phonophiles, Soundsmith is best known for its ability to retip and repair almost any phono pickup you can name, from Allaerts to Zyx—and for a price usually considerably lower than that charged by the original manufacturer. Soundsmith can do this in one of two ways: The repair technician—Ledermann himself, or the affable David Moskowitz—can remove the entire cantilever and replace it with a brand-new cantilever-stylus assembly, with various options regarding the material of the former and the profile of the latter. Alternatively, the technician can leave in place the original cantilever and remove only the stylus shank—usually by dissolving the cement that holds it in place—after which a brand-new diamond can be fitted. Costing between $350 and $650, the latter is Soundsmith's more expensive option, simply because it's difficult to perfectly align—within an opening that may not have been correctly made in the first place—a microscopically small nub of transparent material. By choosing the cantilever-plus-stylus route, the consumer is on the hook for as little as $150, with prices in some cases ranging up to $450.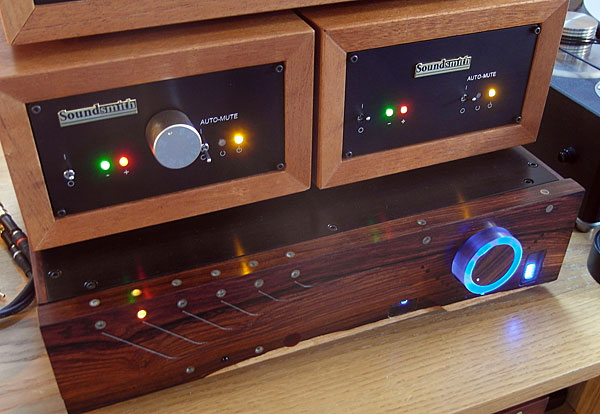 Even the highest of those prices seems cheap, and may well coax from the cynical that great refrain of American salesmanship: Why pay more? The answer, from some, might be that a new stylus isn't enough to fully reset the odometer on a high-performance cartridge, which may also require a remagnetized magnet, a thorough purging of magnetically permeable detritus, retorquing of the tensioning wire, and, most of all, new suspension parts. Soundsmith, of course, can do much of that work themselves, although many notable cartridge makers do not make available to other service facilities their proprietary replacement materials—and so they have the advantage. (Just as Ledermann believes the materials he chooses for his cartridges are the best, so may other cartridge makers suggest that they, too, chose for their products the best possible materials in the first place.) But no matter how you look at it, spending $650 or less for a fresh start with a brand-new stylus, especially on a megabuck cartridge, has tremendous appeal.
For reasons almost entirely selfish, I asked: "Can you replace the elliptical stylus of a 12-year-old Japanese cartridge with a spherical tip?"
I received from Ledermann the answer I expected: "Why would you want to do that?" When I pressed him, and explained that I simply prefer the unfussy sound of a spherical tip, he said he would be happy to make the change whenever I wish. Setting my selfishness throttle to full steam ahead, I then offered for his inspection a very old Decca Gray that someone had given me just a few days before. Ledermann kindly put it under his 'scope and, in short order, discovered two things: The Gray's own spherical tip showed no wear whatsoever, and one of its coil wires had come unsoldered, rendering the thing useless; the latter more or less explained the former. In any event, Ledermann offered to try to fix it.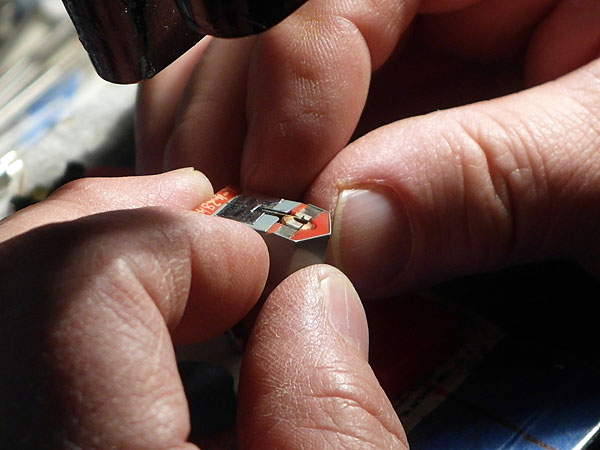 And so, when I left Soundsmith that day, I left a little something behind. Ledermann saw me to my car, and we chatted a few minutes more. Then we shook hands, and I set my Garmin for the trip home. It was afternoon rush hour, and before I reached the Newburg-Beacon Bridge, it had begun to lightly snow—on April 23. It had been a long winter. Now, I wondered if that would ever change.
---
Footnote 3: Michael Fremer reviewed the Soundsmith Strain Gauge cartridge in
March 2011
.