Listening #105 Page 3
Both of my turntables and most of the electronics—at least the ones in use at any given time—reside in or on a pair of
hardwood racks
by the Box Furniture Company, on loan from their manufacturer; the racks, which I prefer to use with thick felt pads in place of their own spiked feet, look and sound wonderful. The Quad speakers sit on an ancient pair of Linn Isobarik stands, with spikes against the floor and dabs of Blu-Tack between the stands and the speaker bases. The Audio Note speakers sit on their dedicated and sand-filled metal stands, also with spikes on the bottom and Blu-Tack up top. Whereas the Quads sound best when positioned roughly 5' from the wall behind them, the Audio Notes are close to but not quite touching the sidewalls, about 14" from the front wall, and drastically toed in. And I've recently discovered the wonders of the Linn Skeet, an excellent spike interface that protects the floor, stabilizes the stands, and raises the Audio Notes, in particular, just enough to make an audible improvement. If you sit taller than most people and you own Audio Note AN-Es, buy Skeets
now
.
The room itself is a 12' by 19' former bedroom at the rear corner of a 28-year-old stick-built house, with an 8' ceiling, a door that opens onto the combined dining-living-kitchen space, and a large triptych sort of picture window at the far end, behind the speakers. The opposite end of the room is taken up entirely with record and CD shelves, built into the wall behind them. The floor is Brazilian cherry over plywood, much of it covered by a 7' by 10' wool Indo-Sarouk rug over a thick mat of wool felt. My room is almost completely empty of tweaks, and the only AC-power accessories consistently in use are "high-end" power outlets by PS Audio and Shunyata Research (I prefer the latter). For those who think such things make a difference, the door to this room is precisely 10' from the freezer, in which I keep photographs of two wealthy hippies from Vermont and a woman named Mrs. Paul.
Best of both worlds: The ADL-Furutech GT40 USB DAC with phono stage?
Let's return for a moment to our ailing friend the Compact Disc. Despite my preference for analog, I've persisted in buying digital hardware and software over the years for the simple reason that, like so many of you, I've had to: From the mid-1980s through the present day, there's been no other way to keep up with Cecilia Bartoli, Simon Rattle, R.E.M., Levon Helm, Eliahu Inbal, Hilary Hahn, David Grier, Chris Thile, or a thousand other contemporary musical artists. (I've also borne in mind how difficult it is to write convincingly about domestic audio gear without maintaining a certain level of digital awareness—and how impossible it is to write honestly about value without spending some of my own money on the stuff every now and then.)
As I've mentioned in columns past, the consumer who shops wisely and doesn't mind rolling up his or her sleeves can assemble an analog front-end that not only competes with the most expensive turntables, tonearms, and cartridges in various ways, but actually trounces them when it comes to conveying the physicality, the drama, the sheer flesh and blood of musical sounds. Now, in 2011, the wise consumer can do much the same in the digital arena, with software that's either cheap or free, and computer-friendly D/A converters that push the performance envelope without the wasteful bulk and filigree or the outrageous pricing that seem sadly endemic to the rest of so-called high-end audio. The CD is now being squeezed out of the game from both directions, analog and digital, and the hobbyist can now enjoy the best of both technologies without spending another dime on a perfectionist-quality disc player.
Looking at the current market for computer-based D/A converters, it seems to me that the real action is at the humbler end of the price scale. Joining the list of notably affordable perfectionist-quality USB DACs—the HRT Music Streamer II ($150) and Music Streamer II+ ($350), the Musical Fidelity V-DAC ($299), and the Music Hall dac25.3 ($595)—is the GT40 ($525, footnote 1), a new product from the Alpha Design Labs division of the Japanese cable company Furutech. Notably, the GT40 goes further than the above by adding a volume knob, a headphone amplifier, an outboard 9V power supply (aka wall wart—which is all right by me, when and only when the product in question sells for less than four figures), and a phono preamplifier, with switch-selectable settings for MM and MC cartridges as well as line-level sources. (For the latter, the GT40 serves as a unity-gain buffer stage.)
Just as remarkably, the GT40 D/A converter is equipped with an analog-to-digital converter chip. Given that—and given the emphases apparent in its good user manual—I gather that ADL-Furutech have set their sights on hobbyists who wish to transfer the contents of their LP collections to digital files, for playback on their iPods, iPhones, and what-have-you. (My naturally generous, trusting spirit renders me incapable of imagining that anyone would use it to abandon their vinyl and shellac altogether.) Of course, said hobbyist would still need to download, and perhaps even pay for, vinyl-ripping software.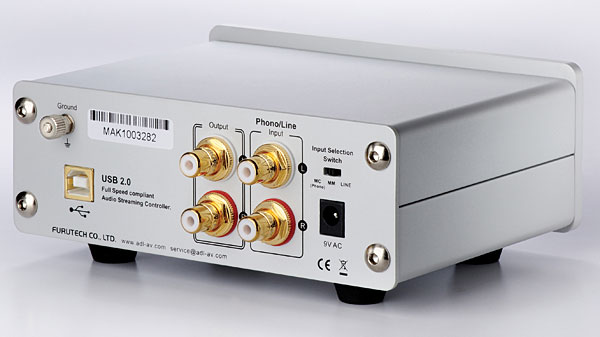 Alternatively, one could see the ADL GT40 as an escape pod: For just over $500, the CD-only hobbyist could use it to explore alternate formats that promise, among other things, better-sounding music. And on that count, the GT40 delivered surprise after pleasant surprise with my own music files. The new converter had better bottom-end definition than the current entry-level Music Streamers (the II and II+) while sounding just as pleasantly weighty. The ADL also sounded more open overall, with better definition of individual notes, and with note decays that sounded more conspicuously natural, being neither abrupt nor sluggish.
I can't say the GT40 was any better than the Music Streamers in terms of freedom from excess sonic grain, the latter being pretty good as it is, but the ADL converter did sound bigger and more physical with a number of recordings. Buddy & Julie Miller's "Ellis County," from their Written in Chalk (ripped from New West NW6158), sounded magnificent, with at least as much bass depth and physical impact from the kick drum as through the Wavelength Proton, the latter beating the half-as-expensive GT40 only in terms of top-octave tenderness and grainlessness—and even then, not by a feck of a lot. And the fine new 24-bit/96kHz download of Elton John's eponymous US debut album—one of many welcome new titles available at HDtracks.com, released just days before I wrote this—sounded rich and detailed through the GT40, with plenty of the same righteous bass whomp (especially in "The Cage").
For its part, and with all unreasonable expectations aside, the GT40's phono stage sounded decent enough, with good freedom from timing distortions and—again, as with the ADL's digital functions—a surprisingly big, open sound. (As usual in my home, I preceded it with a good Auditorium 23 step-up transformer and an Ortofon SPU pickup head.) On the downside, it was on the bright side: not egregiously so, but enough that you won't be turning up the treble knob any time soon. If you have one.
The ADL's construction quality is superb. The chassis is one of those aluminum alloy extrusions that's cleverly made not to look like an extrusion, the faceplate is minimalist but well made, and the controls—especially the volume knob—feel downright luxurious. All for $525, which is less than I paid for my last guitar case: a comparatively low-tech thing.
The Music Streamers remain fine, high-value products: strong recommendations, both. The Wavelength Proton remains killer: the best you can do for less than a grand, as far as I know. But the Alpha Design Labs–Furutech GT40, like its maybe-namesake, is one of those things no one saw coming from any direction: a hell of a good thing.
---
Footnote 1: Could the name be a deliberate reference to the legendary Ford GT 40? Surely I'm not the only baby boomer who remembers that historic LeMans-winning coupe as one of the coolest cars of its day, alongside the Chaparrals and McLarens of Can-Am fame.