Linn Klimax LP12 Record-Playing System Page 2
What I am reporting on here is the very latest Klimax LP12 turntable, the top package in Linn's three-package turntable lineup, complete with optional fluted plinth, an Ekos SE tonearm, the Karousel bearing, the just-released Ekstatik moving coil cartridge, the fancy, just-released machined-chassis version of the Radikal power supply, the NASA-grade Keel subchassis, and Linn's Urika inbuilt analog phono stage. This Klimax package costs $30,120.
When I asked Joe Rodger to break that price down, he sent me this:
• Sondek LP12 (mechanics only, dustcover and Karousel bearing included): $3000
• Fluted plinth option: $220
• Keel subchassis-armboard assembly (machined from a single piece of aluminum): $3705
• New Radikal (Machined) DC motor, motor control, and power supply in a machined aluminum enclosure and Urika inbuilt analog-out phono stage: $10,400 for the bundle
• Ekos SE flagship titanium-construction tonearm: $5645
• New Ekstatik (2021) flagship moving coil cartridge: $7150
"If a customer were to choose any one of our three complete LP12 models (Majik, Akurate, Klimax), any of these (or other) component parts could be ordered by the dealer and assembled in that configuration," Rodger told me. "It is entirely common for someone to order, for example, our entry-level complete turntable, the Majik LP12, and then at the point of purchase elect to switch out a component for an upgraded version. For example, they may want to order a Majik LP12 but with a Lingo 4 power supply from the Akurate range, or a Keel from the Klimax range, to get an instant performance upgrade.
"If one were to have a Linn streamer, it would be recommended to opt for the Urika II ($4070) using our proprietary Exakt-Link technology." The Urika II is the digital version of the Urika.
As described in the introduction of this review, I swooned over the feel of the Ekos SE tonearm. Readers should note that I am a student of tonearm bearings and that long ago I was similarly impressed with the tight-smooth feel of the first Linn-badged arm, the Japan-made Ittok LVII, which remained in production from 1979 to 1993 and looked pretty much the same as this Ekos SE.
For me, the hottest news with this "curated" Klimax system is Linn's "all new" flagship moving coil cartridge, the Ekstatik, which was designed in collaboration with EMT/HiFiction AG in Switzerland, and which supersedes the Kandid, which was built by Lyra in Japan, as Linn's flagship. The naked Ekstatik weighs 7gm and incorporates a MicroRidge stylus on a sapphire cantilever with 4N copper coils pumping 0.45mV into a recommended load of 100 ohms.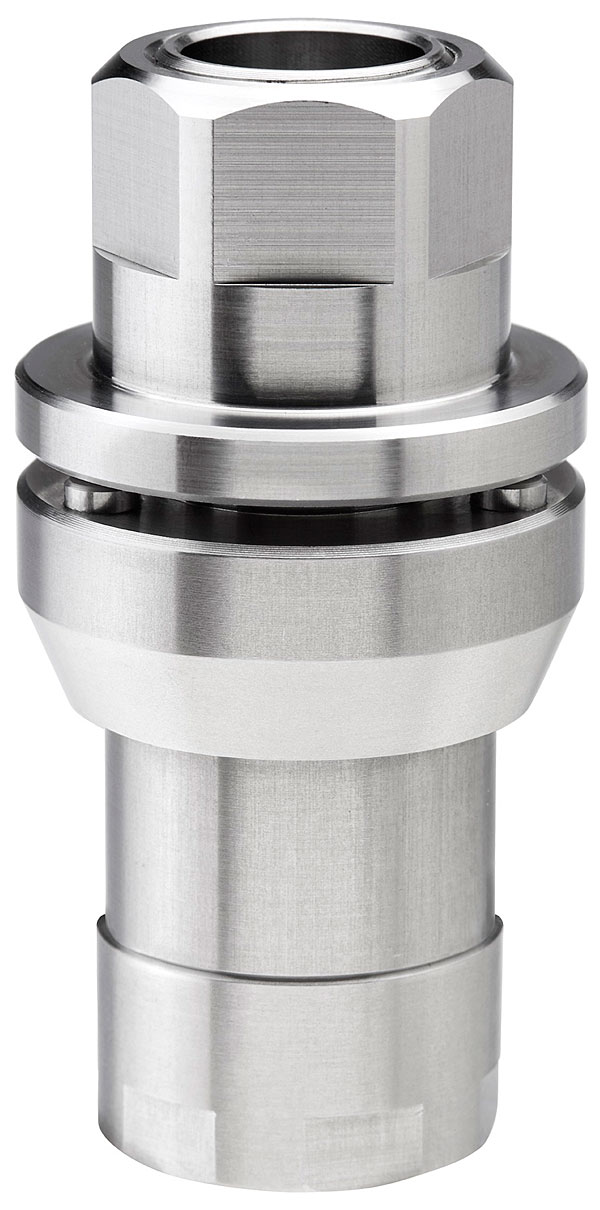 The second big news about this LP12 is Linn's new, 2020 Karousel single-point platter bearing, which, in rigidly coupled concert with the Keel subchassis and superbearing Ekos SE tonearm, is the Linn innovation that's most likely responsible for the Klimax's conspicuously quiet (deep black) backgrounds.

The third big news about this latest Klimax system is the new Radikal power supply. This special "machined" version of the Radikal comes in a solid, CNC-sculpted chassis that matches the aesthetic of Linn's amplification products. The new Radikal is an FPGA-managed motor-control unit that powers and speed-adjusts (33.3 or 45rpm) the LP12's DC motor. According to the Linn website, the Radikal's "precision D to A speed management system checks speed on every [platter] rotation." The Radikal also supplies power for Linn's inboard Urika (analog) or Urika II (digital) phono stages. The review sample had the analog Urika.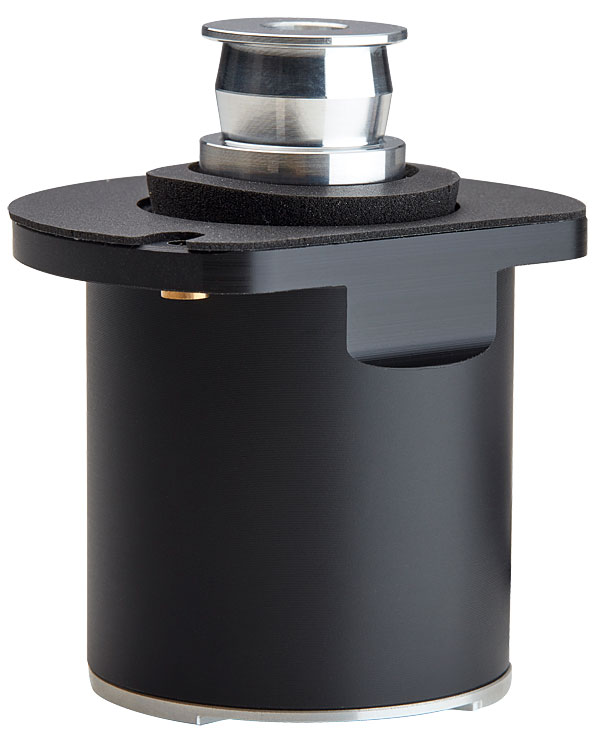 During setup, Trei positioned the assembled Klimax on top of my rack on a vintage (no longer available) Audiophile Systems Platform designed specifically for LP12s. The "ASP" was a gift Mike gave me years ago when he set up my Hercules Linn. This simple but effective platform consists of nothing more than a thin oak slab and leveling spikes protruding from T-nuts. I can jump up and down on my flexible-wood floor with no disturbance to the needle in the groove.
Can I get an amen from the Linn-faithful chorus?
Moves along and stays together
I have spoken often of how much I enjoy comparing components, but rarely have I enjoyed comparisons more than I did after Trei left and I began playing one side each of one disc after another, first on the Linn Klimax system—'table, tonearm, cartridge, phono preamp—then on my beloved Dr. Feickert Analogue Blackbird deck with Thomas Schick 10.5" tonearm steering My Sonic Lab's Ultra Eminent Ex low-impedance moving coil cartridge; that cartridge's output, in turn, was stimulating the transimpedance input stage of Ron Sutherland's Little Loco phono preamplifier.
The first disc I played, René Clemencic et ses flûtes (LP, Harmonia Mundi HM 384), one of my most-played test records, sounded very different than usual: much brighter, drier, more dynamic, more minutely resolved, super-organized in a way that reminded me in a general way of the sound of the dCS Bartók DAC.
Years ago, I stole the descriptor "well-sorted" from reviews in British hi-fi mags. I keep using it because it evokes, better than any phrase I can think of, a component's ability to not lose tempo or focus during complex, highly modulated musical passages. I'm sure it didn't happen this way, but I envision this phrase leaking into common British usage because it's the dominant trait of every LP12 I've heard. This new Klimax is no exception. It dramatically outsorts my vintage Sondek and my Dr. Feickert rig.
After playing a dozen discs, I stumbled on a cherished recording that has such a vast creative scope that it is never fully exposed without expert sorting: Miles Davis's On the Corner (MFSL 1-452). I love everything about this gloriously radical music. Teo Macero assembled these tapes (and loops) into a psychedelic stream-of-hallucination jam. On the Corner presents a stereoscopic soundstage brimming with layered eruptions from Miles on electric organ, John McLaughlin on guitar, and Herbie Hancock on keyboards—all full-energy, in strict poetic sync, and perfectly laid out. The Klimax preserved Macero's divine order better than any turntable I've had the pleasure of hearing it on. Tempo, focus, and immediacy were near-laboratory quality.
When I played On the Corner on the Dr. Feickert, the sound relaxed, spread out, and got fuller, darker, deeper, wider, more luminous and dreamlike. The Feickert exhibited more purity of tone and a more compelling spaciousness than the Linn. The Feickert/Sonic Lab/Loco combo directed my attention to On the Corner's moody, tone-saturated bass and lower midrange, while the Linn directed my focus to its explosive, superdetailed upper midrange and lower highs. Each deck presented this wild, Karlheinz Stockhausen–influenced 1972 studio recording with a dramatically different spectral balance. This difference in emphasis played out consistently, but during these comparisons, my brain refused to anoint one deck more correct or accurate than the other. Instead, I observed two very different-looking record players presenting different engineering viewpoints, each offering different menus of sonic excitements.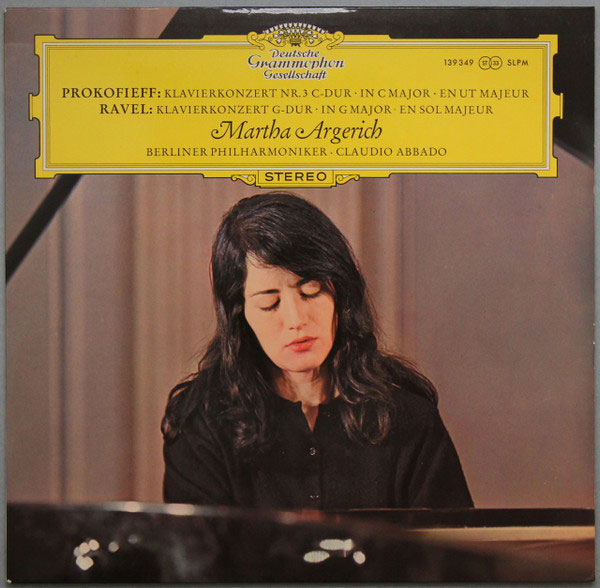 Out of curiosity, I played my beloved Martha Argerich performing the Prokofieff Piano Concerto No.3 in C Major with Claudio Abbado and the Berliner Philharmonic (DG 139349 SLPM). On the Klimax, the recording sounded direct and forward (in a good way): sun-bright, crisp, superdynamic, phenomenally well-sorted, very breathy, fully dramatic, suck-me-in engaging. It felt like the Klimax had been engineered specifically to play this type of recording. Then I switched to the Feickert. It still sounded bright and fresh and Prokofieff-wild, but the Feickert added a slight layer of blur and confusion, especially to the big Berlin orchestra. That reduction in clarity reduced my engagement considerably.
Compared to the Klimax, which flashed its resolution assertively, the Blackbird presented detail in a manner fundamentally assured but more laid-back than the Linn.
As I played more records, alternating between 'tables, I kept reminding myself: The sound of this Feickert-Loco deck did not just land in my room, like an angel or a flying saucer. Its sound was the result of experimentation and conscious curation over several years, to suit my taste. My choice of cartridges and preamps played a huge part in determining the Feickert's sound character. In obvious contrast, the Klimax was tuned to be the full-tilt, 2020s version of the Linn Audio Aesthetic, which has been studiously curated for almost 50 years. This off-the-shelf system worked for me just as well as, and in some ways better than, the Dr. Feickert bespoke solution.
The question that occurred to me—and that has likely occurred to many readers—is this: Could Linn's Klimax record playing system be a worthy, high-value, decorator-friendly alternative to some of those 1000lb cost-no-object 'tables? I think it could be, especially for people who want their analog experience to be fully curated and old-school luxurious.
The Linn Klimax record player looks like a piece of heirloom furniture, is built to a very high standard of fit'n'finish, and is eternally upgradeable. Its substantial dealer base makes it easily and expertly serviceable in a way few other turntable brands can match. These facts alone make the Klimax worth its price.
Does the Klimax sound as good as the best turntables at any price? Its performance is in that zone; I can say that much. But, as with my Feickert, turntables are highly personal objects that, [ike clothing and cars, reflect the identity and tastes of their owners. Potential Linn owners should audition a Klimax with their favorite recordings, just as they would try on a suit or test-drive an automobile.
My recommendation?
Has any turntable spent more years on Stereophile's Recommended Components list than the Linn LP12?