Klipsch Presents! Featuring the B-52s and more on the Klipsch S4s
I'll be honest, when Klipsch invited me to see the B-52s on Thursday, August 9th, all I really wanted was for Peter Griffin to stroll across the Irving Plaza stage oblivious to the swirling lights and drifting artificial fog, whip out an acoustic guitar, and play that jangly lead from "Rock Lobster". A bearded lobster donning a turban would then prance to the front of the stage and everyone would scream "Death to America / And butter sauce!" This never happened. However, I did successfully ignore the opening band Love Funk, had my mind blown by the B-52s, but most importantly, I discovered a bunch of new products from the Klipsch family.
"Iraq Lobstah!"
Last year, SM and I attended a similar concert/Klipsch showcase featuring performances from the Tom Tom Club and the Psychedelic Furs. This time around, Stephen could not make it, so it was just me solo attacking hors d'oeuvres, listening to headphones, and mustering the courage to talk up pretty press girls. To the cutie from Martha Stewart Living, are you out there?
On the Irving Plaza (Powered by Klipsch) balcony, Klipsch showcased products from their home theater, headphone, and computer listening divisions. First on my agenda were the Klipsch Image X7i in-ear headphones.
Sandwiched in the product line-up between the Klipsch Image S4 in-ears ($79.99) and their X10i in-ears ($349.99), the Image X7i's ($199.99) utilize a balanced armature driver and ceramic housing that was cool to the touch. Listening at the demo, the X7i's delivered Klipsch's trademark airy high-end extension with a less-harsh treble than the Image S4s.
Speaking of the S4s, although I had lost my original pair, Klipsch were handing out their entry level in-ears to all of the attendants, so I have been fortunate enough to revisit my thoughts. I'd like to add a few observations to my original affair with the S4s.
These headphones truly excel at reproducing synthesizers. I listen to lots of 80s Rush and Ludacris, both artists that employ the use of multiple layers of keyboards. During Gangsta Boo's verse on Lil' Fate's "Break a Nigga Off" from the Ludacris-presented Disturbing tha Peace, a sampler from the artists on Luda's DTP label, the Klipsch S4s brought out a phat synth that I had never noticed before with enough bite to grab your ears as any sawtooth lead should. Through the much more expensive Ultimate Ear 900 in-ear headphones ($399.99), this synth exhibited more refined transients and bigger bass presence.
The Klipsch S4s are still successful at clearly delineating the different instruments in a mix, as it did in Four Tet's "Skttrbrain", a remix of "Scatterbrain" from Radiohead's Hail to the Thief, where interchanging hi-hat samples, clanking anvils, and a moaning clarinet each confidently occupied their own space on the less-than wide soundstage.
I compared digital two versions of Rodrigo y Gabriela's "Tamacun" from their eponymous debut record. Between the 320kbps iPhone-synced Spotify tracks versus the Apple lossless rips played back on my iPhone, the guitars sounded tonally similar but the lossless file had a bit more sustain to each fingerpluck and had more emphasis on the recording space. Unfortunately on both versions through the Image S4s, the nylon strings in combination with that tall recording space could be a bit harsh, which turned their finesse into heavy-handedness on the fret-board and too much attack with the right hand, untrue to their actual performance. I saw the duo at Bonnaroo 2012 from the front row of the What Stage dancing wildly to their fiery yet graceful licks and endlessly "woo-ing" their dexterous bass player from accompanying band C.U.B.A. Although there may have been thousands at the Rodrigo y Gabriela show, there were only 40 in the front left section because everyone else was in line for Radiohead front row. The festival rotates fans in an out of the front row sections so headliner die-hards cannot camp in the front all day preventing other fans the chance from seeing their favorite artists up close. Rodrigo delivered rock star poses, propping his right foot on his stage monitor and offering his pick in the air as a sacrifice to the guitar gods. His SG and gracious demeanor echoed of Santana. During Rodrigo's posturing, the thousands of light bulbs in the rear set-piece swirled together. All this time, the oranges and purples of dusk pierced the skyline. It was beautiful and intense.
One must be careful with this tipped-up high end on the S4s with electronic music and hip-hop where hi-hats, kicks, and handclaps can all be equalized with an emphasis on the treble. SM listened primarily to Kendrick Lamar's Section.80 while he had his S4s and he considered them thin-sounding and brittle. With this record, I could certainly understand how that impression could be drawn. The hi-hats are mixed to cut through, but they might cut a bit much with the S4s.
In regards to SM's thin commentary, the S4s do lack body, but they do not lack bass. On Mimosa's "Let Your Feelings Show – Summer Dub Mix", never once did the kick drums not deliver enough pulsing rhythm to keep my head rocking, but the cymbals at the end sounded splashy.
On Sam Bush's "Russian Rag", the S4s revealed their missing frequencies which represent the body of acoustic instruments. The bright recording space and less than up-front microphone placement on Rodrigo y Gabriela's first album was more forgiving, but the close mic'd guitars and mandolin on "Russian Rag" from Bush's record Late as Usual only seemed to emphasize the sound of the strings and the picks against them through the S4s. While listening to this track through the on-ear UE 4000 ($99.99), I could hear more of the resonating wooden mandolin body. I won't say that this lack of body totally ruined the S4 listening experience. For a budget headphone which is convenient to carry and comfortable, it does its job by providing titillating sound with a well-balanced and detail-filled approach at $79.
A note regards to the comfort: the Klipsch-patented oval-shaped ear tips are not to be underestimated! These things always provide a great seal and are easy to remove and insert.
Some updates to the S4s since the last time I used them include a flat cable for tangle resistance (which actually works!), a slightly different body shape, and instead of the clunky aluminum case previously offered, they now give you a little soft-pack to carry the 'phones around, very nice.
Maybe I'm being too laudatory. With comparisons to the those on ear UE 4000s, the listening experience really benefited from the added body to the sound from the larger drivers and added lower midrange response making the Image S4s sound a bit ear-bud-ish. Nevertheless, I could still enjoy the recordings with the S4s, hear all of the different instruments in each mix, and sense the emotion conveyed by the artists through the expression in their attack without being distracted by sonic faults.
Klipsch now also offers the S4i Rugged, an iPhone and iPod compatible version of the S4s built to withstand rugged situations like mountain biking or spelunking. I asked Klipsch Headphone Project Manager Chris Aiello what kind of tests the S4i underwent to test for its ruggedness. One specific test he mentioned was the salt-mist chamber, for which the S4i Rugged was built to withstand greater levels of salt-mist (aka sweat) than the normal S4s. The S4i Rugged also utilizes an extra-large texturized three-button remote for iProduct control, cost $99.99, and are available in yellow, orange, blue, or red.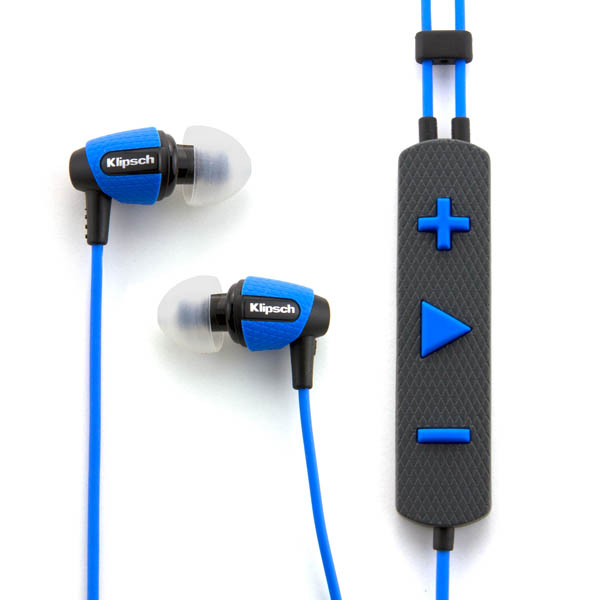 Also on display were three sets of over-ear headphones, the Klispch Image ONE, the Image ONE Bluetooth, and the noise-cancelling M40s. One of many new Bluetooth headphones I've seen entering the market, the Image ONE Bluetooth's Bluetooth capabilities allow listeners to listen to their music wirelessly by sending music via Bluetooth connection from your mobile device using the aptX Codec for "lossless" streaming. Yet, as we learned though from John Atkinson's measurements of the Chord Chordette Gem D/A processor the aptX Codec has certain limitations: "The APT-X codec appears to go deaf with signals that drop below a threshold of around —65dBFS…The codec designer has to decide how best to use the limited bit budget available. I assume that, as it is unlikely for the codec to encounter low-level signals in music without there being higher-level information present, it just ignores those tones when they are on their own." The suggestion that the aptX Codec offers lossless streaming seems unlikely since Bluetooth's 'narrow pipe' only allows a maximum throughput of around 2Mbits/s. So for listeners interested in the Image ONEs who don't want to take the risk of losing low-level audio data and are ok with a cable dangling (OMG…so old school…LOL), the Image ONE retails for $149.99, a whole $100 cheaper than the $249.99 Image ONE Bluetooth.
I spent a little time listening to the Image ONEs at the event, and I was impressed by their involving and deep soundstage but was deterred by their clumpy midrange.
Like last year's event, I heard the M40s and ran away quickly. These over-ears will still distort at full volume with the noise-cancelling feature on. I'm not talking about a little occasional grit. I'm talking about your music being unlistenable. I guess if you are using noise-cancelling phones, full blast volume from your source is not required but even at Irving Plaza, it's what I needed to remove all of the surrounding noise of the event.
The final product that caught my ear that evening were the Jamo P 404 powered loudspeakers paired with the WK 200 Wireless Kit. The WK 200 utilize USB inputs to power the transmitters and transfer music from your computer to the loudspeakers wherever you choose to locate them within your home. The Klipsch rep told me his speakers are on a different floor from his computer. "Can't Stop Till You Get Enough" by Michael Jackson sounded fresh, textural, and even. I hope Michael Lavorgna over at Audiostream.com listens to this system.
And as for the B-52s?? They KILLED it. I went in with low expectations, hoping for Peter Griffin and not a quirky set of musicians from Athens, Georgia, but instead what I got was a group of extra-terrestrials playing music from the future featuring single-line chants squawked into the stratosphere by Fred Schneider, harmonized choruses from the seductive Cindy Wilson and Kate Pierson, and songs that could only be written by aliens observing the earth from afar and trying to make sense of it: "Mesopotamia", "Rock Lobster", and "Private Idaho". These just sound like dreams of humans, dreams of awesomeness—an ancient great civilization, a heavy-metal crustacean, and geographic and personal isolation. A welcome close to an evening of interesting sounds.