Kii Audio Three loudspeaker
At the risk of offending nearly every designer and manufacturer of loudspeakers, I think we have not seen anything really new in a long time. Casting a gimlet eye at
Stereophile
's "Recommended Components" reveals some electrostatic and planar-magnetic models, a few horns, and lots and lots of cones and domes in boxes. Those cones and domes have voice-coils inductively driven by permanent magnets, and overwhelmingly use passive crossovers. Innovation in speakers mostly takes the form of advancements in materials science and, to a much lesser degree, cabinet shape. All helpful, but not revolutionary.
In contrast, almost everything about Kii Audio's Three loudspeaker ($11,500/pair) is a refreshing splash of cool water. Sure, it's a box with round diaphragms driven by voice-coils in magnetic fields, but beyond that, it embodies a design philosophy that originated in pro audio and uses modern digital signal processing (DSP). Its unusual design is immediately revealed by the presence of drivers on its front, rear, and both side panels, and of controls to adjust Boundary compensation and Contour (tone control). More fundamentally, the Kii Three's crossover functions are performed entirely in DSP, as are its time alignment and phase equalization, to shape the radiation in space of its six drivers' outputs. Kii calls this its Active Wave Focusing crossover filter. It's similar, in some basic ways, to Bang & Olufsen's massive BeoLab 90, which I reviewed in January 2017.
The Kii controls the relative phase and timing between its rear and front drivers and between its side and front drivers to create a cardioid dispersion pattern from 1kHz down to below 80Hz. Above 1kHz, the directivity of the front-firing drivers, due to their size and location, dominates. Below 80Hz, as boundary gain dominates, the Kii becomes increasingly omnidirectional, but that can be dealt with by a relatively simple adjustment of output level in that passband. By controlling and restricting directivity, these speakers are claimed to greatly minimize short-latency interactions with room boundaries, and dimensional modes that interfere with the direct sound that reaches the listener.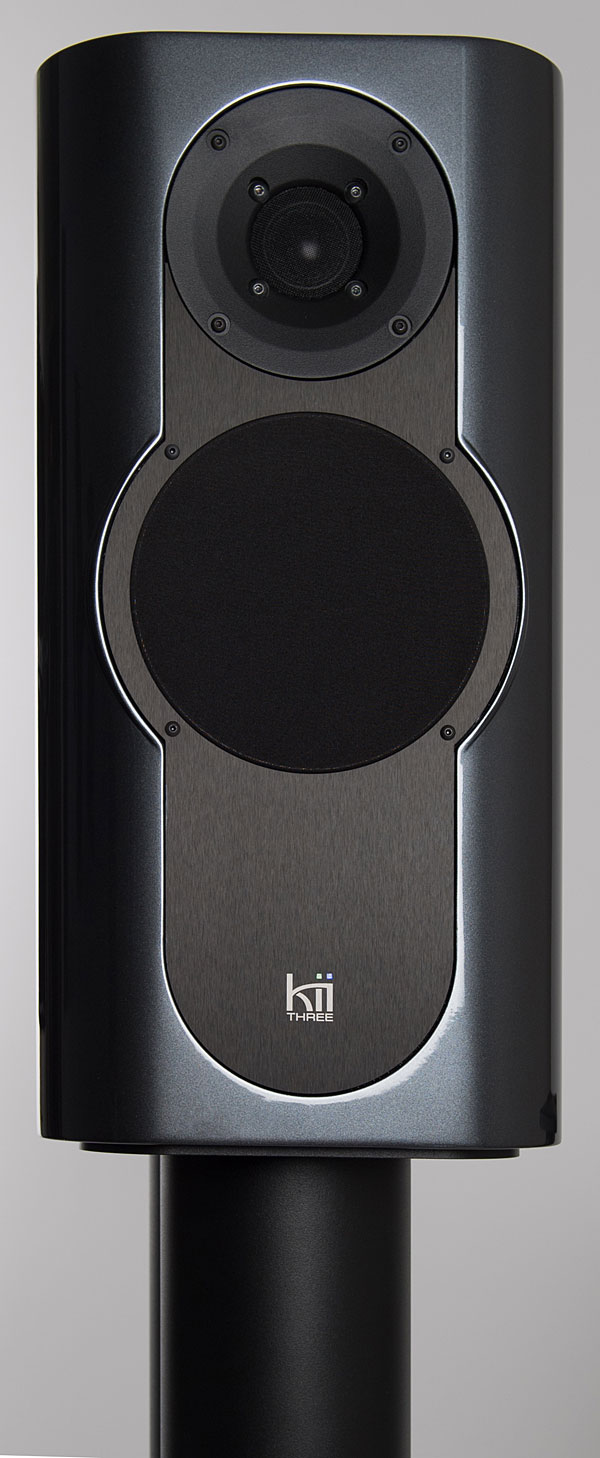 Setup
When the Kii Threes arrived, I was impressed by their small size and great solidity. The sealed boxes comprise two extremely rigid clamshell halves, injection-molded from a low-density and reportedly low-resonance polymer. Bill Parish of GTT Audio, Kii's US distributor, also brought along a pair of steel stands made specially for the Three ($1450/pair), the top plates of which are shaped to fit securely into a depression in the bottom surface of a Kii Three. He also provided a Kii Control ($1600), which proved more than useful (see below).
The Three's small size (16" high by 8" wide by 16" deep) belies its weight of 33 lbs, and there's a lot packed into the box: six class-D Ncore power amps of 250W each, six drive-units, a digital processing engine with A/D and multiple D/A processors, and a power supply. On the front panel are a 5" midrange driver with an aluminum cone and, in a depression designed to act as a dispersion-controlling waveguide, a seemingly conventional 1" dome tweeter. On the rear panel are two 6" aluminum-diaphragm woofers, and one on each side panel. They, like the tweeter and midrange, are fully exposed—no grilles are provided. It takes great care to get a good, safe grip on a Kii Three.
At the bottom of the rear panel, recessed to provide cable clearance, is an array of connectors and controls. Beginning at left: an XLR input, which, with the adjacent toggle switch, can be set to play the left or right channel of an AES/EBU digital signal, or one channel from a balanced analog input. Under the toggle is a pushbutton for system reset and to select the latency mode (see below). In the middle of the rear panel, across the top, are the KiiLink input and output connectors. Though not Ethernet-compatible, these RJ45 connectors can serve as input jacks for a Kii Control, and to output the signal to another Three when the speaker is assigned the role of Master in a stereo pair. Below these are two tiny rotary switches for selecting the low-frequency Boundary compensation (14 steps) and Contour (16 presets). The AC inlet is at the right.
We connected my preamp's left and right front outputs to the Kii Threes via XLR cables. The input selector was set to analog, the Boundary and Contour controls were left at their factory defaults, and, with AC connected, the Kii Threes were up and running. As with ordinary speakers, I began by trying to optimize the Threes' placement for imaging by moving them around. They ended up as far apart as possible in my room, toed in so that their tweeter axes converged just behind my head. In this arrangement, volume control is in the preamp, and the Kii reconverts analog signals to digital for processing and playing. I played a few tracks and was pleased with the general cleanness of the sound, but not greatly impressed.
The Boundary control adjusts the level of very low frequencies to accommodate for the nearness of the speaker to corners and walls. The "0" setting is flat for freestanding positions, while "–6" (for close to walls) "–12" (corner) attenuate the bass output to compensate for the gain provided by those boundaries. Intermediate positions are available. I initially set the Boundary control at –6 for both speakers, as they were only 22" from the sidewalls, and 6" of that space was occupied by a Super Bass Trap. The Contour control was left flat.
The sound of the Three was immediately appealing, but there were problems that kept me from reaching firm conclusions about them right away. I was concerned that the speaker's small size was biasing me into misgivings about its midbass, low bass, and dynamics. I worried that my digital source files were being subjected to redundant D/A/D conversions. I wasn't comfortable using the teeny-tiny dials for Contour and Boundary, nor was I happy that JRiver Media Center's volume control precluded playback of DSD files without first converting them to PCM. Enter the Kii Control.
Kii Control
This add-on provides the physical and user interface that turns two Kii speakers into a system. The Kii Control has S/PDIF, TosLink, and USB inputs. The output is via a KiiLink, which uses RJ45 cables but is not Ethernet-compatible—a single cable is run to the Three that is designated the Master and the speaker provides power to the Kii Control. The Kii Control has a large knob for volume control, surrounded by touch buttons for operations and setting, with a crisp digital display below. The inputs on the Kii Control, along with the XLR inputs (digital or analog) on the speaker, are directly selectable by pressing one of these buttons. The display shows volume level, calibrated in 0.5dB increments over a range of 0–100. The hardwired Kii Control also supports wireless remote control from RC5 and Apple handsets; I used my Apple Remote for convenient volume control from the listening position.
Additional buttons for Preset, Enter, and Esc support the configuration options, which include easy and more granular adjustment of Boundary and Contour. For example, the Contour settings on each speaker are Baxandall shelf filters with fixed inflection points of 300Hz (low pass) and 3kHz or 10kHz (high pass), with fixed increments of boost and cut. With the Kii Control, both the inflection frequencies and the amplitude of boost/cut are finely adjustable. There are controls for Latency, Set Reading (for calibration of the volume scale), Polarity (true, L+R, L–R, swapped L–R), Limit Indicator (Yes, No), and storing Presets of any/all settings.
Of these, only Latency and Limit Indicator are likely to be of use to most listeners. In its default Exact setting, the Three's DSP manages crossover, full-frequency phase coherence, dispersion shaping, boundary, and contour control as well as monitoring power levels. All of this DSP takes time—from input to output, there's a latency of about 90 milliseconds. Under certain conditions, such as when this latency makes it impossible for the user to synchronize sound with picture, the Minimum Latency setting employs a less exact phase correction in the low frequencies to reduce processing time to about 1ms, but retains Active Wave Focusing and dispersion control. Two other settings, Frame Delay (in milliseconds) and Fine Adjust (in microseconds), make possible for the cineaste even finer adjustments of latency.