July 2021 Classical Record Reviews
Hexagon: Les petits nerveux
Works by Poulenc, Roussel, Saint-Saëns
Bridge 9079 (CD). 2021. Max Wilcox, prod., eng.
Performance *****
Sonics ****½
Apparently, this is a recent disinterment of an older production. The exhumation proves worthwhile.
French composers have favored wind timbres since the oboe and bassoon colors of the Baroque. In the 19th and 20th centuries, this evolved into a predilection for wind-and-piano chamber music. Saint-Saëns reveled in the instruments' capacity for virtuosity. A century later, Poulenc alternated uneasy, precarious sustained passages with others evoking a carefree, boulevardier mood. Even Roussel, whose symphonic writing can leave a sour taste, is atypically charming here.
The New York–based ensemble Hexagon, comprising five wind instruments and piano, plays with full-throated expertise and a remarkable unity, with perfect handoffs among players. In the Saint-Saëns, the upper instruments' kaleidoscopic runs and flourishes dazzle. The only cause for cavil is dynamics that don't always offer tonal contrast: The sound stays full and round. Only in the two Saint-Saëns scores do the players lighten their tone. Parts of the Caprice show the Russian-folk influence quite strongly.
Hearing these works in succession underlines their stylistic similarities: when a movement builds in increasingly elaborate variations; or when a busy first theme continues as accompaniment to an arching lyrical one, a trope favored by both Poulenc and Saint-Saëns. So perhaps these delicious selections, like fine canapÇs, are better sampled than consumed at a sitting.
Vivid, pinpoint imaging opens into suave, velvety chordal blends, never assaulting listeners. (In Saint-Saëns's Tarantella, the clarinet's chalumeau notes hit the mikes unexpectedly hard.) Beautifully done.—Stephen Francis Vasta
---
Luciano Berio: Berio To Sing
Lucile Richardot; Les Cris de Paris, Geoffroy Jourdain
Harmonia Mundi HMU902647 (auditioned at 24/96). 2021. Alban Moraud, Aude Besnard, Alexandra Evrard, engs.
Performance ****½
Sonics ****
What Italy's Luciano Berio did to voice and song is tantamount to what Cubism did with the human face and form. Abetted by his first wife, American mezzo-soprano Cathy Berberian, Berio created a large body of vocal works, not the least of which were his 14 Sequenzas for solo voice. In Sequenza III (1966), the opening work on this superbly performed program from Les Cris de Paris, Lucille Richardot takes 1:38 longer than Berberian did to explore what Berio called "everyday vocality." As explained in conductor Geoffroy Jourdain's liner notes, Berio attempted to free the voice and dramatize the relationship between the performer and her or his own voice. Using modular text by Markus Kutter consisting of small permutable phrases, the wild Sequenza III demands vocal virtuosity that few singers possess.
Considerations explored in Sequenza III also inform O King (1968), Berio's famed tribute to Martin Luther King Jr. Heard in the version for voice and five instruments—I've previously reviewed the Seattle Symphony's recording of Sinfonia, in which O King surfaces for mixed voice and orchestra—O King exemplifies Berio's commitment to freedom. Somewhat more conventional in their beauty are the seven songs of Cries of London for eight voices (1976) and the 11 Folk Songs for mezzo-soprano and seven instruments (1964).
Audiophiles will love Berio's arrangements of two songs from Auvergne that initially surfaced in Canteloube's Songs of the Auvergne. A reconstruction of the Beatles' "Michelle" and two short late works cap an invaluable survey of Berio's unique creations for voice.—Jason Victor Serinus
---
Bruckner: Symphony No.3
Vienna Philharmonic, Christian Thielemann, cond.
Sony Classical G010004526180X (CD). 2021. Florian Rosensteiner, prod.; Christian Gorz, eng.
Performance ***
Sonics ***
Thielemann's no-nonsense Third, like his earlier Fifth for DG, offers bits of imaginative insight scattered among passages that don't quite come off.
Right at the symphony's start, the various elements, while sort of right, line up insecurely. Syncopations cause particular trouble: those for the violins in the Andante are untidy and aimless; the first of the Finale's syncopated tuttis, with emphatically lagging basses, sounds like a mistake.
Tempo control can be loose. Some passages accelerate slightly but noticeably as they build steam, sapping the music's cumulative power and undercutting big moments. In the first movement, the development's climactic tutti isn't properly set up, and the arrival of the recapitulation almost slips away. Elsewhere, the conductor's unmarked ritards are too big and clumsily paced and start too soon.
The conductor seems unwilling to give the lyrical episodes their due. The first movement's second theme isn't tender; the prosaic Andante lacks Innigkeit. On the plus side, the Trio, while brisk, is properly rustic, as is the Finale's lyric group, which has some grace.
Thielemann nails some musical points. In the Andante, he's the only conductor who makes sense of the third theme's long "tails," which in other hands degenerate into note-spinning. The whirling Scherzo is buoyant; the Finale's opening hurtles forward thrillingly. But too much of the rest needed cleaning up.
The sound is clear when the playing allows, though you can find more vivid texture elsewhere. At a level where the Scherzo's feathery violins are clearly audible, though, the tuttis are harsh.—Stephen Francis Vasta
---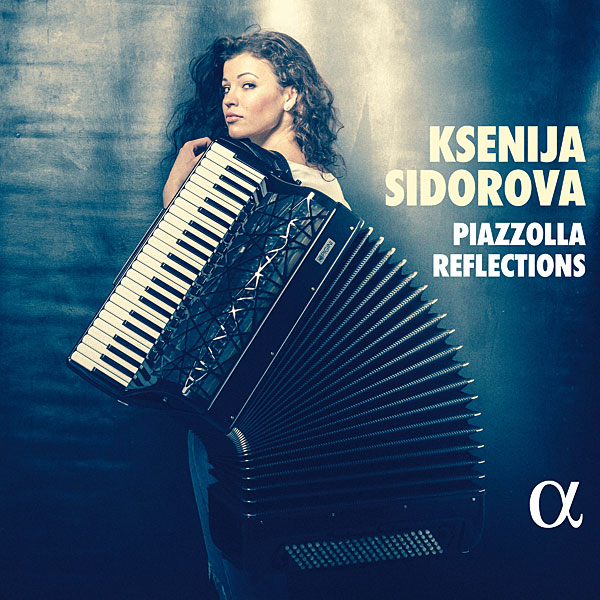 Ksenija Sidorova: Piazzolla Reflections
Sidorova, accordion, various artists and ensembles
Alpha664 (24/96 WAV). 2020. Jonathan Allen, Alexander Van Ingen, prods.; Dominik Blech, Andrew Mellor, Van Ingen, engs.
Performance *****
Sonics ****
The German-derived bandoneon may have been tango composer Astor Piazzolla's instrument of choice, but had he access to Ksenija Sidorova's 44lb Pigini accordion, who knows where his music might have gone? Sidorova takes an orchestral approach to Piazzolla's captivating melodies. The result is one of the most seductive Piazzolla recordings I've encountered.
Piazzolla Reflections ends with a rousing, previously unissued 2012 take on Piazzolla's Libertango with the BBC National Orchestra of Wales. Aconcagua, Piazzolla's masterly, three-movement Concerto for Bandoneon, String Orchestra, and Percussion, is distinguished by the playing of the NDR Elbphilharmonie Orchester under Thomas Hengelbrock and the acoustic of the Elbphilharmonie Hamburg's Grosser Saal. It is capped by a thrilling final movement that contrasts deep percussive blasts with the accordion's higher octaves.
The remaining compositions, set down in Germany's Schloss Elmau, feature up to four other soloists and, on four tracks, the Goldmund Quartet. Unexpected revelations include a gorgeous performance of Bach's Adagio in D minor, BWV 974, that reflects Piazzolla's advocacy of Bach for bandoneon. Equally moving is Sidorova's ability to express the yearning melodic heart of Sergey Voitenko's tender Revelation. Those tracks and others of contemporary works by Pietro Roffi, Franck Angelis, and Sergey Akhunov cast Piazzolla's surprisingly touching tangos in a new and revelatory light. Special kudos to violinist Alexander Sitkovetsky for his soulful playing on Piazzolla's multifaceted Café 1930.—Jason Victor Serinus