Joe Lovano: a Far Out Fugue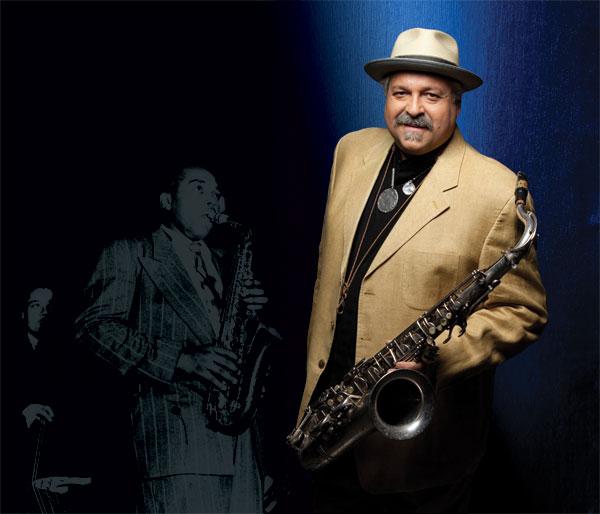 Whistling ductwork, whirring fans, murmuring pipes—along with being jazz's most storied location, a living shrine to the memories of Bill Evans, John Coltrane, and so many others, Manhattan's Village Vanguard, on Seventh Avenue South, was, on this winter's night, the
Das Boot
of jazz. In every corner, every stairwell, every square foot of available backstage space, some kind of furnace machinery audibly ground, banged, and/or wheezed away.
All I really wanted was a little quiet so I could record an interview with tenor-sax great Joe Lovano, whose latest album, Bird Songs, was opening ears anew to the wonders of Charlie Parker. There are times when journalism demands extreme measures. Anything for the interview, right?
"Joe, maybe we should go into the men's room? Together."
Thankfully, spontaneous laughter ensued. After we'd sat several moments at a table in the same spot where the famous backstage photo of Bill Evans, Scott LaFaro, and Paul Motian was taken in 1961, the Vanguard machinery's free jazz began again. We ended up standing at the top of the back stairs next to the street door. Even there, gadgetry rustled all around us.
If jazz has a star player today whose name is recognized outside jazz circles, it's Joe Lovano. After serving apprenticeships with Woody Herman in the 1970s and Mel Lewis in the '80s, the Cleveland native—the son of tenor player and Charlie Parker fan Tony "Big T" Lovano—began leading recording dates in 1985. He has since collaborated with nearly every player of note in jazz today, from McCoy Tyner and Herbie Hancock to Tom Harrell, John Scofield, and Ravi Coltrane. He's now helmed over 25 recordings as a leader, and toured all over the world leading everything from a trio to a nonet. Thanks to his countless ideas, fluid technique, and a genial tone that falls on the Coleman Hawkins/Ben Webster side of the tenor-sax spectrum, Lovano has become a dominant voice in the jazz world—and one who's increasingly comfortable in a seemingly endless variety of musical setting and contexts.
He's recorded everything from free jazz to music associated with Enrico Caruso and Frank Sinatra. On his last two sessions, Folk Art and Bird Songs, Lovano has played and recorded with Us Five, a quintet that features two drummers. It says a lot about the man's warm, robust tone and ability to out-and-out blow that he can even be heard over a pair of percussionists. Drummers, by nature, are not predisposed to play quietly. Yet it's those drummers who started Lovano down the path toward making Bird Songs, a record on which he adds his own improvisations to a program of tunes that Charlie Parker either wrote or was closely associated with.
"The process of having an ensemble that covers who you are as a musician is something that has to develop with the personalities and the people in the band. The repertoire that you play ends up taking shape as you develop ideas together. When you're playing with a group of people and you have an idea of how you want to play music, things take shape. This ensemble—with the double drummers, piano, bass, myself on a variety of woodwinds—was an idea that I had from my years of playing in groups with double drummers, and ideas that flow.
"I had a loft on 23rd Street [in Manhattan] for 20 years, and I had two drum kits set up all the time. With two drummers, all of a sudden I have five quartets that could emerge in this group; I have, like, ten duos and nine trios. Plus unaccompanied voices. All these things can happen. So there's a lot of points of reference and sharing of the spaces."
The group—Otis Brown III and Francisco Mela on drums; brilliant double-bass prodigy Esperanza Spalding, who studied under Lovano at Boston's Berklee College of Music (of which he, too, is an alum); and pianist James Weidman—began to explore repertoire, moving from Lovano's own compositions to the songbooks of Thelonious Monk, Billy Strayhorn, John Coltrane, and, finally, Charlie Parker. "And each time, the music took new shapes with this particular ensemble," Lovano said, as the ductwork next to his head began to flutter.
The group's progress was derailed by a mishap. In November 2009, after playing a jazz festival in Switzerland, Lovano fell and broke his shoulder. Patched up at a Swiss hospital, he went on to Barcelona, where he was supposed to play that city's annual jazz festival, the 41st Voll-Damm Festival Internacional de Jazz de Barcelona. But in Spain he took another tumble—and broke the other shoulder. The orthopedic surgeon for Barcelona's famously successful soccer team was called in to repair that break. Following the operation, and a few days of recovery spent holed up in a hotel, Lovano was wrapped up and sent to the airport for what had to be a very uncomfortable ride back to the States. A big, gregarious guy who obviously possesses near-miraculous healing powers, he was soon back on the scene
"We played on Barbados last January, and it was my first gig back from that funny accident that I had. I wanted to play that tune, 'Barbados,' Charlie Parker's tune, in Barbados. We hit this beautiful groove on that tune and really carried a Caribbean feeling throughout the piece, and that was kind of the springboard into this project focusing on Charlie Parker's compositions."