Joe Lovano: a Far Out Fugue Bird Songs
SIDEBAR: Bird Songs
JOE LOVANO/US FIVE: Bird Songs
Joe Lovano, tenor, mezzo-soprano, straight alto saxophones, Aulochrome; James Weidman, piano; Esperanza Spalding, bass; Otis Brown III, Francisco Mela, drums, percussion
Blue Note 05861 2 (CD). 2011. Joe Lovano, prod.; James Farber, eng. DAD. TT: 65:11
Performance ****½
Sonics ****½
At this late date, a set of Charlie Parker compositions is not an inherently thrilling album concept. But Joe Lovano is the most important tenor saxophone player of his generation. Bird Songs is the second recording by the band he calls Us Five. The first, Folk Art, owned the major jazz polls in 2009. Lovano's encounter with Parker's music is an inspired new act of the imagination, albeit with complex historical connections.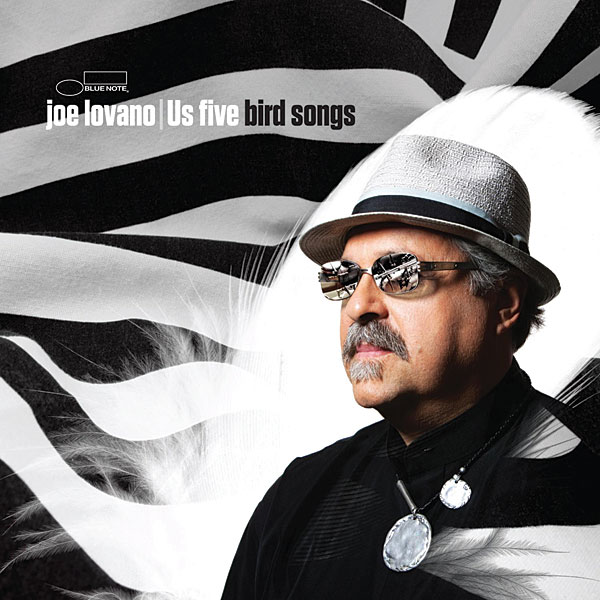 Parker's "Ko Ko," recorded on November 26, 1945, is a famous, three-minute, spontaneous melodic masterpiece. Lovano makes not a single obvious reference to the format of Parker's original. Instead, with his two drummers, Otis Brown and Francisco Mela, he bats fragments of "Ko Ko" around in free air. Parker is a cultural resonance in the distant background. In the foreground is Lovano, starting fresh.
Parker burned on "Moose the Mooche" and "Donna Lee." Lovano discovers new messages in them by the simple act of slowing them down, taking them seriously as forms.
Even with two drummers, one per channel, this loose, quick ensemble contains wide-open musical space. Bassist Esperanza Spalding and pianist James Weidman solo concisely. Their moments are vivid personal insertions into the commingled Lovano-Parker aesthetic.
Lovano first separates himself from Parker and his alto saxophone by playing tenor on eight of the 11 tracks. "Yardbird Suite" is completely unexpected. Parker's bright anthem becomes a vast 12-minute dirge that continuously sends out bits of "Yardbird Suite" like code. "Barbados" and "Dexterity" also contain brilliant stand-alone tenor saxophone solos that sustain suggestive, elusive relationships to Parker precedents.
Lovano does not deal with the angst of Parker's notorious, flawed, gut-wrenching version of "Lover Man" from 1946. Instead, playing the G mezzo-soprano saxophone in its recording debut, he offers an epic nine-minute affirmational testament. "Blues Collage," in two minutes, overlays "Carvin' the Bird," played by Lovano on straight alto saxophone; "Birdfeathers," played by Spalding; and "Bloomdido," played by Weidman. It is wildly risky and revelatory in its coherence. Like this whole album, it is a deep, defiant tribute to Charlie Parker.
Engineer James Farber recorded Bird Songs at Sear Sound in Manhattan with Lovano and the two drummers close together in the same room, and mixed it to ½" analog tape. It sounds natural and clear.—Thomas Conrad