Jason's Final-Day Dash to the Finish
It wasn't expected to be a mad dash. But at 3:40pm, when I suddenly feared that I had accidentally overlooked Zesto's amplifier premiere, and then forgotten to return to Maier Shadi and Peter Madnick's oft-packed, initially skipped Audio Salon/Audio Alchemy room on the day when I could actually snare a good seat, I panicked. Literally.
With only 20 minutes until show's end, out of the wonderful sounding Pass/Usher room I bolted, thankful that Herb had said that he'd cover it, and up the stairs to Zesto I ran. When Carolyn Counnas assured the breathless Serinus that one of my colleagues had already been there, I was ready to cover her, her husband, and WyWires' Alex Sventitsky with kisses. (These people are used to me.) But sensing some reticence, I instead held the most effusive parts of JVS in check, and dashed to the Audio Salon room. Thus shall the last be first, in this my final blog, as special thanks to Shadi and Madnick for not only keeping the home fires burning for yours truly, but also staying after show's end to make sure I got it all.
And boy, was there a lot to get. To those who may be thinking, oh no, is he covering yet another Wilson Audio room?—yes, there is still one more to go besides this one—my response is, it wasn't intentional. I covered rooms in the Tower as well as the lobby level where, it appears, all the Wilson loudspeakers resided. Wilson seems to not only have a lot of dealers—Shadi's Santa Monica-based Audio Salon is one—but also possesses a most intelligent marketing strategy that leads it to honor requests for loaner loudspeakers when it feels the products they'll be paired with at shows are up to snuff.
In this case, were they ever! Alongside the Wilson Sabrina loudspeakers ($15,900/pair) were singing components of very different price points: On the low end, Ikea racks and tables holding Audio Alchemy's DDP-1 analog preamplifier/dejitterer/DAC with 7 digital inputs ($1995) along with PS-5 upgraded external power supply ($595), two DPA-1 325W monoblock amplifiers ($1995/each), PPA-1 phono preamplifier ($1795), and DPA-1 media file player ($1795). Also in there, Transparent Audio Plus cabling (approx. $2750 total). Moving up the chain, the world premiere of the 253.5 lb. Stromtank S 5000 Independent Power Source ($29,000), and a Doehmann Helix 1 turntable ($40,000) with SAT arm ($28,000) and Lyra Atlas Cartridge ($9900).
By any right, the Audio Alchemy components should have sounded somewhat like budget components of the NAD or Emotiva category. But they didn't, not in the least. Instead, the electronics designed by Peter Madnick, the man who assembled the Constellation team and worked on its digital end, proved that they could not only help Andrew Jones' diminutive Elac bookshelfers shine like a million dollars, but also sound remarkable in their own right on the far more expensive Sabrinas.
"Bass is astounding for speakers of this size," I wrote in my notes about a track from a live Cantus recording engineered by John Atkinson. Next came another JA triumph, a not-yet-released 24/88.2k recording of Eric Whitacre's "Water Night," performed by the Portland State Univesity Chamber Choir. There was sufficient detail to reveal that, upon occasion, one voice in the ensemble in this preliminary mix stuck out. I could never hear such a thing on my old reference system, which cost far more. As listening continued, I felt I could hear deep into the soundstage. Timbres were superb and right on, and the grounded neutrality of the sound demonstration class.
The show being officially over, everyone stayed put so I could speak with Wolfgang Meletzky, founder of MBL, about his new baby, the Stromtank. Designed with the assistance of university researchers to provide "clean, undisturbed grid power," the Stromtank is a high-power battery pack with integrated pure-sinewave-converted power supply. Able to support up to 8 hours of listening before it automatically connects to the grid to recharge, it continues to provide stable AC supply (amplitude and frequency) while charging. The unit supposedly functions for 6–10 hours on the big MBLs before going into charge mode.
Meletzky says the Stromtank works with crystal-controlled accuracy. It contains 16 rechargeable batteries and 16 lithium-iron-phosphate cells, overseen by a microprocessor battery-management system. He guarantees 20 years of battery life if batteries are charged and discharged completely, over and over.
To demonstrate the Stromtank, Meletzky and Shadi played Patricia Barber's "Ode to Billy Joe" while switching the unit on and off. When the batteries were fully engaged, what already sounded like an impressively quiet background seemed magically quiet, with images even more color-saturated and three-dimensional. Shadhi also told me that while the unit guarantees stable 120V output when engaged, the actual voltage he measured from the room's front outlet was 121.5V, and that from the rear 115.7V. That's how much the wall supply can vary from outlet to outlet, and why the Stromtank makes so much sense (if you have the dough).
Moon by Simaudio, which has just announced Tidal integration with its MiND Streamer and app, introduced the final, in-production version of its Moon Evolution Series 780D DAC/network player ($15,000). Capable of decoding up to DSD quad and PCM 32-bit/384kHz, it joined a most impressive component stream that also included the Moon Evolution 700i 175Wpc integrated ($14,000), Bowers & Wilkins Nautilus 802 loudspeakers, top-of the-line AudioQuest Oak and Diamond cabling, and, as source, a laptop PC. Not auditioned, and left to Tyll Hertsens of InnerFidelity.com for coverage, was the new Neo 230HAD headphone amplifier/DAC with AudioQuest Nighthawk headphones.
Although I was not able to stay long in this room, what I did hear was impressively full-bodied, wide-ranging and direct. The sound on Schumann's Symphony 3 in 24/96 file format wasn't particularly warm, but speed was exemplary. Ditto for a track from John Goldsby's Viewpoint album. The presentation seemed nigh perfect for folks who want their music to hit them in gut, shake them to the core, and leave them hungering for more.
The Sonore Signature Rendu (I2S and S/PDIF outputs) or Sonore uRendu (USB output) Ethernet renderer (music server) (both $2899) strutted their stuff with a DIY Twisted Pear Buffalo DAC, Hypex custom-built Ncore amplifier, Raidho C 1.1 loudspeakers, PS Audio P-10 power regenerator, and Cardas Clear cabling. The Sonore unit must be attracting attention, because it also drew in me and Michael Lavorgna of our sister site, AudioStream.com, at the same time. That was fun.
Consultant Barrows Worm, who worked with PS Audio for several years, was on hand to dem the unit he consulted on. Even before we took a listen, he warned us that he had been unable to tame a 60Hz room mode.
The unit wasn't able to drive the less-than super-efficient Raidhos to volume levels sufficient to do full justice to the scherzo of Channel Classics' DSD recording of Mahler Symphony 4, but what I could hear sounded quite neutral, with lovely tonalities that seemed just right. Then we played the Eric Whitacre track from John Atkinson's not-yet-released new recording of the superb Portland State University Chamber Choir. The sonorities were very warm, and the presentation impressive, although there was far more ring around the voices than I heard in other rooms.
What I still do not know is if the sound of this hi-rez file, which John sent me during the show via Dropbox to download wirelessly using the hotel's hideous, oft-crashing Internet connection was anywhere as superb as the files already in use in the Audio Salon and DeVore rooms (see below). In those cases, both parties had already either received the file from JA via a more reliable Internet connection, or by hand on a USB stick. All I do know is that those two other rooms let me hear more of what I believe was on the master recording.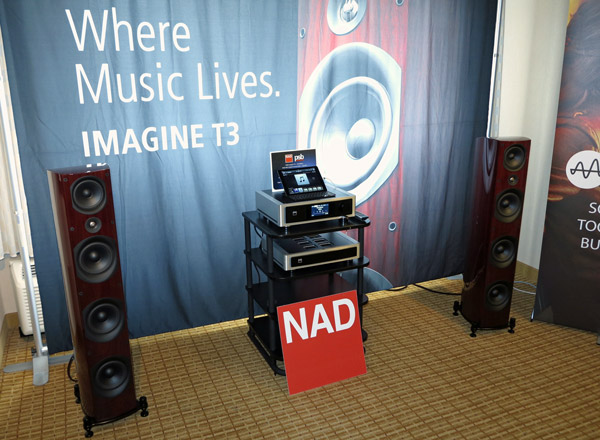 Via PSB's flagship Imagine T3 floorstanding loudspeakers ($7498/pair), NAD M12 digital preamp/DAC with optional Bluesound for network streaming ($3499), and NAD M22 stereo amplifier ($2999), the Tidal stream of Frederick Fennell's Trittico on Reference Recordings had very good impact. However, I found the sound a little harsh and unrefined. The presentation did not transmit the complex layers of tonalities that I am certain Keith O. Johnson captured.
Norbert Mundorf is celebrating the joint 30th anniversaries of Mundorf capacitors and Accuton loudspeakers with the release of two versions of the Mundorf speaker kit ($1750 and $1950/pair). The speaker contains Mundorf's AMT19CM1.1 air-motion tweeter and Accuton's C158-8-085 ceramic-cone mid/woofer. Designed by Accuton's R&D, the kit comes in two versions, the MA 30 Anniversary series with lower-priced capacitors in the crossover, and the MA 30 SilverGold SG Series with better caps. Upgrading from one version to the other is possible. The brochure discusses an eventual MA30 bass extension, but no mention of it was made at either RMAF or the California Audio Show last August.
"We supply the parts and you build it," Mundorf explained while showing me just how easy it is to put the speaker together. Neither a soldering iron nor a drilling machine is required. Two screwdrivers and 90 minutes should suffice.
Connected to Benchmark's DAC2 DX and AHB2 amplifier via unidentified cabling, the speaker came across as a bit bright, with very clear sound, good slam, and a fine midrange. Angela Gheorghiu's questionably sincere rendition of "Vissi d'Arte" from Puccini's Tosca, for example, seemed to emphasize a bright edge around a voice that, in reality, is neither very bright nor very big.
Fellow Washingtonian John Tucker of eXemplar Audio showed off his eXception 50Wpc hybrid integrated amplifier ($5495), Expo T105 modded Oppo 105 with tubed output ($4995), XL-III loudspeakers ($7999/pair), and inexpensive power cables. $11,000 worth of Stillpoints equipment and speaker supports plus six Stillpoints Aperture panels ($650/each) completed the presentation.
A recording of Elvis Presley's "Fever" revealed the system was very fast and crisp on finger snaps, and sufficiently detailed to highlight the recording's tape hiss. Bass sounded very fine indeed, but the treble was somewhat metallic and monochromatic. Ditto on tracks from Cassandra Wilson.
Wilson Audio made its final surprise appearance in my territory in Bakoon Products' room on the Marriott Tower's 10th floor. The Korean company, in what seems to be its first US appearance, mated Wilson Audio Sasha 2 loudspeakers ($33,950/pair) with their Bakoon 70Wpc AMP-51 ($12,495), whose gain is claimed to be without any S/N loss, thus enabling its use without a preamplifier. Also in the chain was Bakoon's new battery-powered DAC-21 ($3495), which lasts about 12 hours on a single charge. The units were connected via Bakoon's SATRI-Link, which is said to allow cable lengths up to 20 meters with zero loss.
Listening to ta rack by Peter Gabriel, I heard lovely spaciousness and beautiful tonalities. Wende Snijders' "Chanté" was equally compelling, with great soundstaging and wonderful tonalities. I know, after all my long blogs, that this seems like faint praise. But the show was about to close, and I had to move on. The sound was truly lovely. Here's hoping I get a chance to enjoy Bakoon electronics more on a day when I can luxuriate longer.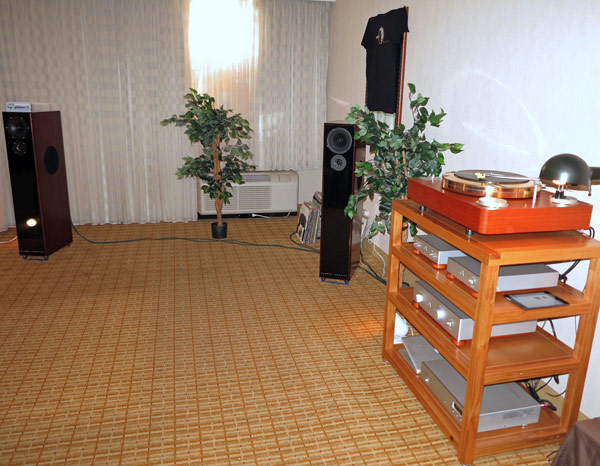 For my final blog, I move out of sequence of order visited, to an hour when I thought I could easily complete my assignment without rushing like an idiot at the 11th hour. (Break for a chorus of "When Fools Rush In.") But I'd really like to conclude by saying, "Bless you, John DeVore." John is right up there with Jeffrey Catalano of High Water Sound, Philip O'Hanlon of On a Higher Note, and Peter McGrath of Wilson Audio in always bringing to shows a marvelous selection of unusual and unusually pleasing music. And while I have nothing but praise for the majority of music I heard at the show, much of which was new to me—hallelujah!—there's something about the way John, Jeffrey, Philip and Peter put together musical sequences that, combined with their equipment choices, makes for a special experience.
This is hardly a secret. It's why I had to make two trips to find a good seat in DeVore's room.
First up were Piers Faccini on guitar and Vincent Segal on cello playing a track from the LP, Song of Time Lost. The sonorities were so lovely, warm and inviting—the softness so captivating—that I felt I could listen all day.
Then came John Atkinson's aforementioned Eric rough mix, played off the room's server. This track had been passed directly from one Brooklyn-based John to the other, without need to send it wirelessly over compromised hotel Internet (footnote 1). Was it inherently better-sounding than the track I had downloaded? I haven't had a second to play it on my reference system to find out, but I do know that it sounded way different than what I heard in the Sonore room. Different as in excellent dynamics, a much greater sense of space, a more realistic expanse, less ring, but also a little equipment-related whiteness.
Back to LP for Nils Frahm's LP, Music for the Motion Picture Victoria, recorded on a 15' high piano that created a very special, holy space. A Red Book-resolution file of Shelby Lynne—okay, I've heard her at shows a mere 123 times before—sounded fabulous. In response to a request for something more lively, I didn't get a Mahler orchestra going full tilt, but I did get Stanley Clarke live. It was just great.
Gracing me with their sound: the final production version of DeVore Fidelity Gibbon X loudspeakers ($15,890/pair) with new tweeter and midrange, SPEC GMP-8000EX turntable with EMT 997 tonearm ($24,000) and EMT TSD-15 MC phono cartridge ($1950), Spec REQ-1EX phono preamp ($11,500), Auditorium 23 Hommage T2 step-up transformer ($4995), Line Magnetic LM-502CA DAC ($1795), Spec RSA-M3EX 60wpc integrated amp ($9900), Box Furniture Company W4A four-shelf stand ($4200), and the least expensive components of all, Auditorium 23 cabling (2.5m speaker cables at $980/pair).
And there you have it, live and direct from Serinusland USA.
---
Footnote 1: As tempting as it might be to wonder if a poor Internet connection might affect the quality of an audio file, it shouldn't matter as long as all the data packets are correctly downloaded. (Streaming is a different matter, of course.) If they are not, either the file will have dropouts or, much more likely, will be too corrupt to play. Both John DeVore and Jason downloaded the same "Water Night" file from my DropBox folder so there should not have been any differences between their copies.
This recording was produced by Erick Lichte with the choir conducted by Ethan Sperry. The recording venue was St. Stephen's Catholic Church in Portland, Oregon, with its wonderfully rich acoustic. Mikes were an ORTF pair of Neumann M147 tubed cardioids and a spaced pair of DPA high-voltage omnis. Mike preamps were all Millennia Media and the master A/D converter was an Ayre Acoustics QA-9. I anticipate the CD being made commercially available in late 2016.—John Atkinson