Jason's Day 2 Marathon Begins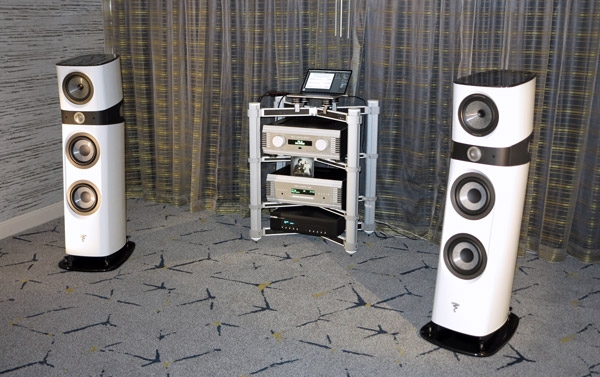 Somehow, I managed to cover 19 rooms on the second day of LAAS. That included taking in a special half-hour MQA demo with Bob Stuart and Peter McGrath in the large Sunny Components room—reports from me and John Atkinson to come—and a bit of an after-hours presentation by JC Calmettes of Jadis in the Brooks Berdan room. While I certainly can tell you a fair amount about the sound in those 19 rooms, I have no idea what the temperature was like beyond the confines of the over-conditioned Sheraton Gateway LAX, because I first set foot outside the front door after dark on Sunday evening, when I worked up a sweat walking to and from a gas station in search of extra sustenance.
Abundant sustenance, happily, could also be found through music. Thus did I head to one of several rooms from Audio Plus Services. This one was headlined by the Musical Fidelity Nu-Vista CD player ($9999) and Musical Fidelity Nu-Vista 800 integrated amplifier ($11,999) driving Focal Sopra No.2 loudspeakers ($13,995/pair) via Crystal cabling. Solid Tech's Rack of Silence ($5795) and assorted IsoAcoustics Iso-Pucks completed a chain whose electronics—even the loudspeaker—had less than 24 hours of break-in. Hence, beyond saying that the timbres were beautiful, I shall refrain from critical comments that most likely would not apply had the system been show-ready.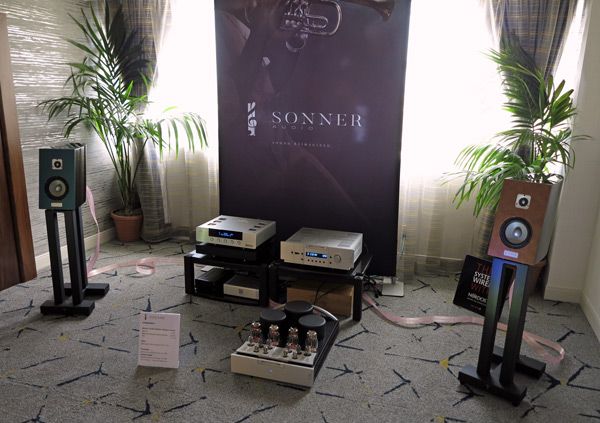 Yessirootie, that really was Jazz at the Pawnshop playing in the Sonner Audio room. Was it for the clink of the glasses and other extraneous noises that JatP surpassed live late-career Billie Holiday recordings and everything else to become, according to Wikipedia, "widely regarded by audiophiles as the best jazz recording of the 20th Century"???????
Regardless, once I had recovered from my flashback from shows past moment, I discovered that the voice of mezzo-soprano Cecilia Bartoli lacked warmth and had an unnatural edge, and that the high edge of tones (overtones) were emphasized over undertone harmonics. A hi-rez file of Van Cliburn's historic recording of Tchaikovsky's Piano Concerto No.1, too, suffered from a lack of warmth. Whether this was all due to a single Nordost cable that only had 300 hours of break-in on it, I could not accurately ascertain. But it does seem highly unlikely.
What I doubt is that the problems lay with the usually superb-sounding Balanced Audio Technology VK 33SE preamp ($9995) and VK 76SE power amp ($13,999). Also heard: Sonner Audio Allegro Unum loudspeaker ($9990/pair) with stands and vibration control devices ($1900), Computer Audiophile Pocket Server Zuma ($1500) and Abbingdon Music Research DP-777 Special Edition ($5000), a combination of Nordost and Entrq power accessories, and Kimber, ifi, and Nordost cabling. System total price: $69,794.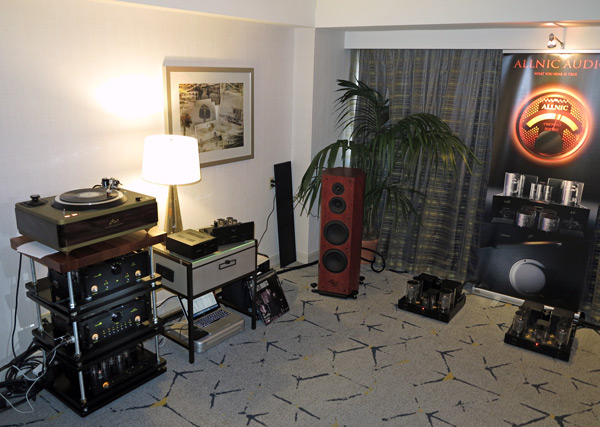 Listening was a mixed bag in the Allnic room, with a file of the wonderful Chung Trio recording of the middle movement of Beethoven's Archduke Trio sounding warm and wonderful, and an LP from Dave Brubeck sounding too spare. Perhaps the problem was with the source material, but that could only have been determined by spending more time with the system than I had available.
For analog, we had a PBN Groove Master Vintage Direct DN308 professional turntable ($29,995) with Tri-Planar U12 tonearm ($9600) and Kiseki PurpleHeart cartridge ($3495), plus an Allnic L7000 tube linestage ($14,900) connected to an Allnic H7000 tube phone stage ($15,900). Digital utilized the Allnic D5000 DHT DAC ($11,900). Central to the system were Allnic M3000 MK2 monoblocks with KT-150 output tubes ($17,900), Liberty Audio XvoX loudspeakers ($5500), and Purist Audio Design cabling.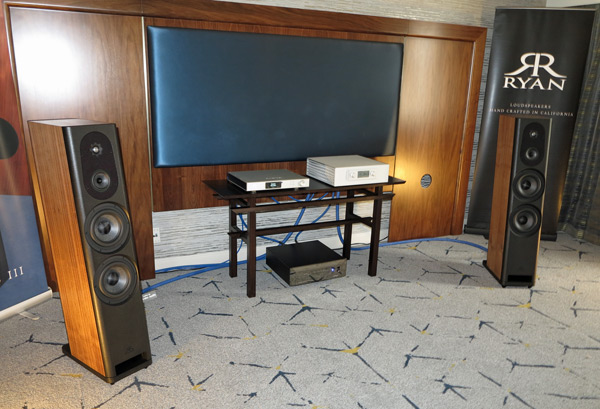 Ryan S840 speakers ($8000/pair), made in Riverside, CA, conveyed a great midrange and gorgeous, quiet, smooth sound on Friend 'N Fellow's "What a Wonderful World." Thanks in no small part to the Constellation Audio Inspiration integrated amplifier 1.0 ($13,500), the system also exhibited nice liquidity and good bass.
A visit with ye olde RCA Living Stereo recording of Saint-Saëns' Danse Macabre convinced that, despite some wiry and thin highs that may have been source-related—I am not always enamored of the sound of violins on these classic recordings—this system had a special midrange that could make many an audiophile very, very happy. Also heard: Aurender A10 music server/player ($5500), AudioQuest Niagara 5000 power conditioner ($3995), and Cardas Clear/Clear Beyond cabling.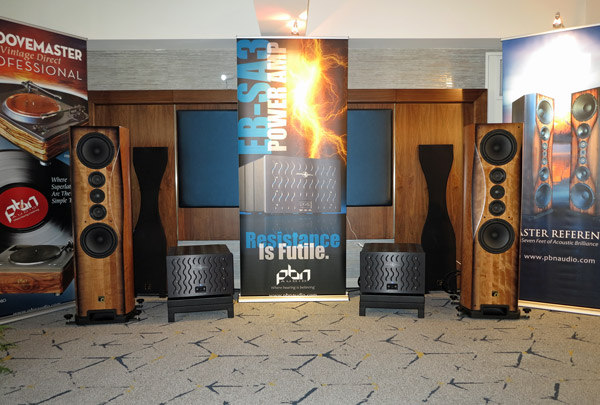 In this room, soprano Elisabeth Norberg-Schulz sounded absolutely gorgeous on her LP rendition of Puccini's "O mio babbino caro" (even if she did come across as a Swedish soprano pretending to be Italian), and a brass track from the LP, Winds of War and Peace, exhibited stunning bass and fine, non-strident highs. Which means that my time with Peter Noerbaek's PBN Sammy Innerchoic loudspeakers ($29,995), PBN Audio GrooveMaster DN308 Professional turntable ($29,995) with Triplanar U12 tonearm ($9600) and Lyra Etna cartridge ($9500), PBN Audio Olympia DX DAC ($17,500), Olympia PXi MC phonostage ($22,000), Olympia LXi linestage preamp ($22,000), and Olympia EB-SA3 stereo/monoblock amps ($49,995)—all held together by Purist Audio Design's new Neptune Series cabling and AC extension box system ($45,185), was time well spent. This is equipment well worth checking out.
And my regards to Sammy, the San Diego-based border collie for whom Peter's idiosyncratically styled loudspeakers are named.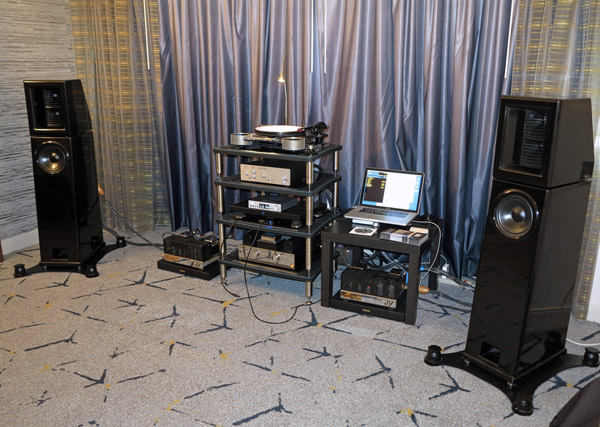 EAR USA's Dan Meinwald was but one of several exhibitors who, upon discovering Jason Victor Serinus entering the room, rushed to replace raucous rock with ultra-urbane classical. Imagine Dan's surprise, then, when I offered up files of Lou Harrison and John Cage, and he discovered that yours truly has been reviewing a helluva lot of lively contemporary and contemporary-ish music at Stereophile.com. Yessiree, with the passage of time, Herr Serinus has been letting his hair down more and more as it slowly and hopefully reversibly falls out. It must have something to do with the weather in the Pacific Northwest, or the dogs, or the water . . . something.
Be that as it may or may not be, in the EAR USA room, a Helius Viridia turntable ($6195) with world premiere Helius Phaedra tonearm ($6595 for 10", $7495 for 12") and Kiseki Purpleheart cartridge ($3300), EAR 509 balanced monoblocks ($15,700/pair), EAR 834T amplifier ($6795), EAR 324 phonostage ($6095), Mytek Brookleyn D/A converter ($1995), Dragoslav Colich's Dragonfire Acoustics DRC-1 loudspeakers ($30,000/pair) with digital room correction, Jorma and Waveform Fidelity cabling, Basso Continuo Accordeon XL4 stands, and accessories from Townshend Audio and World Power, color was excellent but the treble a mite too sharp and bright for my taste. Speed was no problem for this system, which reacted really fast on a Japan-only release of Prince's The Undertaker.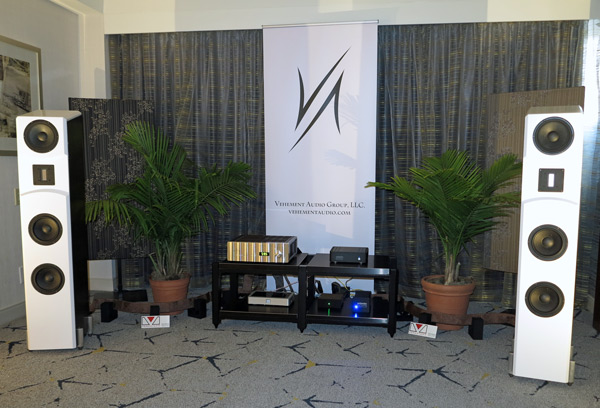 You've got to admit that naming a company the Vehement Audio Group, LLC is a risky proposition. Even scarier might be naming your loudspeaker model the Brezza Forte ($15,995/pair). But rather than the speakers shouting at me or blowing me away with triple !!! sound, they delivered Virgil Fox on organ in quite a musical manner. At least, I think they did, because my listen, which also included the Jeff Rowland Design Group Continuum S2 integrated amplifier ($9500), Exogal Comet DAC ($3500), and Verastarr cables, was cut way short by the toxic Glade Air Freshener plugged into one of the room's outlets. Said device's unwelcome brezza drove me out the door in less than two minutes, well before the late Mr. Fox had much of an opportunity to push those pedals and pump that keyboard like the psychedelic demon he was.