JA's First Day at the Montreal Show
I thought I would start my day by exploring the Hotel Bonaventure's ballroom exhibits, and on my way to the Westmont 2 room, where British company PMC was presenting the North American debut of their flagship Fenestria loudspeaker, I heard some unambiguously live harp music, played by the young lady in the photo, Isabeau Corriveau. A great way to start the day and one that emphasized the show's focus on music of every kind.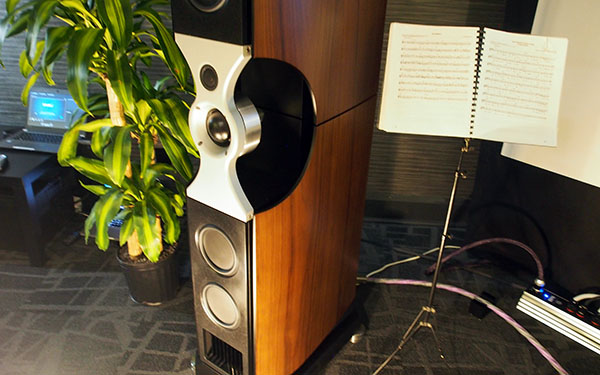 PMC started off manufacturing monitor speakers for recording studios in 1991 but branched out into the domestic speaker market in the mid-1990s. These days, around 80% of PMC's production is of consumer loudspeakers and the massive Fenestria ($65,000/pair) is their assault on the state of the art. Standing 67" tall, the 3-way Fenestria uses two bass modules each with two transmission line-loaded woofers with flat carbon-fiber diaphragms, these crossing over at 380Hz at what PMC calls the "Nest." Featured in my photo, the Nest combines a 3"-dome midrange unit with a 0.75" tweeter above, these mounted in a frame machined from a solid billet of aluminum which is decoupled from the rest of the cabinet with compliant mounts. The tweeter is further decoupled from the Nest. Flanking the enclosure are "wings" that have their mass and the suspension compliance tuned to cancel cabinet resonances.
Driven by Hegel amplification with XLO cables and with CD-resolution data decoded by an iFi DAC, the Fenestrias offered superbly palpable midrange and high frequencies on a recording by Canadian singer/pianist Anne Bisson. The image of Bisson's piano, in particular, hung in the space between the speakers, with no notes splashing to the sides. The transmission-line vents at the top and bottom of the enclosure feature laminar-flow fins to eliminate chuffing. The sub-bass notes on James Blake's "Limit to your love," played back at high volume, sounded clean with no wind noises or distortion. An impressive debut by an impressively engineered loudspeaker.
My next stop was the MartinLogan room, where the company's Neolith speakers ($80,000/pair, 385lb each) were being demmed with Simaudio Moon electronics—a 780D DAC, an 850P preamplifier, and a pair of 880M monoblocks—and MIT cables and power conditioning. Branford Marsalis's Trio Jeepy album was streaming from Qobuz when I came in and though the stereo imaging on this recording was decidedly old-fashioned— sax on the left, drums on the right, double bass in the center—the electrostatic Neoliths (with their cone woofers) filled the very large room with sound. I asked MartinLogan's Dennis Chern for something classical and he streamed Stravinsky's l'Histoire du Soldat. Beautifully precise, stable soundstaging, uncolored mids, extended highs, controlled, extended lows—very nice!
Canadian speaker company Paradigm has been MartinLogan;s sister company for some years now, and as they had the room next door, it made sense to visit them next. Greeting me as I entered was a tower of Paradigms' Defiance subwoofers, with the big X15 on the bottom and the tiny V8 on the top. All except the last can be used with Anthem Room Correction, which I have become of fan of.
Paradigm's active dem was devoted to home theater and surround, in which I have little interests, so I moved on the large room shared by Oracle and Eon Art. Oracle I am well familiar with, having lusted after one their turntables since I first hear one in the mid-1980s—they were showing the Delphi Mk.6 turntable at the show, along with their similarly styled and futuristic-looking CD1000 CD player ($12,000) and transport ($8500)—but the latter name was new to me. It turned out that this is a French company making its north American debut with what they called a "tall" loudspeaker, with an MTM upper-frequency array and a ported woofer, priced at $CDN35,000/pair, my scribbled notes say. The speakers were driven by the Eon Art Quark 208W integrated amplifier ($28,599), a hybrid design featuring a tubed preamp stage (Tesla E88CCs recommended) and a class-D output stage offering 208Wpc into 8 ohms, 332Wpc into 4 ohms.
In keeping with the show's theme, The Beatles' "And I love her" was playing when I entered but we switched to "more contemporary" music—Pink Floyd's Wish You Were Here. A big soundstage and tight, extended low frequencies had me listening for longer than I had intended, given that I had many more rooms to visit.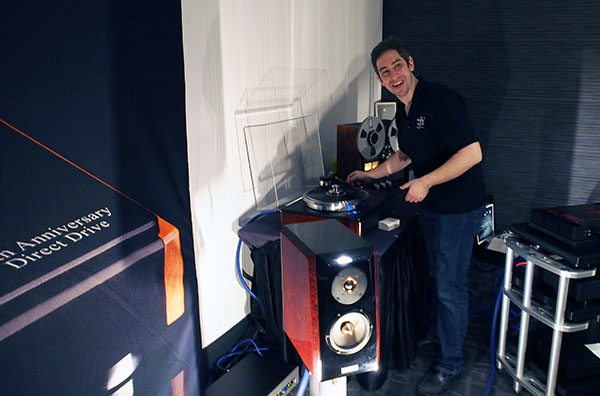 VPI's Mat Weisfeld was having fun in the room the New Jersey company was sharing with Joseph Audio and Cardas, playing the direct-to-disc Crystal Clear Charlie Byrd album on the VPI 40th Anniversary HW40 Direct Drive turntable fitted with VPI's 3D-printed Fat Boy tonearm. But the pride of the player was the first-ever VPI phono cartridge, serial number "000"—a limited-edition model made for VPI by Miyajima.
The Joseph speakers were the two-way Pulsar 2s, sitting on chunky, double-pillar Osiris stands, and set-up, as is the room-wise Jeff Joseph's wont, on the diagonal. Driven by a Brinkmann Nyquist DAC fed by an Innuos server, an Alluxity Integrated amplifier, and VPI's new Voyager phono preamp, the sound in this room was excellent, with surprisingly full-bodied lows. The kick drum on the Byrd album had good definition and when Mat played an ancient LP of Tchaikovsky's Nutcracker—Philharmonia conducted by John Lanchbery?—the orchestral instruments were reproduced with natural signatures. But wait a minute—Pulsar 2? The original Pulsar has been a long-time resident of Stereophile's "Recommended Components" but has now been upgraded with a new SEAS Excel woofer featuring a graphene-coated cone. A FollowUp review is planned.
LP-cleaning maven Charles Kirmuss has become a fixture at North American audio shows, demonstrating his controversial LP cleaning machine. But at this show he was doing so in fluent French as well as giving a seminar on Saturday entitled "Comprendre comment les vinyles sont fabriqué afin de savoir en prendre soin." Les vinyles? Zut alors!!! Le vinyl est singular, sûrement!