JA's First Day at the Chicago Show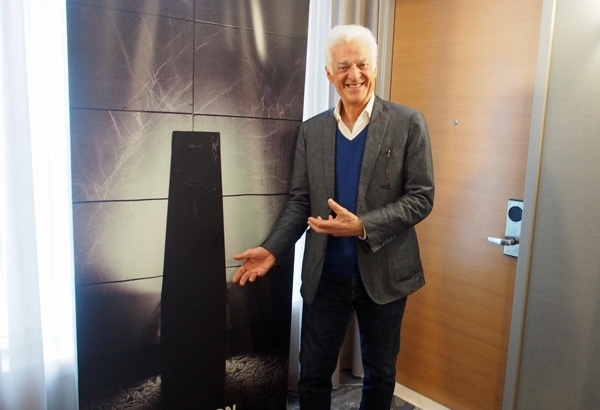 "What are
you
doing here?" MartinLogan founder Gayle Sanders has been long gone from the audio industry but there he was in the corridor of the Schaumburg Renaissance hotel's 7th floor. "I love the industry and I wanted to come back and play," Gayle laughed as he introduced me to his Eikon Image1 digital active loudspeaker ($24,500/system).
The elegant-looking, floorstanding Image1 combines a waveguide-loaded AMT tweeter with a 5" midrange unit and two 8" woofers (one on the front, one on the back) with a class-D amplifier module for each driver, and all crossover and optimization performed in the DSP-based Eikontrol unit. The Eikontrol was developed by Bernt Böhmer in Sweden, and is based on wavelet analysis rather than the usual FFT techniques. It is said to be capable of acoustic wave-shaping in the room, minimizing reflections from the sidewalls. The Image1 is manufactured in Connecticut.
With Tidal streams sourced from an Aurender media player, the Image1s, which were set up across the room's diagonal, produced a palpable soundstage with well-defined, extended low frequencies from a relatively small enclosure. Vocals, in particular, sounded natural and tonally correct.
In the first of the rooms hosted by retailer Quintessence Audio, I took a listen to the new version of Sonus Faber's flagship Aida loudspeaker ($120,000/pair). Driven by Audio Research amplification, the well-engineered Aidas produced an impressive, full-range sweep of sound. Michael Fremer is having a pair of Aidas delivered early next month for review in Stereophile—I'm looking forward to hearing them in his room but not looking forward to measuring such a large, heavy speaker!
In another of the Quintessence rooms, Wilson Alexia 2s were being driven by Audio Research's new Ref160M monoblocks ($30,000/pair) via Kubala-Sosna cabling and a dCS Rossini player providing the music. I am working on a review of the Alexia 2, to be published in our July issue, so it would perhaps be premature of me to comment on the sound in this room, other than to say I listened for longer than I had planned.
With their transparent meter windows showing the four KT150 tubes, the Audio Research amplifiers look striking. A first for an Audio Research amplifier, the Rf160M offers switchable Ultralinear/Triode operation and proprietary auto-bias and delivers 140W into 8 ohms.
GoldenEar's Sandy Gross was driving the Triton Reference speakers I had reviewed in our January issue ($8498/pair) with a PrimaLuna tube preamp and PrimaLuna tube power amp, the latter delivering 35Wpc into 8 ohms in triode mode. Despite the modest power, this system produced a big, dynamic sound. But the highlight of my visit was listening to Dean Martin singing "If You Were the Only Girl in the World." I'm not really a fan of this style of singing, but the Triton References do excel at producing voices.
I was familiar with the Scaena speakers ($75,000/pair) from other shows, but as always these line-source speakers, with their separate cylindrical woofers, hooked up with High Fidelity cables and driven by High Fidelity monoblocks sound excellent. With a dCS Rossini as source, this system produced a surprisingly delicate, if rather mellow sound with a recording of guitar and percussion, with superbly well-defined stereo imaging. With Elvis Presley singing "Fever," the King was in the room!
Yes, that's a power LED on the front of the new version of PS Audio's delightful and affordable Sprout integrated amplifier, the Sprout 100. We featured the original Sprout, which didn't have an power indicator, on the cover of our May 2015 issue.