JA's Final Report from the 2017 LAAS
The first room I went to at the 2017 LAAS was that hosted by LA dealer Optimal Enchantment featuring a system based on Vandersteen's Model Seven Mk.II speakers ($62,000/pair) and M7-HPA amplifiers ($52,000/pair), which I
reviewed in May 2016
, this time reinforced by a pair of Vandersteen's SUB NINEs operating below 100Hz. It may have been the first room I visited but as good as many other systems sounded, they didn't match what Vandersteen refers as System NINE for its effortless sweep of sound, precise, palpable imaging, and smooth yet detailed high frequencies. On the title cut from a test pressing of Dave Brubeck's
Take Five
, the reverb surrounding Joe Morello's drums in his solo was more audible than I hear from my own system and the textures of his cymbals were superbly well differentiated.
The rest of the system comprised Audio Research Corporation's REF-10 phono preamplifier and line stage, with isolation stands and bases from Harmonic Resolution Systems (HRS) and cabling and power-line conditioning by AudioQuest—a Niagara 7000 for the amplifiers and Niagara 5000 for the front-end components. But it is the LP player in this room that drew visitors' attention.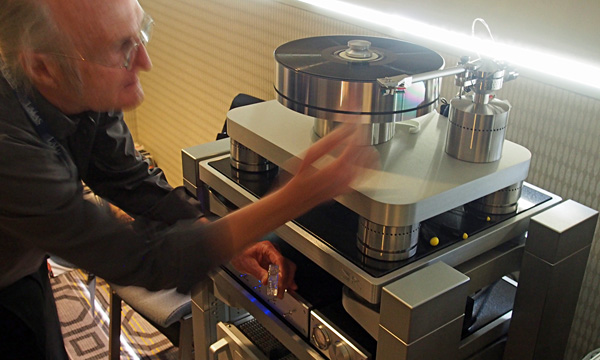 Michael Fremer shared my enthusiasm for the sound in this room, which had LPs played on the late AJ Conti's Transcendence turntable with the Super Arm fitted with a Lyra Atlas cartridge. In Mikey's words: "This turntable is the acrylic-free, minimal-plinth design I always hoped AJ would design and build."
Jason Serinus and I already wrote about the MQA dems at the 2017 LAAS, but I also auditioned MQA recordings in the Aurender room. On a system featuring GamuT RS5i speakers ($29,900/pair) driven by a GamuT D200i amplifier ($13,990) fed an analog signal from Aurender's new A10 caching network server/DAC ($5500), the electronics sitting on a Grand Prix Audio rack ($9995), I listened to several MQA recordings streamed from Tidal Masters and decoded by the A10. The decoded version of the Trondheimsolisten's performance of Britten's Simple Symphony sounded as superbly palpable as I experience at home, but the treat for me in this room was the MQA version of George Benson's "This Masquerade," unfolded to 96k. "Wow, just wow!" I wrote in my notebook, so readily the variations in pitch of the various percussion instruments on this classic track could be discerned.
When I went into the On A Higher Note room, I was expecting the hear the same samples of the Vivid Gi Spirit speakers that after the show closed would be shipped to Jon Iverson for a review in Stereophile. But instead the Vivid Giya G2s were being demmed, which I was told worked better with the hotel room's acoustics, even with the liberal application of Tube Traps. With the speakers driven by Luxman amplification an LP of Rhapsody in Blue with Leonard Bernstein played on a Luxman turntable with Jelco arm produced a big, easy sound.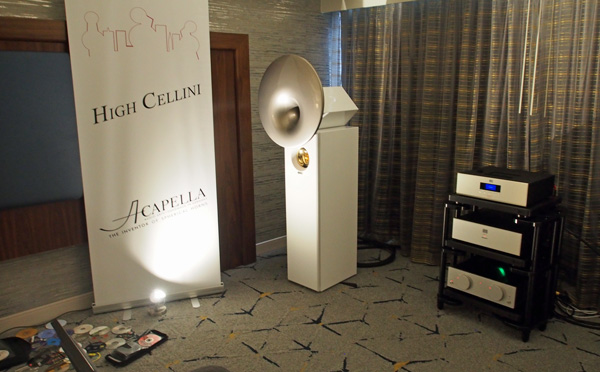 I had favorably reviewed the High Violoncello II from Acapella Audio Arts from Germany, with its unique array of horn-loaded midrange driver and horn-loaded ionic tweeter, back in September 2010 but in the Audio Federation room I heard the 91dB-sensitive Acapella Cellini High loudspeaker ($55,200/pair), driven by the Acapella LaMusika integrated amplifier ($100,000), with the source an AudioNote UK CDT Five CD transport ($48,350) and an AudioNote UK DAC Five Signature D/A processor ($87,825). The High Cellini combines the ionic tweeter what Acapella calls a "Hyper-Spherical" horn for the midrange, the asymmetrical flare of which is said to optimize the speaker's dispersion. Eva Cassidy's "Tall Tree in Georgia" on CD sounded stunningly compelling on this system, though with a slight amount of mid-treble "spitch" occasionally audible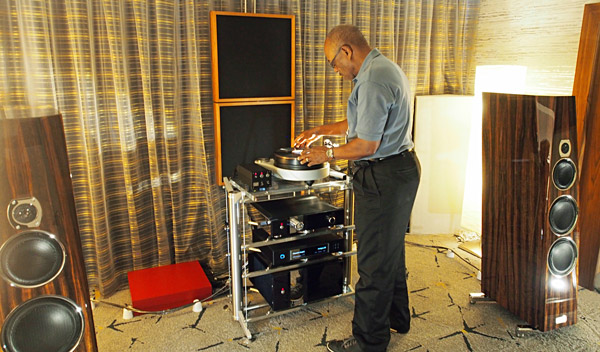 Doug White of Pennsylvania dealer The Voice That Is was showing the German Tidal Contriva G2 loudspeakers ($65,900/pair), Tidal Preos preamplifier ($32,900) and Impulse LPX dual-mono amplifier ($35,200), with the source a TW Raven GT turntable with Transfiguration Proteus cartridge and an Aurender N10 server, all hooked up with Dynamic Design cables. Like many exhibitors, Doug had placed absorptive panels at the room's first reflection points. There was still a bit of excessive low-frequency bloom, but the sound was otherwise neutrally balanced, clean, and involving., with superbly stable, precise stereo imaging. Two tracks from Musica Nuda, "Roxanne" and "Eleanor Rigby," with a female voice accompanied by solo double bass, sounded palpably real. (I know, I keep using the "P" word in my coverage—consider it my word of the show.)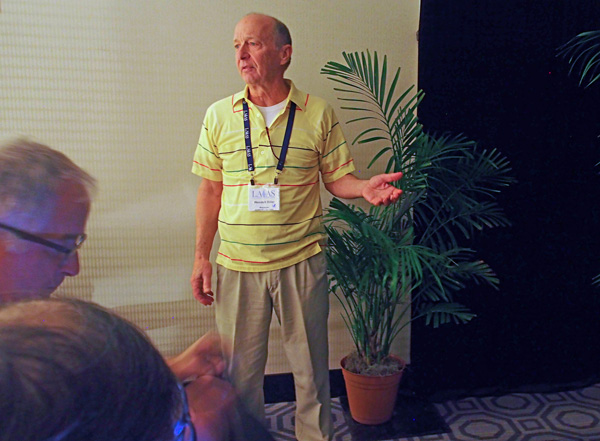 I first attended a Magnepan dem at a show at the beginning of the 1980s and in all the years since then, the Minnesotan company's Wendell Diller doesn't appear to have aged and he told me in LA that he is "still having fun!" At LAAS Wendell had hidden the speakers behind a black curtain but it didn't take too much sleuthing to discover that left and right were stacked pairs of the Magnepan .7s ($1400/pair) that had so impressed Herb Reichert when he reviewed them, with a central MG1.7 fed the sum of the two channels. This unusual system got the scale of the recorded sound right. Both José Carreras's voice on Misa Criola and Nils Lofgren's on that show stalwart "Keith Don't Go" sounded lifesize.
Finally, Friday afternoon at the show Astell & Kern held a press conference to announce two new hi-rez portable players, released to celebrate the Korean company's 5th anniversary: the A&ultima SP1000 ($3499) and KANN ($999). As its price suggests, the SP1000 is intended to be a state-of-the-art flagship player, and features dual AK4497EQ DACs, an Octa-Core CPU to optimize system performance, a bezel-less 5" LCD screen, a new GUI, and USB 3.0 and wireless connectivity.
The considerably more affordable KANN includes dedicated 3.5mm unbalanced/2.5mm balanced headphone outputs and 3.5mm unbalanced/2.5mm balanced dedicated line outputs; full-size SD and microSD card slots for additional storage to its 64GB of internal memory; USB-C connection for faster charging and transfer speeds; and a built-in headphone amplifier. It features a single AKM AK4490 DAC chipset and is the first sub $1,000 player from Astell&Kern to support native playback of 32-bit/384kHz high-resolution PCM audio and native playback of DSD audio, up to DSD256.