JA Moves On Up at RMAF
As you can read elsewhere in our RMAF coverage, the incomplete remodeling of the Denver Tech Center Marriott mean that the CanJam exhibits had to be moved to a tent in the hotel parking lot and the seminars and Classic Album Sunday events were held in temporary housing "pods." I wandered into one of the latter to find Channel D's Rob Robinson (above) playing 24/192 rips of LPs on a system featuring a Lynx HiLo digital converter, a Jeff Rowland amplifier, Cardas cables, and Joseph Audio Pearl 3 speakers. When I sat down to listen, Rob was playing a 1953 Maria Callas recording of an aria from
Tosca
, and as you can see from the spectral analyzer screen below, when Callas was singing fortissimo, there was content ranging all the way up to 80kHz or so—indicated by the horizontal turquoise lines. Note that these were not record clicks, which were very audible and one of which can be seen at the top of the screen, nor was it the result of the original LP player's cartridge tip-mass resonance, which would have resulted in a persistent vertical line at the resonant frequency.
The Callas recording finished and Rob selected another 24/192 file to play with Channel D's Pure Vinyl program, of solo piano. Not only did it sound better than I expected, given the sub-optimal acoustics of the "pod," it sounded very familiar. As it should have done, as it was a rip from LP of Stereophile's Intermezzo album featuring Robert Silverman playing Brahms, which I produced in 1990 (see below).
Rob's copy of the out-of-print LP was plagued with ticks, so I am going to try to find an unplayed copy to send him, but I left this dem impressed with how well the Joseph Pearl 3s sounded in the "pod," full-range and uncolored.
Returning to the Marriott, I went into the DEQX room on the 11th floor, where the Australian company's Alan Langford demmed for me the latest version of the Premate preamplifier, the HDP-5 ($6500) which uses DSP to correct both speaker imperfections and room acoustic problems and is now Roon-ready. (You can find Kal Rubinson's review of the original PreMate version here.) Using three RedGum amplifiers with tri-amped VAF three-way i93 Mk.II speakers, all from Australia and the latter costing $16,000/pair, Alan had modified the speakers by installing relays to bypass the original passive crossover with a digital crossover implemented in the preamplifier. (The passive crossover was all first-order, 6dB/octave filters set at 500Hz and 2.9kHz; the digital crossover 96dB/octave filters at the same frequencies.)
Alan let me A/B three options, using first a recording of "Fly Me to the Moon," then Stevie Ray Vaughan's "Little Wing": the original passive speaker; the speaker with the digitally implemented crossover with DSP correction of the individual drive-unit aberrations; and the whole megillah, with digital crossover, DSP driver correction, and DSP room acoustic correction. The uncorrected passive speakers sounded okay. The digital-crossover version lost a slight hooty coloration, and the completely corrected version sounded as though it had an extra half-octave of bass extension and more width and depth to a better-defined soundstage. Color me impressed.
Pride of place in the Fort Collins Audio room was the new D9 speaker from English manufacturer Spendor ($9995/pair). Driven by Ayre's AX-5 Twenty integrated amplifier ($12,950) and the new Ayre QX-5 streamer/renderer ($8950), all hooked up with Cardas Clear Beyond cabling, the 90dB-sensitive D9 uses Spendor's custom LPZ tweeter, which builds a fabric-dome diaphragm into a stainless-steel front-plate, which I first saw in the smaller D7, which Sam Tellig and I reviewed in November 2014. In the D9, the tweeter crosses over to a 7" mid-bass driver and two 7" woofers, the latter loaded with "Linear Flow" ports inspired by Formula 1 diffusor technology.
Wheat Ridge, CO retailer Crescendo Fine Audio was demming a relatively modest-priced system using a Sony HAP-1ES server/renderer, an Atoll IN200 SE integrated amplifier from France ($2500), Transparent cables, and Atohm speakers, also made in France. I listened to both the GT1 bookshelves ($4495/pair) and the GT2 towers ($7495/pair), using Rickie Lee Jones' cover of Traffic's "Low Spark of High-Heeled Boys." To my surprise, the bookshelf speakers did better justice to the song, sounded usefully warmer and more palpable on voice, though the towers offered better extension and low-frequency definition.
Alta Audio was a name new to me, but their Rhea speakers ($4500/pair), which combine a ribbon tweeter with a transmission line-loaded 7" woofer in a 36"-tall enclosure sounded excellent on Dave Brubeck's "Blue Rondo" streamed from Tidal. (As with some other rooms, I had to crouch to get on the optimal tweeter axis.) The rest of the system comprised other names new to me: the Roon-ready Host music server ($2300 with 1TB storage), AP2 preamp ($1200), and 55PM monoblocks ($3000/pair), all from Clones Audio, and cabling from AntiCables.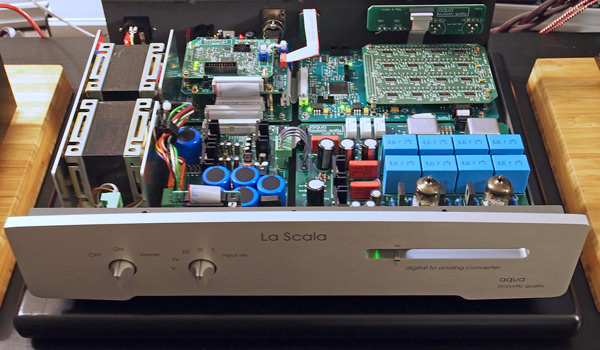 DAC in the Alta/Clones/AntiCables room was the La Scala Mk.II ($6600) from Italian company Aqua. This DAC uses an "Optologic" dual-differential R2R conversion system with, unusually, a transformer used for the I/V stage and, the company proclaims, "no reconstruction filter." The hybrid tube/MOSFET analog stage runs in class-A and is powered from a "virtual battery" circuit. The USB input handles DSD64 and DSD128 via DoP.
Pennsylvania retailer The Voice That Is was a long way from home,but was presenting the Piano Diacera G2 speakers ($33,900/pair–$42900/pair, depending on finish) from German company Tidal Audio. (No relation to the streaming service.) Combined with amplification from Zanden—the M120 phono stage with a choice of five equalization curves ($7500), the 3100 preamplifier ($12,500), and M6000 integrated amplifier with push-pull KT120 tubes ($22,000)—a Kuzma LP player, and an Aurender A10 server/streamer ($5500), the Tidal speakers produced a natural-sounding midrange and treble on a Handel aria sung by Kathleen Battle. The accompanying piano on this LP sounded a little boxy, but the next track played, from Ray Brown's Soular Energy, an album with which I am well familiar, featured an uncolored piano sound, so the coloration on the Battle track may well have been due to the recording. This, of course, illustrates the danger of making absolute pronouncements on sound quality based on unknown recordings.
Finally for my penultimate report from the 2016 RMAF, Technics had two rooms on the 11th floor, but despite my best intentions to visit, both rooms were full every time I visited. But as you can see from my photo, Technics' revived version of the SL-1200 turntable, the SL-1200GAWE/G, which Herb Reichert reviewed last August, was hooked up to a pair of 'scopes, something that warmed the cockles of this measurement geek's heart.