Stereophile's Products of 2011 COMPUTER AUDIO PRODUCT OF THE YEAR
2011 COMPUTER AUDIO PRODUCT OF THE YEAR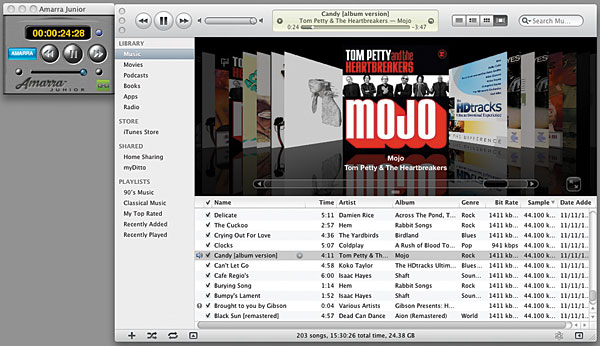 Amarra music playback software ($695; reviewed by Art Dudley, Vol.34 No.7 Review)
2010 RUNNERS-UP (in alphabetical order)
Decibel music playback software ($33; reviewed by Art Dudley & John Atkinson, Vol.34 Nos. 7 & 9 Review)
Linn Majik DS-I networked integrated amplifier ($4200; reviewed by Art Dudley & Robert J. Reina, Vol.34 Nos. 3, 4 & 6 Review)
Micromega AirStream AS-400 integrated amplifier ($4594; reviewed by Art Dudley, Vol.34 No.7 Review)

In his July "Listening" column, Art Dudley expressed his appreciation for computer audio: "Computer audio is not only the right choice for me: It's a happy choice. The genre is still fun. . . . [It's] still affordable. . . . Computer audio is the road to freedom from obsolescence, extortionate prices, and those glorified kitchen-table manufacturers who thanked their best customers by neglecting to stock enough spare parts to keep their overpriced goods running for more than five years." (Whew.) Computer audio is fun, affordable, and liberating.
With digital storage space as affordable as it now is, more and more people are looking to free themselves from physical media. They're ripping their CDs, hiding them away, and turning to the Internet for exciting new music, which is increasingly available in high-resolution formats. For most people, Apple's iTunes does a fine job of organizing that music, providing lots of useful metadata, colorful album art, and an intuitive feature set. But audiophiles aren't most people. We have libraries of hundreds of thousands of music files, in various combinations of bit depths and sampling rates. As good as iTunes is, it just can't handle those kinds of demands. What's an audiophile to do?
We need something better, something more, something that will allow us to squeeze all the bits from our hi-rez files without having to relaunch iTunes every time we switch sampling rates. Is that too much to ask? Not at all. Help has arrived in the form of Amarra, our Computer Audio Product of the Year.
Amarra is an aftermarket music-playback program designed to work with rather than replace iTunes: while iTunes retains the job of cataloguing your music, Amarra bypasses Apple's playback pathway and changes the sample rate of Apple's CoreAudio engine to match that of the file being played, disabling CoreAudio's real-time sample-rate converter. Amarra's sophisticated user interface inspires confidence; its luxurious feature set includes memory play, user-adjustable equalization, a Playlist Mode that lets users bypass altogether iTunes' song-selection interface, full compatibility with native FLAC files, and a handy switch for comparing the playback qualities of Amarra and iTunes. Perhaps best of all, Amarra sounded wonderful, always naturally detailed, and consistently involving.
Can we ask for anything more? Certainly, in time, our needs will grow and evolve. After all, we are audiophiles. The only thing that moves faster than our whimsy is technology itself. For now, however, we're thrilled with Amarra. It won a total of 15 votes from our writers, including four for first place.