Stereophile's Products of 2009 2009 Product of the Year
2009 Product of the Year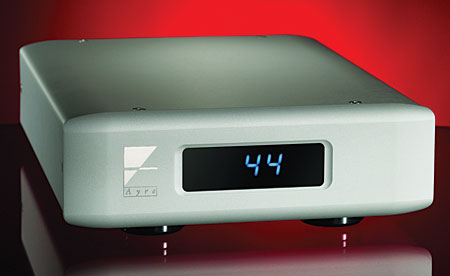 Ayre Acoustics QB-9 USB D/A converter
Runners-Up (in alphabetical order)
Ayre Acoustics KX-R preamplifier
Boulder 1021 disc player
Cambridge Audio DacMagic D/A processor
dCS Scarlatti SACD playback system
Meridian 808i.2 CD player
Peachtree Nova D/A integrated amplifier
Sennheiser HD800 headphones
Wilson Audio Specialties MAXX Series 3 loudspeaker
YG Acoustics Anat Reference II Professional loudspeaker
Though Wilson Audio's big MAXX 3 loudspeaker earned more first-place votes (four) than any other product in the running, the forward-thinking Ayre QB-9 led the pack with the most votes overall, to take the year's biggest prize. And Charlie Hansen and all the other hard-working, music-crazed kids at Ayre Acoustics should be doubly proud; their KX-R preamp took the bronze, trailing the Wilson by just two votes. Other products with at least one first-place recommendation were the Meridian 808i.2, YG Acoustics Anat Reference II Professional, Peachtree Nova, and the bargain-priced Cambridge Audio DacMagic D/A processor.
But it was the Ayre QB-9 that had Wes Phillips shouting hallelujah. Once Wes had gotten a taste of his favorite recordings in their native resolutions, he couldn't go back. Dude wanted more and more and more of that large, corporeal, electrifying, 24-bit rush. And it wasn't just a physical thing—it was emotional. Wes felt closer to his favorite performers than ever before. But if you're one of those who couldn't care less about physical and emotional hoo-hah, the QB-9 can drop the science on you, too. Ask John Atkinson. While conventional USB DACs normally suck—hard—on the jitter front, the Ayre's asynchronous USB mode worked like a charm.
Well engineered, and offering outstanding performance in both the analog and digital domains, the QB-9 promises to deliver our music simply, directly, and in its purest form—more reason for celebration. Congratulations, Ayre, and thanks.