Stereophile's Products of 2009 2009 Joint Digital Source Components of the Year
2009 Joint Digital Source Components of the Year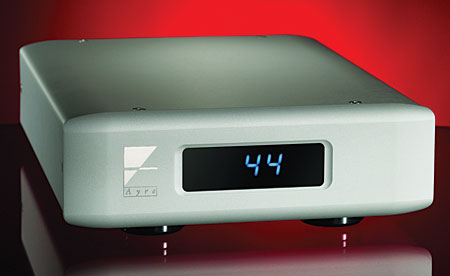 Ayre Acoustics QB-9 USB D/A converter ($2500; reviewed by Wes Phillips, Vol.32 No.10, October 2009 Review)
dCS Scarlatti SACD playback system ($79,996; reviewed by Michael Fremer, Vol.32 No.8, August 2009 Review)
Meridian 808i.2 CD player ($16,995; reviewed by John Atkinson, Vol.32 No.4, April 2009 Review)

Runners-Up (in alphabetical order)
Ayre Acoustics CX7-eMP CD player ($3500; reviewed by Robert Deutsch, Vol.32 No.10, October 2009 Review)
Bel Canto USB Link 24/96 digital processor ($495; reviewed by John Atkinson, Vol.32 No.5, May 2009 Review)
Boulder 1021 disc player ($24,000; reviewed by John Atkinson, Vol.32 No.7, July 2009 Review)
Cambridge DacMagic D/A processor ($479; reviewed by Sam Tellig & John Atkinson, Vol.32 Nos.3, 6, & 8, March, June, & August 2009 Review)
Oppo BDP-83 universal player ($499; reviewed by Kalman Rubinson, Vol.32 No.7, July 2009 Review)
Wadia Digital 170iTransport ($379; reviewed by John Atkinson, Vol.32 No.6, June 2009 Review)
Wavelength Cosecant v3 USB D/A processor ($3500; reviewed by Art Dudley, Vol.32 No.6, June 2009 Review)
Our Digital Sources category was the only race for which we could not determine a clear winner, and it seems appropriate that the award would be shared by three companies— Ayre Acoustics, dCS, and Meridian—that live on the cutting edge of design and are always interested in redefining the state of the digital art. The voting couldn't have gotten much closer than this, and we couldn't have been happier with the outcome: Though the Ayre QB-9 USB DAC received votes from the most number of writers (seven), the dCS Scarlatti SACD system and Meridian 808i.2 CD player each received four first-place votes, one second-place vote, and one third-place vote, which added up to the same total. It's also interesting that we've selected three unique products, each the result of a distinct vision. While the Meridian strives to squeeze the best from the familiar Compact Disc format, the Ayre is poised to reap the most from the future of high-resolution downloads, and the dCS system looks, at least for now, to be entirely future-proof.
The gorgeous Meridian 808i.2 uses a proprietary Resolution Enhancement algorithm and a new apodizing reconstruction filter to upsample CD data to 176.4kHz before feeding it to high-quality delta-sigma DAC chips. At levels approaching concert-hall volumes, the 808i.2 produced the correct scale and depth of classical orchestral works while avoiding any midrange congestion or treble hardness, and made John Atkinson a very happy audiophile. The impressive Ayre Acoustics QB-9 USB DAC marries Gordon Rankin's Streamlength software for the Texas Instruments TAS1020B USB receiver chip to Ayre's new Minimum Phase (MP) digital reconstruction filter, while maintaining Ayre's philosophy of zero feedback and fully balanced operation. The result was a huge, physical sound from PC audio files that charged old songs with new life. Wes Phillips had his soul "psychedelicized," and JA was impressed by the way Ayre's asynchronous USB mode handled the grueling Miller/Dunn jitter test.
Finally, the ultracomplex, ultrasophisticated dCS Scarlatti is a four-box system comprising Transport, Clock, Upsampler, and a DAC employing dCS's patented Ring DAC topology and switchable reconstruction filters. This imposing system has an imposing price, but according to Mikey Fremer, it's worth every dime: "dCS has built a jewel of a system that will make you very happy for a very long time, no matter what the audio future brings."