Stereophile's Products of 2008 2008 Joint Analog Source Components of the Year
2008 Joint Analog Source Components of the Year
Continuum Audio Labs Criterion turntable & Copperhead tonearm ($56,495; reviewed by Michael Fremer, Vol.31 No.3, March 2008)
Rega Planar 3-24 turntable & RB-301 tonearm ($895–$1295; reviewed by Michael Fremer, Vol.31 No.7, July 2008 Review)
Runners-Up (in alphabetical order)
Denon DL-103 phono cartridge ($229; reviewed by Art Dudley, Vol.30 Nos.10 & 12, October & December 2007 Review)
EMT 997 tonearm ($4895; reviewed by Art Dudley, Vol.31 Nos.7 & 9, July & September 2008 Review)
Koetsu Urushi Vermillion phono cartridge ($4300; reviewed by Michael Fremer, Vol.31 No.1, January 2008 Review)
Kuzma Stabi SD turntable & Stogi S tonearm ($6150; reviewed by Michael Fremer, Vol.31 No.7, July 2008)
Music Hall MMF-9/1 turntable ($2195; reviewed by Michael Fremer, Vol.31 No.7, July 2008)
Soundsmith SMCC1 phono cartridge ($750; reviewed by Michael Fremer, Vol.31 No.4, April 2008 Review)
The Well Tempered Record Player ($2950; reviewed by Art Dudley, Vol.31 No.1, January 2008 Review)
Zu Audio DL-103 phono cartridge ($399; reviewed by Art Dudley, Vol.31 No.12, December 2008 Review)
With three first-place votes and ten total votes apiece, the Continuum Audio Labs Criterion and Rega Planar P3-24 came in at a precise tie. And with the recent explosion of new LP releases and the success of popular vinyl reissues, it shouldn't come as a surprise that there's a $55,000 difference in price between our two winners. Vinyl is being appreciated by more people, from more walks of life, than at any other time in recent memory.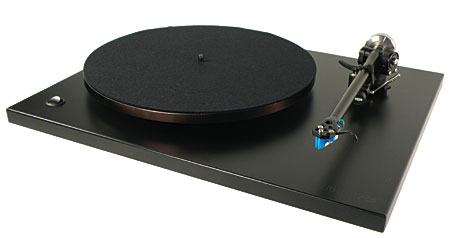 While the Criterion may be Continuum's entry-level model, it offers veritable exit-level performance. While borrowing much of the technology and design found in the $125,595 Caliburn-Cobra combo, the Criterion lacks its big brother's dedicated Castellon stand. But like the Caliburn, the Criterion can be simultaneously fitted with two tonearms, and uses Continuum's armboard-isolation system. Its self-damping magnesium-alloy chassis is a bit smaller and lighter than the Caliburn's, however, for a sleeker package. Mikey Fremer was so impressed by the Criterion's punchy, exciting rhythm and pacing that he nearly forgot all about his Caliburn.
For vinyl lovers on tighter budgets, Rega provides an excellent solution in the updated P3-24. Identical to its predecessor in appearance, Rega's most celebrated turntable now uses an AC synchronous motor for lower noise and improved stability, while its lower-mass plinth is made of a phenolic-resin laminate for increased rigidity. "An evolutionary step forward, physically, sonically, and ergonomically," praised Mikey. The Rega's slightly warm sound and large, fleshy images combine for an exciting listening experience, but, most important, the P3-24 serves the music before all else. And that's why we've recognized it.