Stereophile's Products of 2006 Joint Accessories
2006 Joint Accessories
AKG K 701 headphones ($450; reviewed by Wes Phillips, Vol.29 No.8, August 2006 review)
Ultimate Ears UE-10 Pro in-ear headphones ($900; reviewed by Wes Phillips, Vol.29 No.10, October 2006 review)
Runners-up (in alphabetical order)
Apple iPod Hi-Fi docking station ($349; reviewed by Wes Phillips & Michael Fremer, April eNewsletter, review, & Vol.29 No.6, June 2006)
Ayre Myrtle Blocks ($5 each; reviewed by Art Dudley, Vol.29 No.3, March 2006 review)
Finite Elemente equipment rack & Ceraball feet (Rack, $6195; Feet, $135/4; reviewed by Brian Damkroger, Vol.29 No.2, February 2006 review)
Halcyonics active vibration isolation system ($7990; reviewed by Michael Fremer, Vol.29 No.6, June 2006)
Meridian MRC room correction (reviewed by Kalman Rubinson, Vol.29 No.7, July 2006 review)
Nordost Heimdall interconnects and speaker cables ($600/1m pair, $1500/2m pair; reviewed by Art Dudley, Vol.29 No.10, October 2006 review)
Velodyne SMS-1 subwoofer equalizer ($699; reviewed by Kalman Rubinson, Vol.28 No.11, November 2005 review)
Wallytractor tonearm alignment gauge ($149; reviewed by Art Dudley, Vol.28 No.12, December 2005 review)
The AKG K 701 and the Ultimate Ears UE-10 Pro, joint winners of this year's Accessory category, are both headphones, but there the physical similarities end. Resident headphone junkie Wes Phillips had the pleasure of reviewing both of these radically different concepts.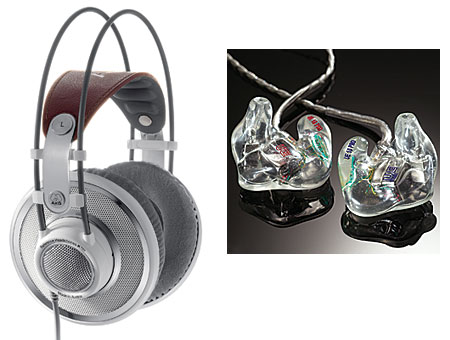 The K 701 is a large, open-back, circumaural design featuring wire frames, a leather headband, white porcelain-like rims, and extremely comfortable, velvety ear pads that make "a dashing retro-futuristic fashion statement." Sporting a set of these cans, you can sit on one of the benches outside American Apparel on Houston Street, in Manhattan's Lower East Side, looking really spiffy. The UE-10 Pros, however, are discrete, sound-isolating, in-ear monitors custom-molded to your ear canals by an audiologist, available in 13 colors from clear to Skintone Cocoa, and designed especially for use in professional applications. The UE-10s are made to wear while sweating, not just for sitting around.
The K 701s offer a 10' cable terminated by a ¼" connector and like to be used with a good headphone amplifier. Wes's ears were delighted: "The AKG K 701s have raised the bar for natural-sounding headphones." The UE-10 Pros, on the other hand (or head), feature cable lengths of 46" or 64" with a 1/8" connector, making them iPod-friendly. Again, WP was impressed: "I think of the UE-10 Pros as a tool that gives me isolation and accurate sound in places I'd never otherwise have it."
The right choice for you is, of course, a personal matter.
In other news: The cute and oft-maligned Ayre Myrtle Blocks, used under various components and for various reasons by JA, WP, AD, and me, won four votes. While this was not nearly enough to rank the Myrtles among our top contenders, it should be noted that each vote did conform to the Golden Ratio, and therefore sounded really swell.