Stereophile's Products of 2006 Editor's Choice
2006 Editor's Choice
Slim Devices Squeezebox WiFi D/A processor ($249–$299; reviewed by John Atkinson, Vol.29 No.9, September 2006 review)
Following the furrow plowed by last year's "Editor's Choice," Apple's Airport Express, my 2006 pick makes it even easier for audiophiles to distribute CD-quality sound throughout their homes. In a poll on our website last September, 25% of respondents felt that the magazine was "losing the plot" with its coverage of music-server devices such as the Squeezebox. Rich Foster's response was typical: "I don't mind you covering things like [the Sonos gear] or iPod-related gear, as long as they are kept in perspective. These items are nice for convenience or portability, but they are not high-end equipment. Stereophile has always been about sonic purity."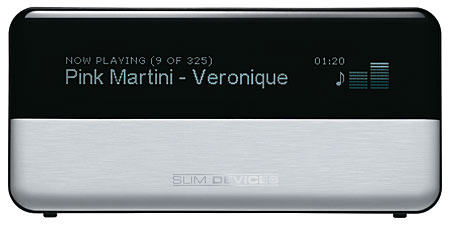 But "sonic purity" is indeed the point of these devices, in that they are not restricted to nasty-sounding, devitalized MP3s; they also handle lossless-compressed audio files and even uncompressed, true "CD quality" files. And the fact that they feature digital data outputs means that they can feed the D/A processor of a true high-end rig. In my auditioning of the Squeezebox used in this manner, any sonic compromises resulting from the use of my WiFi network to transmit audio data around the home were minimal, and vastly outweighed by the sheer convenience of being able to access the music library residing on a remote server from the comfort of my listening chair.
The Squeezebox nicely complements a high-end, LP-based system by offering convenience and CD-quality sound for those times when the busy audiophile can't give his or her full attention to the music. The "open-source" nature of the Squeezebox's SlimServer software allows it to stay abreast of new developments, and the Squeezebox itself is an elegant piece of kit. At $299 for the WiFi model and just $249 for the hardwired Ethernet version, what excuse does an audiophile need not to join the 21st century?
In that same website poll, Dave Mueller nicely summed it up: "At its core, the magazine is about helping us enjoy our music with the best possible quality. . . . [T]he digital realm needs that sort of direction probably more than other mediums."