Stereophile's Products of 2005 Joint Loudspeakers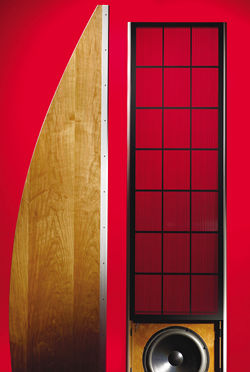 2005 Joint Loudspeakers
Innersound Kaya
($20,000/pair; reviewed by Paul Bolin, Vol.27 No.12 & Vol.28 No.5, December 2004 & May 2005
review
)
Peak Consult Empress
($25,000/pair; reviewed by Wes Phillips, Vol.28 No.10, October 2005
review
)
Sonus Faber Stradivari Homage
($40,000/pair; reviewed by Michael Fremer, Vol.28 No.1, January 2005
review
)
Wilson Audio Specialties MAXX Series 2
($44,900/pair; reviewed by Michael Fremer, Vol.28 No.8, August 2005
review
)
Runners-up (in alphabetical order)
Harbeth Super HL5 ($3995/pair; reviewed by Sam Tellig, Vol.28 No.2, February 2005)
NHT Evolution T6 System ($4000/system; reviewed by John Atkinson, Vol.28 No.4, April 2005 review)
Paradigm Reference Studio/100 v.3 ($2300/pair; reviewed by John Atkinson, Vol.28 No.1, January 2005 review)
Paradigm Signature S2 ($1900–$2200/pair; reviewed by John Atkinson, Vol.28 No.7, July 2005 review)
Spendor S8e ($2999/pair; reviewed by Sam Tellig, Vol.28 No.6, June 2005)
This is the first time in the history of our annual "Products of the Year" ritual that we have had a race with four big winners—and we do mean BIG. That it occurs in the "Loudspeaker" category again shows how personal and unique this part of an overall system truly is. In the past, we've had joint winners that were as different physically as they were sonically. In 2002, for instance, the massive, $41,500/pair Rockport Antares was matched by the relatively diminutive, $1800/pair Joseph Audio RM7si Mk.2. This time around, however, our editors seemed to agree that size matters. While everything else in the tech world seems to be getting smaller, does this indicate a trend toward bigger, beefier, costlier audio gear? Our weary backs and wallets hope otherwise.
Featuring a 13" by 45" electrostatic panel and a 10" woofer cone in a transmission-line cabinet, Innersound's tall, slim Kaya graced the cover of our December 2004 issue, and blew Paul Bolin away with its "extraordinary and, quite possibly, standard-setting transparency." And while PB found the Kaya lacked a wee bit of clarity in the deepest bass, this was a shortcoming easily ignored in light of such "electrifyingly lifelike" music making. Such compromises, after all, are what high-end hi-fi is all about.
Following close on the Kaya's high heels, the strikingly beautiful Sonus Faber Stradivari Homage adorned this year's January cover and brought forth a sound that not only communicated the emotional content of music, but matched the craftsmanship and ingenuity of the speaker's unusual design. Said JA: "Franco Serblin has not sacrificed sound audio engineering in the production of what is one of the most visually stunning speakers I have ever laid my eyes on." And MF: "Get ready to fall in love."
While it wasn't exactly love at first sight for Wes Phillips and the Peak Consult Empress, WP did agree to take the speakers home after just the first date, and even wound up deciding that he could live with them happily ever after. Only problem was that he couldn't afford them. And despite having heard speakers that offered more extended highs, deeper bass, and greater SPLs, Wes concluded, "What I haven't heard is many speakers that do so little wrong or so much so very right. The key to such rare overachievers is balance."
Balance is exactly what Wilson Audio's MAXX Series 2 had to offer. This 410-lb, "praying mantis–like" behemoth sacrificed the Kaya's ultimate transparency for the Stradivari's seamlessness while adding a bit of American-made muscle and determination. MF: "The Wilson MAXX2 was easily the best overall loudspeaker I have ever heard."