Stereophile's Products of 2005 Joint Accessories
2005 Joint Accessories
AKG K-1000 headphones
($1260; reviewed by John Marks, Vol.28 No.6, June 2005
review
)
American Power Conversion S15 AC conditioner
& battery backup system ($1499; reviewed by Kalman Rubinson, Vol.28 No.9, September 2005
review
)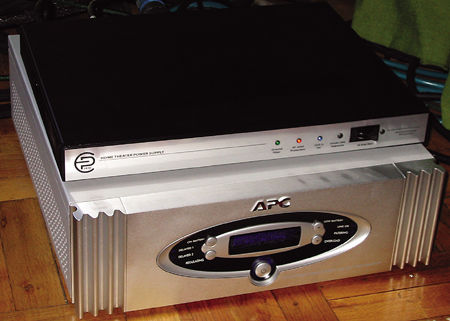 Runners-up (in alphabetical order)
Apple Airport Express WiFi Hub-D/A processor ($130; reviewed by John Atkinson, Vol.28 No.5, May 2005 review)
Channel Islands Audio VHP-1 headphone amplifier ($349; reviewed by Wes Phillips, Vol.28 No.10, October 2005 review)
Grace m902 D/A headphone amplifier ($1695; reviewed by John Marks, Vol.28 No.6, June 2005 review)
Grado SR-325 headphones ($295; reviewed by John Marks, Vol.28 No.6, June 2005 review)
HeadRoom Total BitHead D/A headphone amplifier ($269; reviewed by Michael Fremer, Vol.27 No.12, December 2004 review)
Musical Fidelity X-CanV3 headphone amplifier ($999; reviewed by Sam Tellig & Wes Phillips, Vol.27 No.12 & Vol.28 No.9, December 2004 & September 2005)
RealTraps acoustic panels ($139.99–$299.99; reviewed by Kalman Rubinson, Vol.28 No.1, January 2005 review)
Sennheiser HD-650 headphones ($549; reviewed by John Marks, Vol.28 No.6, June 2005 review)
Ultimate Ears UE-5c in-the-ear headphones ($550; reviewed by John Atkinson, Vol.27 No.12, December 2004 review)
In the wild and woolly world of accessories—from interconnects to ficus trees to magic microchips—there are all sorts of goodies to keep us busy optimizing the sounds of our precious systems. Some work, some obviously don't. Our winners, the AKG K-1000 headphones and the American Power Conversion S15 battery backup system, are as weird as any, but they really do rock. Really.
Fundamentally different from all other headphones (in the entire universe, I suppose), the K-1000s feature a headband and adjustable temple-pad arrangement designed to hold the driver cages a variable distance away and acoustically decoupled from your ears, so as to function as planar drivers in free space, with all the advantages of speed and transparency associated with planars. They look really funky, too. But in a good way. "Glorious headphones," said John Marks.
Equally funky and glorious but a different contraption altogether, the APC S15 is a comprehensive power source, conditioner, and controller that features extensible external power and isolated EMI/RFI filtration for each of its outlet banks. Its voltage regulation is accomplished electronically and without the hysteresis of slower, motor-driven compensation. City-dweller Kal Rubinson used it confidently in his main system and found that the sound was as tight and powerful as with direct AC feed from the wall. Like so many other winning components throughout the voting, the S15 forced our editors to rethink conventional wisdom. KR: "For all my protestations that I was into power conditioning solely for reasons of safety and security, the S15 made the bridged [Bel Canto] eVo6 into an even better power amplifier—a super amp."
In the AKG K-1000 and the APC S15 we again find sensible engineering in the service of music. Right on.