Stereophile's 1999 Products of the Year Budget
Joint Budget Components of 1999
---
Adcom GFP-750 preamplifier (review)
B&W Nautilus 805 loudspeaker (review)
MSB LinkDAC D/A processor
Runners-Up (in alphabetical order):
Creek OBH-14 D/A processor/preamplifier ($350; reviewed by Sam Tellig, Vol.22 No.5, May 1999)
Denon/Mission Mini System (D-M3 CD receiver, MS-5 loudspeaker) ($449; reviewed by Kalman Rubinson, Vol.22 No.10, October 1999)
Entech 205.2 D/A processor
Magnepan MG1.6/QR loudspeaker
Musical Fidelity X-24K D/A processor ($499.95; reviewed by John Atkinson, Vol.22 No.2, February 1999)
NAD 218 THX power amplifier ($1099; reviewed by Robert J. Reina, Vol.22 No.8, August 1999)
NHT SuperTwo loudspeaker ($750/pair; reviewed by Brian Damkroger, Vol.22 No.10, October 1999)
Rotel RB-991 power amplifier ($999; reviewed by Robert J. Reina, Vol.22 No.8, August 1999)
Rotel RCD-971 CD player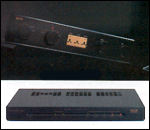 These three winners prove unquestionably that high performance is alive, well, and kicking butt in the real-world price category, and Adcom's GFP-750 remote-controlled passive/active preamplifier seems something of a milestone. "No matter how much you've budgeted for a stereo preamplifier, listen to the GFP-750 first. If you end up choosing something else, then you'll know that your choice is very good indeed," sayeth WP. He seems to have said it all.
B&W's Nautilus 805, a two-way, stand-mounted, reflex-loaded design, provoked the following from LG: "It quickly swept me into the music, and I found myself listening with my eyes closed. It was as if a special light had been switched on in my mind: 'This is a terrific loudspeaker, and an example of what I really love about high-end audio.' " He deemed it a chip off the ol' Nautilus 801's block! Well, we know how he feels.
The MSB LinkDAC was considered a veritable steal by an enthusiastic KR. "In view of its performance, cost, and compatibility with 24/96 sources, many CD players would benefit from being partnered with it, and every DVD player deserves to be auditioned with it. No home should be without one." I guess we know how he feels too!