The Rhapsody Project Notes on the Sound
Notes on the Sound: John Atkinson
As can be seen from the diagram (fig.1), the piano and orchestra were laid out for the Rhapsody and Preludes sessions much as if we had been recording a Mozart concerto. This was appropriate, as pianist Hyperion Knight was directing the musicians—some of New Mexico's finest—from the piano for these performances. The 9' Steinway D piano had had its lid removed and was placed with the performer's back to the microphones. (Listeners should note that the bass notes of the piano will appear to come from left of center and the treble notes from the right, the opposite of what is usually heard on piano recordings. For the solo piano works on this CD the piano was rotated into the usual concert position: the performer and keyboard on the left, and the lid replaced and set to its maximum extension.)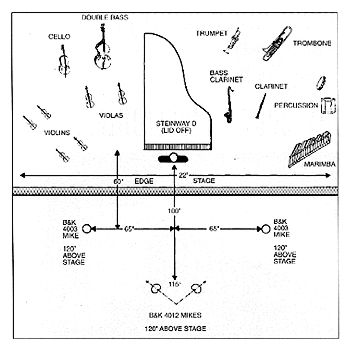 Fig.1 Microphone and musician layout for the Rhapsody and Preludes sessions.
The choice of recording venue is fundamental to any classical recording project, because it defines what the basic character of the sound will be—the way the reverberation and the ambience wash over the individual images of the musicians and the way in which they modify the tonal colors of the instruments. The sanctuary of the Albuquerque church we chose for Rhapsody is not very large, but it does provide excellent support for the sound of solo piano—as we found when we recorded Canadian pianist Robert Silverman there. (His Stereophile recording of the Liszt Piano Sonata in b (Sonata, STPH008-2) was released in 1996.) We decided to use similar miking for the Rhapsody project, based on a central stereo pair of directional microphones and a pair of outrigger omnidirectional mikes.
John La Grou of Millennia Media kindly loaned us four high-voltage Brüel & Kjaer microphones: a pair of 4012 cardioids and a pair of 4003 omnis. (For previous Stereophile recordings we used the 48V equivalents, the B&K 4011 and 4006; La Grou feels the high-voltage versions have considerably better dynamics and transparency.) The two cardioids were used in what's called an ORTF configuration: the mikes angled at about 115 degrees, their tips spaced about 7" apart. (They were mounted on an Audio Engineering Associates Stereo Mike Positioner, which has calibrated angle and spacing markings—see fig.2.) The cardioid pair was about 9' behind and about 10' above the keyboard, supported on a Manley Starbird boom stand. The omni mikes were spaced about 3' to either side of the piano's keyboard, set back by 5', and again placed about 10' high.
Fig.2 Audio Engineering Associates Stereo Mike Positioner (illustration by J. Gordon Holt)