The Improvement Disease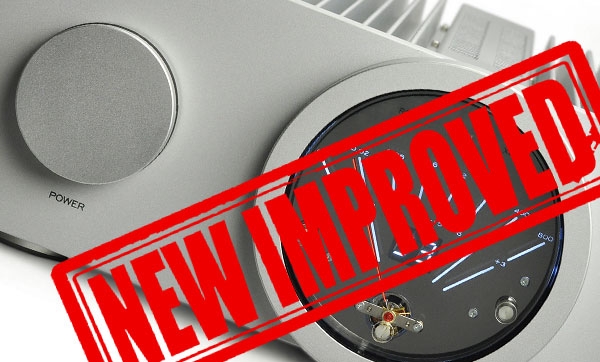 It has been said that the high-end audio industry has a weakness which perversely has also helped to maintain its growth. The evolutionary process whereby designs are improved, upgraded, and supplanted at regular intervals keeps everyone interested, and of course affords reviewers useful employment. On the other hand, once a purchase has been made there may be resentment on the part of owners who find that, by the time their choice has become established and awarded sufficient review recommendation, a product upgrade is already in the pipeline.
Announcements of such improvements are often premature, impelled by the manufacturer's desire to appear ahead of the competition. I feel that this practice has an ultimately damaging effect on the industry, alienating existing owners and stalling sales in progress by raising false hopes of an early availability of an upgrade. In fact, serious delays are often experienced with the products in question, due to truncated and/or rushed development. Offering upgrades to existing owners, frequently at significant extra cost, is no real answer, but simply an amelioration.
General experience suggests that a worthy hi-fi component has a minimum lifetime of two years. When launch announcements are made, say at the CES, development should be complete and the production resources already in place. However, too many show models are very early prototypes, or even dummies. Indeed, in one notable case, there was no product to see at all!
Time is required for the market reaction to a new product to develop, while the review process can take from six to nine months. If the general assessment of a product is positive, sales will consolidate, a market share will be established, confidence will grow, and steady sales will ensue. The product gains reputation and stature by word of mouth and by example sufficient to carry it for at least two years of sales activity (footnote 1).
However, many magazine writers have been tripped up by manufacturers during the review process. As the review goes to press, perhaps 10 months after the product's real introduction to the market, it is common to find some dispute about the findings since the manufacturers have already upgraded or replaced that particular model. Dealers, magazines, and customers cannot be expected to put up with this for much longer. Designers must show some restraint and adopt a more considered and conservative approach to upgrades if this industry's good reputation is to survive.
For the purchaser, the greatest problem is one of scale. Just how big are the trumpeted improvements of a given audio component in the context of his or her own established audio system? In my opinion, many commentators and reviewers make inadequate attempts to judge relative performance differences, the flavor-of-the-month approach being all too common. Worse still is the temporary love affair in which a reviewer appears to abandon all judgmental faculties and provides such purple prose that few know whether the product in question is any good at all.
For my reviews in Hi-Fi News & Record Review magazine, I have long used a numerical scoring system for sound quality based on an extensive library of past reviews. This is kept as accurate as possible by reference to an established inventory of key products in every category. Some of these go back more than a decade in order to help maintain a good perspective of the rate of advance. If there is any doubt about a current model, an aural refresher with a unit out of the stock room usually settles the matter. I encourage my colleagues to do the same.—Martin Colloms
---
Footnote: 1 In some cases, designs have lasted much longer than this, their reputations remaining untarnished. An obvious example is the
Quad Electrostatic
speaker. Another was the long-lived Audio Research D79, while in the UK the
Spendor BC1
and
BBC LS3/5a
are worth mentioning.