Comfort and Joy: the making of Cantus' Christmas CDs Page 2
I double-checked the setup; all appeared to be working. I pressed Record on the Nagra, the Tascam, and the two computers, said "Rolling" to producer Erick Lichte, sitting next to me in the control room, and we were off with "Hodie Christus natus est," a chant that the singers got in three complete takes. Five days and 15 hours of eight-channel takes later, I set off for home with 14 Nagra open-reel tapes, eight Tascam Hi-8 tapes, and two hard drives—all in all, some 70 gigabytes of data for me to work on back in the comfort of my own listening room.
Comfort
As is my custom, each take at the tracking sessions is preceded by someone producing a transient with a slapstick at the exact center of the soundstage. This gives me a sharply defined timing reference for each channel of data. I can then slide each pair of mikes forward or backward in time so that their outputs coincide, at least for central sources. This, I have found, allows me to have my purist cake and eat it too: the basic character of the recording, in terms of dynamics and soundstaging, is that of a minimally miked session, yet by varying the levels of each of the mike pairs in the two-channel mix, I can alter the ratio of direct to reverberant sound and the senses of envelopment and articulation.
Because of the time constraints imposed by Cantus' need to have a CD to sell at their fall 2004 concerts and my ongoing need to get issues of Stereophile to the printer, Erick decided to split the project into two separate releases. As the idea behind the project was to have each volume tell the Christmas story from a different perspective—Comfort and Joy: Volume One focusing on the idea of Christmas comfort, Volume Two on Yuletide joy—this was not difficult. There was also a natural split in the sound balance, the first set featuring slower works that benefited from Sauder Hall's lushly long reverberation time, the second set featuring more varied works, with additional percussion and rhythm instruments, for which we both closed the drapes around the hall and went for a higher level of the cardioids in the mix. Volume One was released in September 2004, Volume Two in September 2005.
Deck
At every session, there are works that don't pan out as expected. Erick Lichte had resurrected a jazzy 5/4 arrangement of the old Welsh carol "Deck the Halls" that he'd written for voices and drums. We laid down 18 takes of "Deck" on the third day of recording, but when Erick listened to them back home in Minnesota, it was clear that we hadn't come up with anything usable. First was the problem of balance: a drum kit can overpower voices, so percussionist Dave Hagedorn was clearly holding back; second, even with the drapes drawn, the reverberant acoustic of Sauder Hall imposed too slow a tempo.
Erick therefore took Cantus into Minnesota Public Radio's Studio M last December, where "Deck the Halls" was rerecorded with a pair each of DPA cardioids and omnis, and with bass Tim Takach shaking a rice-filled plastic egg to propel the song along. I edited and mixed the resulting 24-bit/88.2kHz SD2 files and e-mailed Erick a copy of the results as an MP3.
"There's still something missing," Erick responded, adding that the dry quality of the studio-recorded voices was perhaps too much of a contrast with the wetter sound of Sauder Hall. "Wait until I come out to Brooklyn to sign off on the rest of the Joy mixes, when I'll have a clearer idea of what to do."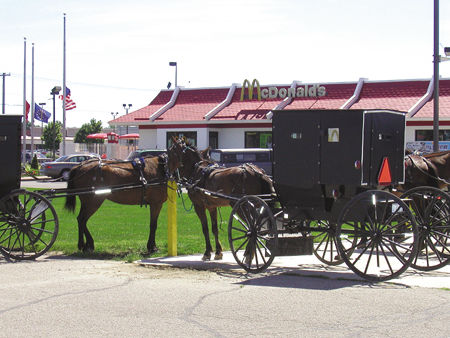 And he did. First, he asked me to create a loop of the opening riff from basses Tim Takach, Alan Dunbar, and Tom McNichols, which we used to extend both the opening section and the bridge in the song's center. The buildup of each passage was thus not over as quickly, which added to the drama. Once Erick had approved the revised arrangement, things got tricky.
"It still needs drums," he decided. "Here's what I want you to do: create both 5/4 and 3/4 drum loops from the short intro that Dave Hagedorn played on the first seven Goshen takes, and use those loops to make a complete drum part."
As with all things that producers decree, this was a lot easier to say than it was to do. It wasn't that I couldn't create the loops—I actually created three different 5/4 loops, so that the drum part wouldn't sound too mechanical—but the St. Paul recording was about 10% faster than the Goshen one. I therefore had to use not only Adobe Audition's Adjust Tempo DSP tool to speed up Dave's playing without changing the pitch, but also some hand trimming where the singers had rallentando'd. Because Dave's distantly miked kick drum was weaker than I liked, I also doubled it with a close-miked kick drum I had in my sample library. Again I e-mailed Erick a test mix.
"Closer to what I envisage," he decided. "Take the word lads down 1dB manually. Take the final 'come on deck the halls' down 1dB, and take the snap after the word chorus down 1dB. However, the voices are still too dry, and it needs something. What if . . . "
I shuddered.
" . . . you laid down a phat bass guitar track? I'll write you a part."
[Gulp] Although I still play the occasional gig, I hadn't done any serious recording as a player since the late 1970s. But I had recently bought a Bass Briefcase combo from Phil Jones Bass, which has a useful compressor and graphic, as well as a balanced direct inject (DI) output, which I could feed to the Metric Halo MIO 2882. Besides, both my fingers and my sight reading could do with a workout. I mean, D-flat is not a key electric bassists fantasize about playing in, and Erick explaining that the arrangement was actually in C-sharp but that his music-notation program insisted on printing it out as D-flat didn't help.
So that's what I did (footnote 3), detuning my E string to a richly phat 34.7Hz D-flat for the final note.
"And then I want you to add a touch of reverb to just the voices. I took the widest-sounding impulse I could find in SoundForge 7 (the one that spread the farthest left and right —even beyond the speakers) and set it at 1 second of decay and only involving the frequencies below 5kHz. I put this in the mix at 13dB below the dry input. Try it out and see what you think. I do not want it to sound like reverb has been added, especially at high frequencies, but I don't want it to sound like a threadbare studio either."
And that, too, is what I did.
Joy
From "Puer natus est," the reverberant chant that opens Comfort and Joy: Volume One; to the wash of gloriously tonal harmony that is Morten Lauridsen's "O magnum mysterium"; to the reverberant thrill of Alan Dunbar's solo at the start of Franz Biebl's "Ave Maria"; to Al Jordan's high tenor solos in "Mary Had a Baby" and "Hail Mary"; to Brian Arreola's solo on the Welsh lullaby "Suo Gân," sensitively arranged by Cantus alumnus Laurence Wiliford; to the raw Gypsy Kings feel of Ariel Ramirez' "Los Reyes Magos"; to the thunderous djembes and the joyously jamming percussion on Babatunde Olatunji's "Betelehemu"; to the rockin' riff from basses Tim Takach, Alan Dunbar, and Tom McNichols on Volume Two's final track, "Deck the Halls"—the singers of Cantus were in fine voice for this project.
Yes, the Gramophone reviewer of Comfort and Joy: Volume One in January 2005 was a bit sniffy: "The all-male chamber choir Cantus sings with astonishing perfection of tone and diction. Effects are calculated to a hair's breadth. But in the end it mostly seems the emphasis is on the glorious sound, not the even more glorious music." But I will let composer Morten Lauridsen have the final word, taken from a letter he sent me after hearing his "O magnum mysterium" on Volume One: "The recording is stunningly beautiful, gorgeously interpreted, performed, and engineered. In short—a superb recording in every way. Please convey my congratulations and appreciation to Maestro Lichte and the singers of Cantus for the magnificent artistry."
Comfort and Joy: Volume One and Volume Two are available from the secure "Recordings" page at the magazine's website for $16.95 each CD plus S&H, or for a combined price of $29.95 plus S&H. Enjoy.
---
Footnote 3: Complicating the bass overdub was the fact that while Cantus' internal pitch was consistent, they had tuned to a piano in Studio M that was slightly below concert pitch. I therefore split the work up into sections of 4–8 bar bars each and used narrowband FFT analysis to determine the exact pitch to tune my Fender bass to for each section.