Horns and Heaven: Jason's Day 2 in Newport Beach
After spending the entire Saturday morning writing show coverage, I skipped lunch and continued my hunt for every cost-no-object system I could find at THE Show Newport Beach (in Irvine). Cost-no-object, of course, is a relative thing, especially when you have no money for objects that cost far more than you make in three years' time. But that's not to stop anyone from enjoying some of the best sound the high end has to offer at a show whose admission price certainly qualifies as a major bargain.
If I were forced to spend a week alone on a desert island, with my only companions a small, battery-powered player and one person's music collection, I'd have a tough time setting between the libraries of Jeffrey Catalano (High Water Sound, in the room above), Philip O'Hanlon (On a Higher Note), and John DeVore (Devore Fidelity). While their musical predilections certainly vary, all have impeccable taste when it comes to repertoire and artistry.
Thus did Catalano follow up his Betty Lavette revelation at AXPONA 2015 with a truly fantastic performance by Etta James from the 1970s. Bass may have sounded a little boxy this time around, with the track's electric bass a mite muffled, and the loud volume a bit too much for the small room, but the track's indescribable sound effects, combined with the system's huge, three-dimensional soundstage and James' singing were fabulous. Just fabulous.
Switching gears, we next heard a bit of Rodrigo's Concierto de Aranjuez. The guitar sounded so beautiful and warm that, if I had been a show attendee rather than someone charged with covering multiple rooms, I certainly would have begged to hear the entire performance, if not have resolved to spend heaven and a day at High Water Sound.
As you gaze at the photo, note that Jeffrey positioned the Horning Hybrid Systems Eufrodite Ellipse+ loudspeakers ($30,000/pair) on Symposium Acoustics Super Plus Speaker Platforms. He thinks these create a far more neutral sound than spikes. If anyone reading this has experimented with such a configuration, I love to hear about it in the comments section.
The rest of this wonderful system consisted of, for the source, a TW-Acustic GT SE turntable ($12,500) with two TW10.5 tonearms ($5500/each) and Miyajima Labs Madake ($5895) and Zero Mono ($1995) cartridges. Electronics: TW-Acustic RPS 100 phono stage ($17,000) and 300 B SE monoblocks ($18,000/pair, Tron-Electric Syren II GT preamp ($55,000), and Silver Circle Audio Tchaik 6 power conditioner ($10,500). Cabling was from ZenSati and Shun Mook Audio, the 4-tier rack a Codia Stage 3000 RC, Ohio XL Bases from Silent Running Audio, and room treatment by Shun Mook.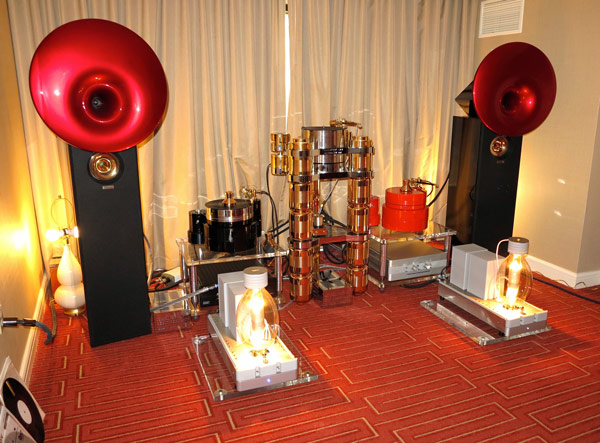 Catching sight of Triangle Art's Ultimate LE turntable ($129,000) with Osiris tonearm ($5800) and Apollo Onyx stone body MC cartridge ($8000) vying for attention with handsome Acapella Cello loudspeakers ($57,000/pair) and two other Triangle Art Signature turntables suggested I was in the right place. Add in NAT Audio Moon monoblock amplifiers ($65,000/pair) with their eye-popping tubes, and NAT Magnetostat linestage ($19,500) and Signature phonostage, and there was no question about the pedigree of this high-priced spread.
Alas, beneath a bright top I heard neither warmth nor a varied color palette. Colors seemed one-dimensional. The cymbals on Dave Brubeck's "Take 5" sounded too harsh, the strings on Frühbeck de Burgos' LP, Suite Española, too wiry for comfort. But the fun of the music definitely came through, and that counts for a whole lot in my book.
"I'd like to hear this system in a larger room," I wrote in my notes. Hopefully a larger space would have restored the MIA midrange and eradicated the noisiness I heard when everything got going at once.
More Acapella horns, this time their handsome Atlas loudspeakers ($85,250/pair) in a system from Audio Federation. With a sensitivity of 93dB and 8 ohms impedance, these 6'2", 340 lb loudspeakers are hard to ignore.
While the horns were definitely attention grabbing, their brash presentation of cello on the M•A Recordings disk of Bach's Cello Suites lacked the warmth and air I heard from this disc on my former reference system. Murray Perahia's piano also sounded too clangy for my taste. Yet, a really lovely and warm depiction of Chet Baker's voice suggested that, with the right pairing, these speakers could be a winner. Keeping them company, in this instance, were Acapella's LaMusika integrated amplifier ($100,000) and LaMusika Mk.II cabling; Audio Note's CDT Five transport ($54,000), DAC Five Signature ($98,250), and Pallas interconnect ($2428); NVS Sun Silver Inspire power cords ($5430), and HRS SXR 3-shelf rack + three M3X isolation bases ($13,680).
Nordost's demo of the differences between their top-of-the-line reference cabling, Odin, and just-released Odin 2 was significantly different from their demo in Munich to warrant a repeat visit. First, the system sounded superb with a different complement of Jeff Rowland electronics: the brand new Jeff Rowland 925 monoblocks ($58,000/pair), Corus preamp ($14,900), and Aeris DAC ($9800).
Secondly, Rune Skov of Nordost's international division used more of the company's Titanium Sort Füt equipment supports when setting up the electronics. This brought more life into the top, and allowed more color and light to emerge. I was able to hear details that before had been submerged in a grayer harmonic fabric.
How this affected Nordost's cable comparison surfaced when Skov played Petra Magoni and Ferruccio Spinetti's Musica Nuda version of "Eleanor Rigby" for cello and vocal while switching speaker cables between Odin and Odin 2. Even though I already knew, having sat through the Munich demo, that Odin 2 would communicate more impact when the cello's strings were initially struck by Spinetti's bow, I did not expect to be startled by the difference, as well as by how much more body, depth, and weight Odin 2 conveyed.
But the greatest shock came with how much more silence I heard around Magoni's voice. I had not expected to hear such a lower noise floor and striking ability to convey the space between notes as I did with Odin 2.
Some classical composers, Schubert being one, are especially eloquent when placing silence between notes in piano compositions and songs. I expect the new Odin 2 line to lend a special eloquence and communicative power to music's sacred silences.
Skov also spent awhile discussing the difference in terminations between Odin and Odin 2 speaker cable. It seems while, in the original Odin, bananas were the preferred connector, Odin 2's no-compromise unity between cable geometry and terminations works best with spades. That's certainly a relief for folks who discover that their amps and/or speakers don't accept bananas.
The most mesmerizing system I encountered at THE Show—the one I most regretted not being able to revisit on Day 3—was jointly presented by Rick Brown of Hi Fi One of Southern California and Stillpoints. Brown, shown here with Steve McCormack, worked with Paul Wakeen of Stillpoints to assemble a system whose ability to convey delicacy and nuance took my breath away.
As Shirley Horn sang Joao Gilberto's "Estate" via a Sonorus ATR 10 tape machine ($17,000) and a special, holographically remastered 2-channel tape taken from the 6-channel SACD of her Here's to Life, the music's gorgeous midrange, glowing warmth, and to-die-for timbres were unparalleled in my experience. The world debuts of the SMc Audio/ HiFi One Silver Signature edition linestage ($50,000) and SMc Audio/Hi Fi One Nexus AC power enhancer ($16,000), as well Berning/Hi Fi One 211/845 OTL mono amplifiers ($75,000/pair), were also responsible for the magical presentation.
The virtually indescribably delicacy, warmth, and tonal beauty of a 24/96 track from M•A Recordings' Sera una Noche, as transmitted by a chain that included the US debut of the Wadax PRE 1 native DSD DAC with Zepto clock, phono, A/D, and SSD server ($72,670) as well the SMc Audio components, were astounding. In both setups, EnKlien David cabling and Entreq grounding cabling allied with Entrq's Silver Tellus grounding box ($2699) conveyed a pristine silence between notes that was positively addictive.
Equally essential credit goes to the Kaiser Kawero Classic loudspeakers ($65,000/pair), whose ability to convey height, clarity, and tonal beauty turned heads in several rooms at the show. Finally, the room's 13 Stillpoints Aperture room treatments ($650/each), 44 Stillpoints Ultra 6 equipment supports ($899 each), world debut Stillpoints ESS Low Profile Rack ($8295), and 2 Stillpoints ESS Grid racks with Ultra 6 supports ($25,172 each) were essential components in the system. They couldn't totally address bass booming in the extremely difficult acoustic, but they tamed it to a remarkable extent. Experience suggests that without the Stillpoints products, the system would not have been as breathtaking as it was.
The Quintessence Acoustics room, dominated by their Stealth SVII loudspeakers ($60,000pair), probably would have benefited from Stillpoints room treatment. Was it the Shakti Stones on all the equipment and under the turntable that contributed to an edge on Dean Martin's voice on LP that I had not heard at all in the wonderful Evolution Acoustics/DartZeel room on the lobby level? Violins sounded a bit hard, bass needed more control, and warmth was lacking.
A bit of my Channel Classics SACD of Mahler Symphony 9 fared better, but the combination of some resonant nodes in the room and the fact that the Luxman DA-06 DAC and player ($18,000) only had 20 hours of break-in may have contributed to the poor soundstaging. Other components included PBN A monoblocks ($30,000/pair), PBN turntable ($5500) with Ortofon Cadenza Bronze cartridge ($2200), Kimber Kabling ($20,000 total), Auralic Aries ($1600), PBS preamp ($19,000), and a PS Audio P10 Power Plant ($4999).
Holger Stein may have first begun assembling the Stein Music Highline hybrid integrated amp (approx. $10,000) in his room on Tuesday morning, but that did not prevent its fully balanced, 120Wpc partnership with the Stein Music 384kHz/DSD256-capable Music Player (approx. $10,000) and Kaiser Kawero loudspeakers from impelling several people I encountered to declare it "best sound at the show." While the lack of sufficient break-in dictates caution in drawing any conclusions, the system's extremely seductive, warm and glowing sound and boundless soundstage turned many a head, including my own. Certainly the top end on a recording of Respighi's The Fountains of Rome was lovely, even though the bottom end lacked ultimate control.
What many visitors may not have realized is how much of the amazing soundstaging was due to the room's six next generation Stein Music Harmonizers with improved stands and new stones ($2395/pair, or $2990 with the Signature upgrade) plus plus a host of new Blue Suns ($750 each) affixed to the walls, ceiling, and other places in the room. I've just started experimenting with these in my own listening room, and the combination has blown open the walls and created the kind of boundary-less presentation that so many of us crave.
After reading my brother Herb Reichert's caustic comment about Brian Berdan's Audio Element room—that's Brian on the right, with Ayre's Alex Brinkman—with Wilson Audio Sasha Series 2 loudspeakers ($33,950/pair), Ayre MX-R Twenty monoblocks ($29,500/pair), Ayre KX-R Twenty preamplifier ($27,500), and Ayre QB-9 DSD DAC ($3450) in his opening show blog. . .
I knew this was Jason's turf, but I figured I could drink my coffee, collect my mind, spend time with this exciting new cartridge, and maybe calibrate my ears. That was a good plan until they put on "Panic Station" by Muse at a measured 102dB! Any considerations of transparency, colorful textures, or transcendence were crushed. Forget generous gratitude, all I felt was panic and my newly formed throbbing headache. I look forward to reading Jason Serinus's thoughts on this "cost-is-no-object" room.
...it became clear that, even though I had expected Sasha Matson to cover this system, I had better hightail it over to the room and find out what all the fuss was about.
No sooner had I entered and explained the reason for my visit than Brian put on an LP of Rodrigo y Gabriela performing "Hanuman." The system's ability to rock out with excellent snap and fast attack made me feel so ridiculous sitting there and scribbling words like an audiophile critic that I threw all caution to the winds, discarded pen and notepad, took to my feet, and began to dance. I never expected Jennifer Berdan to pull out her iPhone and catch me in the act.
At my request, Brian turned the volume way up. It didn't reach ear-splitting New York subway system levels, but it was unquestionably loud. Not only did the system hold together, but it did so without causing pain. Ditto for a listen to Barry White at take-no-prisoners volume. Yes, the extremely truthful Wilson Audio silk-dome tweeter conveyed a tinge of metallic tint, but the coloration worked to the music's advantage.
Next, using Amarra and the Ayre DAC, we continued our distinctly non-classical exploration with an equally fabulous track from Dire Straits. Thumbs up to that one as well. (Okay, I confess, I stopped dancing and went back to note taking. It's not to see me make a fool of myself that you turn to Stereophile.com).
Finally, at my request, Brian dashed to the next room—who could walk slowly to such a soundtrack?—and retrieved Christian Ferras's LP of the Mendelssohn Violin Concerto. The system enabled me to hear exactly how far Ferras was willing to merge with the tenderness of Mendelssohn's music, and how he resisted fully showing his vulnerable side in public. In all of three minutes, the system confirmed why Ferras is not considered as great a violinist as David Oistrakh or some of his other contemporaries.
Also heard: AMG Giro G9 turntable with 9W2 tonearm ($10,000) and DS Audio DS-W1 "Night Rider" optical cartridge and phono stage ($8500), Cardas Audio Clear Beyond and Clear cabling ($26,000), Grand Prix Audio Woodcote Tall 4-shelf stand ($4500), Grand Prix Audio Woodcote amp stands ($2600 each), and audience AdeptResponse aR6-TSS power conditioner ($7550).
Conclusion: Herb needs to finish his coffee and tie his shoes before he heads out to blog rooms. This was one super system.