Herb's Final Three Rooms at the Denver Show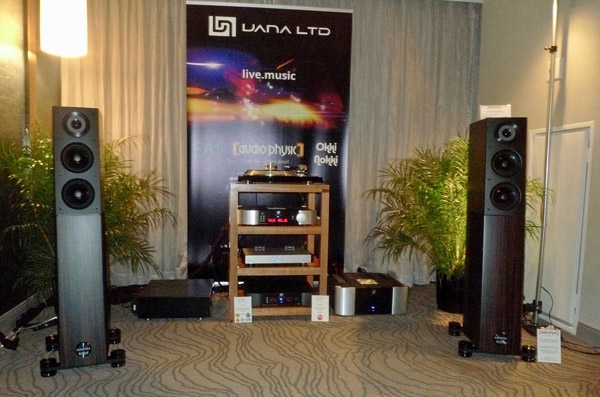 Vana Ltd. had two rooms at RMAF. Both rooms had stereo systems set-up, but the first room I entered was filled by a hoard of standing, chattering people of all sexes. It looked like they were making big business deals so I decided to not eavesdrop or interrupt.
However, the sound of music coming from the Vana room next door was inviting. I slipped in and was greeted warmly by Nancy Weiner and Audio Physic's Manfred Diestertich. Manfred and I chattered about the German company's early days. I told him how one day, way back, Audio Physic founder, Joachim Gerhard, showed up at Sound by Singer, I was astounded and annoyed by his speakers' tall, skinny cabinets, super-narrow baffles, and side-mounted woofers. They needed feet on spreaders to keep from tipping over. I had never seen anything like them and I did not approve of their design-aesthetic or attitude. But I did approve of their sound, which seemed as tight and fast as their radically sleek look.
That was centuries ago (1993?) and now I am sitting, breathing, relaxing, and listening to Mozart String Quintets (Nos.1 & 2) played by the Grumiaux Trio. The sound coming from the new Audio Physic Avantera III ($24,995) is refined and gentle—more musical, not quite so tightly wound and audiophile-sounding as their progenitor. I am smiling.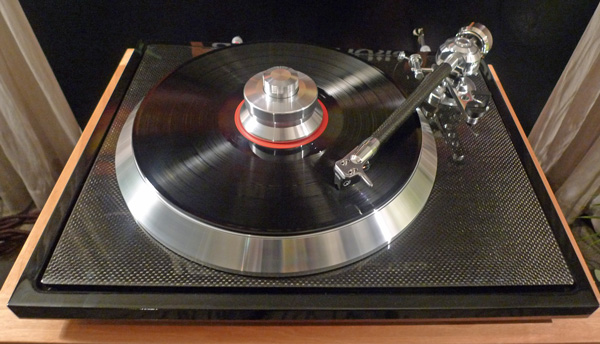 This Philips Mozart LP was making liquid music flow from its clean and quiet grooves, therefore, I had to get up and look closely at the snappy-looking black and chrome European Audio Team C-Sharp Turntable ($3495, with C-Note 10" tonearm and Ortofon Quintet Black cartridge) . . . if it can play music this fine, there must be something special going on. The Ortofon Quintet fed the EAT "E Glo S Hybrid" tube phono preamplifier ($2999). There was a $195 EAT "Massive Record Weight" preventing me from seeing that cool, red Philips label but probably contributing (at least some) to the solid, well-balanced presentation. So also did the Okki Nokki RCM II record-cleaning machine ($195).
All this quiet-groove pleasure was driven by a Moon by Simaudio 740P preamplifier ($3700), and 860A power amplifier ($9000). Wires were by AudioQuest.
The Nocturne Audio room was a little scary. Not because of the people, they were really great, and everyone in the room was deep into Linn Sondek LP12s—just like me. And, also like me, they appeared to share my love for vintage cinema speakers. I was like wow! I've found my people. We all jabbered and exclaimed and swore our allegiances to Linn Sondeks. There were two Linn LP12s, and the main one being played was this $26,190 (total price), Linn Sondek Klimax LP12 w/custom Movingui plinth ($1000) and $7000 Klimax Radikal power supply/DC motor—remember when Ivor Tiefenbrun swore DC motors were bad?—the Keel subchassis ($3250, an Ekos SE/1 tonearm ($4950), a Kandid moving-coil cartridge ($4710) and, a Urika internal MC phono stage ($3500). Folks, that is a very long ways (money and sound wise) from my stock 1984 LP12 (Valhalla) at home. This full-on shiny Linn stuff was sitting on two Harmoni racks with Mimer top shelf ($4696 each), with Linn Skeets footers ($270/set of 4), and connected with Linn Silver interconnects and custom Linn K400 speaker cables.
These two fancy Linns drove a Lejonklu Slipsik MC phono preamp (prototype $TBA), into a pair of Lejonklu Sagatun Mono 1.3 preamps ($9900/pair), and two Tundra Mono 2.2a power amps ($9900/pair). Speakers were the big, commercial cinema JBL 3677s ($1766/pair) and a single Lejonklou Tundra Mono 2.2a power amp ($4950) drove the JBL 4645c commercial cinema subwoofer ($1453).
The scary part I referred to above is: how did all this elegant, refined, high-toned Linn gear—the two Linns added up to over $50k's worth of turntable—end up connected to three giant, black, commercial JBLs valued at less than the cost of Linn Keel subchassis. My internal hard drive was skipping before the music even started, but when it did start, it flew right out of my skull.
I am sorry, but I could not grasp what I was hearing. They started with Cream's 2005 reunion recording: "dry," "big," and "hard" were the adjectives I wrote in my notebook. Then they played Bonnie Raitt's version of "5000 Miles": everyone was smiling and bobbing their heads while I was feeling like a stranger in a strange land.
All I can do now is confess a few prejudices: to my ears, all those costly Linn upgrades make the Sondek sound like digital. And those JBL horns? I am sorry, but in 50 years of careful JBL listening, I've never experienced a JBL speaker, cinema, or home, that I could actually live with. Therefore, the scary part was how Thomas O'Keefe and his very knowledgeable Nocturne Audio crew, experienced something vastly different, and clearly more wonderful, than I did. (Where were my beloved Linn Kan speakers when I needed them?)
The sound in the Mark Audio room was sweet and unpretentious. So was Mark Audio's president Dwight Sakuma. Of course, I had to ask Dwight if he was related to my friend whom I've never actually met, famous Japanese mono amp designer, Susumu Sakuma. He said he was not.
The Mark Audio-SOTA Cesti T tower loudspeakers ($3495/pair) and their stand-mounted siblings, the Viotti Ones ($2495/pair), made Aaron Copland's Rodeo ballet score sound smooth, strong, and vivid. The recording played loudly and with surprising force.
This forceful Copland was powered by a PS Audio Stellar Gain Cell DAC and preamp ($1699) and a 300-watt (!!) Stellar S300 stereo amplifier ($1499), and Marantz CD6006 CD player/transport ($595). Cables were by Zentara.