Herb Chases the Music Down at RMAF
Kevin Wolf and VANA Ltd. represent a group of distinctive high-quality/high-value audio products that are mostly right up my aesthetic alley. I raved about their modestly priced ($1299) Blue Horizon Profono MM/MC phono stage in a recent "Gramophone Dreams" column in Stereophile. I have used their Dr. Feickert Analogue Protractor to align every one of the dozen or so cartridges I have written about. Every day, I treat the Dr.'s protractor like it was a rare artifact from the holy land. If there was a fire in my monk's cell . . . I might grab it first!
But at the Denver RMAF, Vana was debuting the new Audio Physic Avanti loudspeakers ($8000/pair) and they looked and sounded brand-new, top-of-the-heap excellent.
I remember a day 30 years ago when the first Audio Physic speakers arrived at Sound by Singer. All the salesmen sat dumb-founded: thinking, what the hay . . .? They had never seen such tall skinny speakers before. The front face was only a few fractions of an inch wider than the bass-mid driver—and it sloped backward! Strangest of all, the speaker had woofers on it sides. Now of course, half the speakers on the planet look like that original Audio Physic design.
The new Audio Physic Avanti does not have woofers on its side but it played excellent tuneful not-exaggerated (or pretend) bass and imaged as well any speaker I know. It frolicked and danced—like a junges Mädchen at a polka party.
I only listened to one LP, but it was obvious: the strongest aspect of the VANA system's presentation was its vigorousness and tangibility. The Mobile Fidelity pressing of Dead Can Dance's "Into the Labyrinth" seemed exceptionally well-fashioned, easy-flowing, and enjoyably corporeal.
But let me not give all the credit to the loudspeakers. Dr. Feickert's Woodpecker turntable ($6500) + 12" Jelco tonearm ($NPA) + Acoustical Systems Archon phono cartridge ($3750) and the SRA adjustable Arché headshell ($600) were probably more than a little responsible for all that tangible form being emitted from the Audio Physic cones and domes. (Kevin Wolf says this hyper-cool record-playing system is currently available from VANA as a complete plug-and-play source for $8000).
That Archon cartridge drove the Primare R32 phonostage ($1500), which connected to the Primare PRE32 preamp ($4500) and the Primare A34.2 amplifier powered those aforementioned Avanti speakers. I repeat: this whole system played music in an exceptionally well-formed, lively and transparent manner.
It felt powerfully good and wonderfully strange walking into Phillip Holmes' Mockingbird Distribution room. Just seeing those somber black, not glitzy at all, $2250/pair Tekton Pendragon tower loudspeakers (I reviewed the Tekton Enzo XL, which is quite similar, last April) connected to the (also reviewed) Line Magnetics LM-518 IA 845 stereo integrated amp, which was sitting all simple and lonely on the floor. No shiny chrome or gold-plated racks. Almost no nothing: just glowing 845 tubes and two, shadow-like, towers. I like this aesthetic. But wait! I like the hot-rodded LP front end even more. Imagine this . . .
A vintage Mockingbird modified and rebuilt Denon DP-80 turntable sitting in a vintage VPI wooden plinth (are you picturing this?) with a brand new black Abis SA1.2B tonearm ($2500) (recently reviewed by AD) with a selection of just introduced Hanna phono cartridges. I believe that Mr. Holmes was using one of the Hana SL or SH Shibata moving-coil cartridges ($650) while I listened. The phono stage was a Holmes modified Jasmine LP2.5DU-Limited ($1200). There was a Shure SC35 ($75) and a Jasmine Dragon MC/boron/Shibata ($2800) phono cartridge sitting on the desk. Can you picture this rebellious mélange? Can you suppose how it played music?
It was clear; that it was early and several of these components still needed to break in but what I heard was both tender and exciting. Instruments and voices seemed present and appropriately scaled. Textures were on their way to becoming fully realized. Colors were already there. Best of all, the system was playing records quite vividly!
Even better, I got to meet Eric Alexander CEO/engineer-designer at Tekton Design. We had spoken many times while I was reviewing the Tekton Enzo XL, but to finally put a face to the voice made me RMAF happy. And then, as I was leaving, I saw his big smile. I got to reconnect with my old Sibatech (Japan) friend Hiroshi Ishihara. I knew, loved, and admired this man very much during my days importing AudioNote Japan (now Kondo). Hiroshi is a gentle sage and a wise businessman. He must be, he exports Kondo, Mactone, Fal, Final, Zyx, and Abis tonearms. That Abis SA1.2 tonearm that Phillip Holmes was using (which I am also using) plays high-mass, low-compliance MC cartridges better than any high-mass tonearm I am currently aware of.
At the beginning of my RMAF 2015 report I promised to focus my attentions on little known, often overlooked, up-and-comers; but maybe that is easier said than done. Or maybe, defining that category is more difficult than I first suspected. Is Dave (audio polymath) Slagle an unknown? How about Frank (best tonearms in the world) Schroeder? How about Jeffrey Jackson—the Vincent van Gogh of leading edge audio design? How about Win Tinnon of Saskia Turntables? Chris Kline of Telwire? Or John (remote controls the world) Chapman of Bent Audio? Are these extremely talented fellows little known? I am new again to audio so I can't say for sure. They are certainly not those big guys named Dave or Dan or Andrew. But if they are not world-famous yet, you can be sure they will be soon.
The EMIA room played highly resolved, bas-relief textured, completely colorful music with a collection of the most bespoke artisanal audio gear imaginable. Starting with the hand-assembled, aluminum and titanium-bodied Ikeda Kai MC cartridge ($8500), which claims only a 2.6-ohm impedance and a low 0.19mV output. This Ikeda-san wonder is attached to one of Frank Schroeder's medium-priced arms: the $4000 CB. The waiting list for Schroeder's exotic hand-crafted, built-to-order, matched to your own cartridge and turntable, exotic wood, tonearms is extremely long; so every time I see him at a show I think, shouldn't this guy be back in Germany toiling at his workbench? (Arbeit ist gut.) Nevertheless, Herr Schroeder's arm is the purest definition of art and artisanal in high-end phonography. And so is the 200 lb, slate-plinth, idler-drive Saskia, turntable ($53,000); which features a 3-phase power generator/controller with a 32-bit microprocessor. You tell me—I have a lowly Technics SL1200 and a Linn LP12—is this a world-class bespoke black disc player, or what?
My phonographs may be humble, but I do have a Dave Slagle, "Drug through the Hudson," SUT for my collection of modified Denon 103s and it is my most prized possession. Here they were using Slagle's Emia SUT, which costs $3600, and you have permission to shoot me if someone you know can wind a better one. Dave's SUT drove his Emia phono stage ($5400) and Remote Autoformer Volume Control ($4200). But Slagle's new EL-34 powered, direct coupled, crossover-amp, drove the new Emia ESLs ($36,000/pair pictured above). These unusual, furniture-looking electrostatic loudspeakers were the stars of the Emia show. Think super-fast, open, and detailed in the extreme. This system isn't free, but it is as far as you can get from the over-priced audio oligarchy—with more personal customer service and less impersonal mechanical sound.
I am bad with names, and between shows I always forget Paul Manos' name but I never forget his good-sounding, nicely lit, and professionally put together rooms. Like my conversations with Paul, the music in HFS rooms always flows easy and enjoyably. Probably because he always has the best-quality LP front ends. (Did I mention there were more rooms at RMAF with turntables and LPs than servers or CD players?) This time, Mr. Manos had two musically satisfying rooms.
The first room showcased the elegant and lively sounding Verity Audio Parsifal "Anniversary" loudspeakers ($24,995/pair). Verity loudspeakers are made in Québec, Canada and I have always regarded Verity as one of the most under-rated brands on the high-end scene. Paul had them singing quite nicely at RMAF. But as you know, when a room sounds good (or bad) you can't just blame the speakers. To make the Parsifals sing so nice, Paul was debuting the new and I think totally sexy-looking (of course it is made in Italy) Audia Flight Strumento No. 4 Mk.II ($28,500) stereo amplifier. This amp-speaker combo made music sparkle and gently pulse like the Mediterranean shoreline. While Paul was talking I swore I saw a bikini-clad Brigitte Bardot walking behind him.
And speaking of sexy, Paul always features TW Acoustic turntables and Ortofon cartridges. The room with the Verity speakers featured a TW Acoustic GT SE turntable ($12,500) wearing a pair of TW 10.5 tonearms ($5500). One sported an Ortofon A95 cartridge and the other one featured the Ortofon Cadenza Mono . . . this is the kind of LP playback that makes its owners laugh when the subject of digital vs analog comes up. There was also a Audia Flight phono stage ($6195) and an Audia Flight Strumento No. 1 preamp ($17,500).
Paul Manos's second room showcased the Neat Acoustics Momentum SX7i loudspeakers ($11,200/pair) driven by an Audia Flight FL Three S "FL" integrated amp ($4495 w/phono and DAC options). There was an Audia Flight CD Three CD player sitting on the rack, which was topped by a TW Acoustic Raven GT SE turntable ($12,500) with a Ortofon TA-110 tonearm ($1679).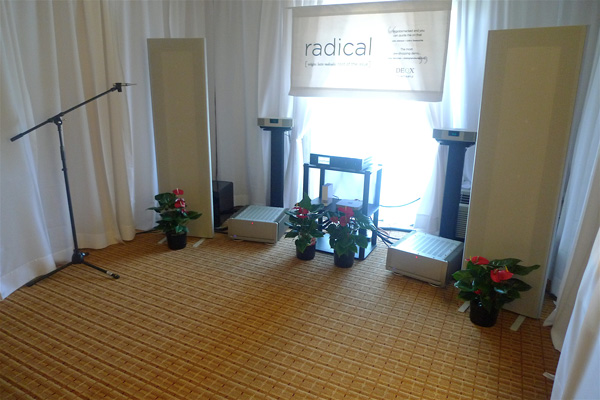 And just when I thought I had experienced everything; I entered the DEQX room and spotted two Bose Wave radios mounted on speaker stands like a pair of plastic mini-monitors. Then I sat down right next to this wily-looking Australian dude named Alan Langford. He's grinning and talking and I am looking and listening. I told him that I reviewed the Bose Wave radio once. He asked me how it sounded. "Really bad" I said. Turning on the system he joked, "Like this?" I told him I thought two radios definitely sounded twice as good. (I think he said there was a subwoofer involved somewhere.)
Then Alan played the matching Wave "monitors" again. This time the grain and fuzz were gone and a giant (quasi-transparent) soundstage appeared. It had excellent centerfill. Sporting the biggest, most devilish grin ever, Mr. Langford said, "So which one do you like better?"
I think I picked the wrong one. I was supposed to pick the DEQX'd one, which had applied correction from the DEQX to the Wave Radios' analog outputs.
Ignoring my critical limitations, Alan Langford fired up a pair of Magnepan 1.7s (also with a subwoofer) and switched back and forth between the stock normal Magnepan sound and the DEQX'd sound. As I am listening, I notice up on the wall in front of me is a banner quoting my boss John Atkinson exclaiming, "I was gobsmacked at the difference . . ." the DEQX made. I also remembered that Stereophile's Kal Rubinson really thought highly of this system.
With the Magnepans, the difference between stock and DEQX-modified sound was extremely obvious . . . but again, I think I preferred the wrong one. So when that awesome Aussi grin confronted me once more, "So? What do you think now?" I put on my most humble, mid-western, ah-shucks, smile and said, "Wow! It's amazing how big the difference is!"
It was.