Harbeth Monitor 30.2 40th Anniversary Edition loudspeaker Page 2
A small wooden house in Butcher Hollow, in Van Lear, Kentucky, was the birthplace of country-music megastar Loretta Lynn, in 1932. Artist, musician, and record producer Jack White was born in 1975, in Detroit.
Van Lear Rose
, the album White produced for Lynn in 2004, was nominated for five Grammys and won two (CD, Interscope 80002513-02).
Van Lear Rose is the most heart-grabbing recording I've heard in the 21st century. One of its songs, "Women's Prison," begins with Loretta shooting her lover, and ends with her in the electric chair—symbolized by White's guitar solo. The Harbeths excavated every frightening jolt, every electric texture, every remorseful word of this exquisite but morbid soliloquy.
Alan Shaw told me that he designs Harbeth speakers to be "stand-, cable-, genre-, and amplifier-agnostic." That might be crazy talk, but his Monitor 30.2s sure let Miles and Loretta be their full jazz and country selves.
Checking for more examples of genre agnosticism, I provoked the Harbeths with poems, growls, recitations, and prepared piano: pianist Cecil Taylor's In Florescence, with bassist William Parker and Greg Bendian on percussion and vocals (LP, A&M SP5286). This is not easy-flowing cocktail jazz; it's a rabidly powerful, brain-bashing, art-jazz smackdown. In "Anast in Crisis Mouthful of Fresh Cut Flowers," Parker's sawing and plucking tried their best to make the Monitor 30.2s' drivers buckle or wince, but they remained stoic. Taylor's mad prepared-piano explorations shook the room while walking a close edge to audio distortion. Think enormous crashing sounds and machine-gun snare-drum whacks mixed with gurgling drains and explosions. With unshakable clarity, the Harbeths reproduced all of this at peaks of up to 100dB.
Amplifier Changes
I replaced PrimaLuna's ProLogue Premium power amp (35Wpc into 8 ohms, $2199) with Pass Laboratories' spectacular new XA25 (25Wpc into 8 ohms, $4900) and put on the premiere recording (1965) of Karlheinz Stockhausen's Momente, with the composer conducting soprano Martina Arroyo, four choral groups drawn from the West German Radio Chorus, and 13 instrumentalists of the West German Radio Orchestra (LP, Nonesuch H-71157). I immediately realized that the dynamic capabilities of the Monitor 30.2s were much greater than I had so far heard. Forget slam and boogie factor—with the Pass XA25 this LP was borderline frightening. Imagine a large chorus suddenly quieted by the voice of a lonely, distant soprano, to be smashed only moments later by an even larger chorus backed by gongs, and Lowrey and Hammond organs! Imagine spine-tingling, gunshot-explosive sound with nary an off tone or fatiguing moment.
A few days later I tried Momente again, this time driving the Harbeth M30.2s with Line Magnetic's LM-518 IA integrated amplifier used only as a power amp (22Wpc into 8 ohms, $4450). With the Pass Labs amp the sound had been as transparen, corporeal and hyperdynamic—and oh my lord, with the Line Magnetic the Monitor 30.2s became vivid and textural in a most enticing way.
This newly discovered vividness caused the Harbeths to remind me of vintage Quad ESLs. Powered by bright-emitter triode tubes, the M30.2's midrange came into full electrostatic bloom. The Line Magnetic made the Monitor 30.2s' sound more tonally complete, more fully tactile and spatially adept, than did the PrimaLuna or Pass Labs amp. But I doubt the LM-518 will deliver enough power for most audiophiles with these speakers. Turning the volume up and listening for clipping, I heard some, but it was soft, and only on 97dB/2m peaks.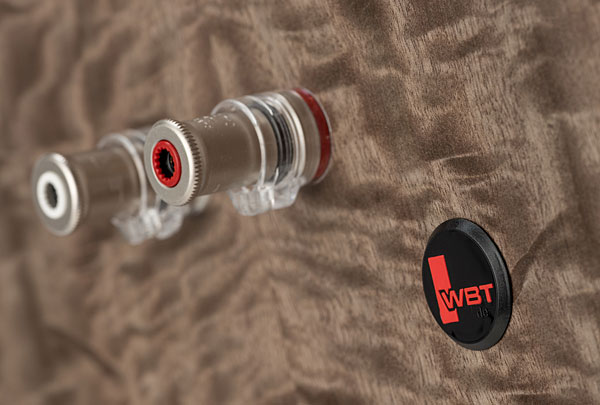 Remembering that these low-powered amplifiers might seem a little weak for normal people in regular-size listening rooms, I replaced the Line Magnetic with Bel Canto Design's e.One Ref600M monoblocks (300W into 8 ohms, $4990/pair). Switching from lush, breathy, class-A tubes to an NCore class-D module taught me a lot about audio amplifiers, and even more about Harbeth's Monitor 30.2.
With Bel Canto's 300W monos, the Monitor 30.2s' monitor-like clarity and dynamic contrasts were considerably better than with any of the lower-powered amps. More power made the Harbeths lighter on their feet and stronger on the bottom.
Best of all, the Ref600Ms added music-enhancing weight to instruments and voices. This extra instrumental mass took Winston Reedy's "What a Feeling," from the reggae compilation A Tribute 2 Studio One & Treasure Isle Records (LP, Cou$ins LP037), to a higher level of listening pleasure. I played this track very loud through the Harbeths, but it flowed easily and never felt loud. Bass guitar, snare-drum whacks, and especially the Hammond organ—all sounded exactly as they should. Easy-flowing power made "What a Feeling" beg to be played three times in a row. So I did.
Alan Shaw had told me that Harbeth speakers are "amplifier agnostic," and that I should just "pick anything—as long as it has 80Ws or so." Amp designers often say stuff like that. Usually, I ignore it. But the Harbeth 30.2s responded well to power: The combination of the Harbeths and Bel Cantos was a nonstop pleasure.
But! The Pass Labs XA25 exceeded the Bel Cantos in clarity and transparency. Overall, the Nelson Pass–designed XA25 allowed me to engage more with the music, and the Harbeths to reproduce almost everything right. Most important, "What a Feeling" had more, well, feeling. The Pass Labs XA25 is the amp Herb the Reviewer recommends for use with the Monitor 30.2s.
But! The amp that Herb, that Monk in the Bunker, most enjoyed with the Harbeths was PrimaLuna's ProLogue Premium. Its 35Wpc were enough power for my type of listening, and its EL34 tubes added an appealing touch of saturated color that kept my focus on the music rather than on the sound.
Stands Deliver
My review samples of the Monitor 30.2s came with TonTräger Audio's 24"-tall Reference stands ($1495/pair). These are exquisitely crafted from slender poles of black-stained beech. They sit on bases of polished slate 13.75" square by 1.25" thick. I used the TonTräger stands for the first month of my listening, but then I couldn't stop myself: I replaced the 6-lb TonTrägers with my 57-lb Sound Anchor stands and listened to both sides of Antony and the Johnsons' I Am a Bird Now (LP, Secretly Canadian SC 105).
The difference in sound was a lot like stopping down the aperture on a camera lens. With the Sound Anchors (and no Blu-Tack), the musical picture got darker, especially around the edges. Image focus softened in the foreground but reached deeper into the soundfield. The upper bass and lower midrange sounded fuller, and maybe a bit more powerful. But there was some blur and smear that I'd never noticed with the TonTrägers. The effect was similar to reducing the contrast in a photograph.
Of the intricate contrast spectrum I'd heard with the Harbeths sitting on the TonTrägers, 80% returned when I inserted pea-sized bits of Blu-Tack between each Harbeth and its Sound Anchor (footnote 1). And bass became more forceful than with the TonTrägers. The heavy Anchors made images seem more solid, but overall, focus wasn't as crisp as with the TonTrägers.
When I returned to the TonTrägers, the musical view became brighter and wider—like opening the aperture on a fast camera lens. Which stand showed me more of what might be on the recordings? I can't say for sure.
Conclusions
Clearly, Alan Shaw understands that loudspeakers sound like the sum of their parts. He understands that you can't accurately reproduce timbres if the bits of Kevlar, carbon, titanium, or beryllium sing louder than the King's College Choir. Shaw also understands that the secret of making an accurate loudspeaker is not a gaudy cabinet that weighs a quarter of a ton. Harbeth Audio's Monitor 30.2 40th Anniversary Edition demonstrated that the best way to make a reference-quality loudspeaker might be the simplest: use cones and domes and boxes that minimize the aforementioned material colorations. Shaw says that the sound of his Radial2 cone is the least colored of all present-day bass-midrange cones. I believe he is right.
I also believe that Harbeth's Monitor 30.2 is the most neutral, accurate, tuneful, fun, and music-loving stand-mounted two-way speaker I've heard.
---
Footnote 1: See
my discussion
of the interface between a speaker and its stand and the measurable effect of Blu-Tack.—
John Atkinson