Gryphon Commander line preamplifier Page 2
It took just a few minutes, working from the front-panel triangle, to name the inputs and match input levels. Fresh out of the box, the Commander sounded opaque, overly smooth, and "closed in." It was time for break-in, as this unit was factory fresh. I listened for about an hour, but that's all there was time for as I was leaving the next day for the UK to attend SME's launch of the new flagship Model 60 turntable. (See the
article
and the video posted on the AnalogPlanet YouTube channel.) Before leaving for the airport, I set Roon to stream Qobuz through the dCS Vivaldi One at low volume.
Back and ready to listen
Upon my return six days later, I ran downstairs, curious to hear the change, if any. Roon Radio was serving up Diana Krall and Tony Bennett backed by the Bill Charlap Trio singing "I Got Rhythm" from the album Love Is Here to Stay (24/96 FLAC, Qobuz). I thought I was at a hi-fi show. Nice recording, nothing special, but the presentation was anything but closed in and overly smooth. It was precise, pleasingly taut, and well-focused. Image three-dimensionality was immediately impressive. "Vital" was the one-word description that came to mind. It was awfully good to again get in front of the system.
I've spent a lot of time optimizing my reference system, to the point where I don't enjoy listening to it with an alien piece inserted for review that doesn't measure up to what's been removed to make way for it. Sometimes that piece will get a positive review because it's deserving for what it costs and what it does, but the bar here, for "better" or even for "as good," is very high. My reference darTZeel NHB-18NS preamp is a formidable piece, especially paired with the matching amplifiers.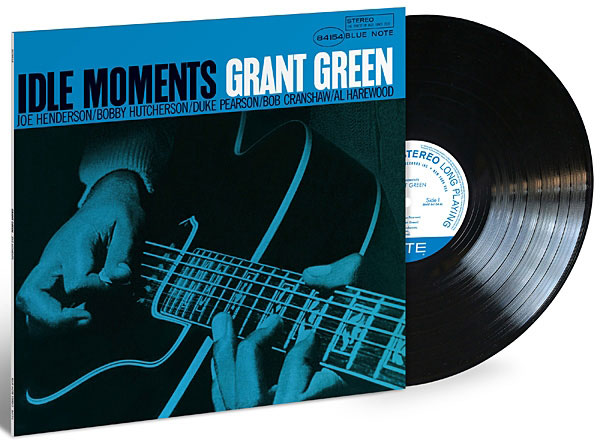 The Gryphon guys had been in town once a few months before the dropoff and had a chance to listen to my reference system with no alterations. They struck me as music people, not technocrats. I played them the Music Matters reissue of Grant Green's Idle Moments (MMBST-84154) to demonstrate the system's nonelectronic-sounding transparency, generous delivery of instrumental textures, and clean, precise transients without artificial edge or etch.
I've been at this long enough to know when visitors are liking what they are hearing and when they're just being polite. They liked the presentation, as much for what it was as for the potential it had to reveal the new Commander's sonic capabilities. This system is as free of solid state detritus as I've ever heard from silicon, and it is not achieved by smoothing or softening to cover up the flaws.
Do you want a preamp with sonic "character"? I don't. There's always some imparted character, but less is more, and with modern electronics, colorations tend to be way down, transparency and quiet way up. Or anyway, they should be.
The Grant Green LP through the Commander, with everything else in the system unchanged, told me immediately that, as good as the NHB-18NS is—and it's plenty good—the Commander was quieter, produced blacker backgrounds and faster dynamic bass attack, and seemed to impart less of itself on the musical presentation. There was less "character"—but now we are talking about minor, subtle shadings, though their sum adds up to something significant. Well, perhaps not to a tube lover's ears. To my ears, though, the Commander and darTZeel '468s made especially beautiful music together. The Commander delivered the image solidity and three-dimensionality that are one of the darTZeel preamp's strong suits.
On the Grant Green album, the title track, by Duke Pearson, is a slow, lugubrious-but-pleasant trudge through late-night reverie. Stating the melodic line on vibes, Bobby Hutcherson then doubles Green's deliberate single guitar notes. I have heard this dozens of times, but the first play through the Commander effortlessly and precisely delivered the individual vibe and guitar notes in discrete sonic packages—and not at all in a "nonmusical," analytical fashion. A never-before-noticed acoustic space appeared behind the vibes, probably the result of the background quiet.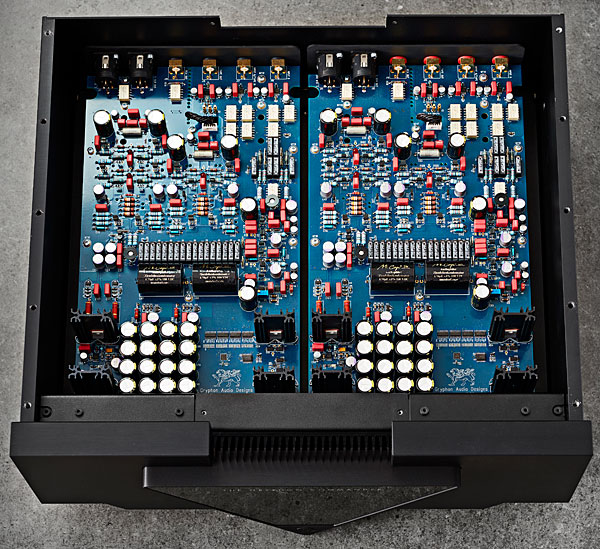 There's a thing Grant Green does, a flurry of rapid strums as opposed to the single notes he mostly picks. I'm thinking right now, for the first time, that it sounds like something Stevie Ray Vaughan did: He must have gotten it from Green! A web search revealed that SRV listened to Green. Once you notice this musical exclamation point, the similarities are obvious. It's almost a quote.
How does a preamp reveal such a thing, or draw attention to it? I don't know, but somehow the Commander's tonality, or the way it handled the transients, did just that. And it did it without delivering the information in a stiff, overly grippy way that stifles musical flow and turns the presentation into analytical sonic cardboard. The Commander also delivered Bob Cranshaw's bass with a slightly more nimble and precise attack, with somewhat more physical focus, but again without sacrificing natural attack, sustain, and decay.
Were the differences between what I was used to and what the Commander produced revelatory? In some ways, yes, as in the presentation revealed and/or communicated aspects of the musical performance I'd not previously noticed. But speaker and cartridge nonlinearities can produce similar "revelations." Could that be happening here? I don't think so.
The quiet
Reviewers and satisfied owners have commented on the darTZeel preamp's quiescent noise (and John Atkinson's measurements show it). You really don't hear it as noise, per se, unless you put your ear close to the speaker. It's not audible when music is playing.
But with the Commander in the darTZeel's place, you notice its absence—especially streaming hi-rez audio via Tidal and Qobuz. I'm not saying the Commander ruins listening to the same streams through the darTZeel, but through the Commander you can "see" farther into the soundstage, and there's an increased sense of nothingness behind the music, which further enhances the Wilson XVX loudspeakers' ability to vanish from the room. Had my electricity not been seriously upgraded to produce its own black backgrounds, perhaps this lower noisefloor would not have been as obvious, or noticeable at all.
Searching Qobuz recently, with the darTZeel preamp still in the system I happened upon Jean-Marc Luisada's sumptuous performance of Schubert Piano Sonatas D.840 and D.960, on the La Dolce Volta label (not to be confused with The Mars Volta). The 24/88.2 recording puts the well-recorded piano in a spacious acoustic: the Great Hall of the Arsenal in Metz, in northeastern France, near Luxembourg. The piano's dynamics on this recording are startling. I'd acclimated to the presentation.
With the Commander in place, the timbral and transient presentation didn't change at all, but the piano was presented in greater relief relative to the reverberant field, and both micro- and macrodynamics were noticeably improved. Lower residual noise also yielded improvements in instrumental transparency.
I'm currently running four tonearms, four cartridges, three turntables, and three phono preamps through the Commander, plus the dCS Vivaldi One SACD player/DAC. These were all in the system when I swapped out the darTZeel for the Commander. The sonic differences among the analog-domain sources were reliably clear through the darTZeel, which is an extremely low-coloration device; it adds little to the musical presentation. If only due to the lower noisefloor, the Commander's unerringly neutral "passthrough" abilities seem to clarify even further and intensify these source-based differences.
Conclusion
Had my reference preamp been of far lesser quality, or had I been more of a "green" reviewer, inserting the Commander would have produced more of a sonic earthquake and caused a great deal of effusive running of the mouth. Even for this seasoned veteran, every listen demonstrated that the Commander did as promised, allowing (rather than producing) exceptionally transparent, fast, natural, open sound from all source components. It was as close to a neutral-sounding audio component as I've had in my system. If I had to draw an analogy to something in the physical world, it would be sparkling clean, refreshing water flowing in a pristine stream.
The areas where I felt the Commander noticeably bested my high-performance reference were all related to the reference's one measured weakness: noise. The Commander was quieter, and I'm confident that measurements will validate that observation.
For those with the means to own it, the Commander is a visual and physical pleasure center, as well as a sonic one. I've been told that the entire first run of more than 50 Commanders has already sold out. I doubt there will be a disappointed buyer in that group.